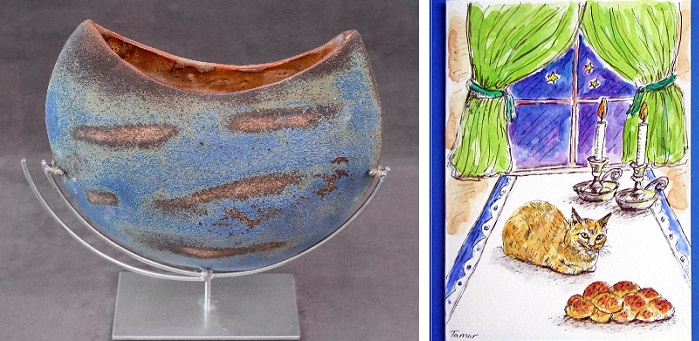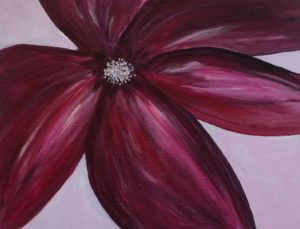 IMAGES: Above: Piece by David Kolasky, glass blower, ceramaticist, wood turner and welder; and Shabbat Cat, watercolor, by Tamar Hammer. Right: Tropical Flower, by Ellen Green.
Celebrate Jewish Arts Month at the Mittleman Jewish Community Center. Each week, from Feb. 24 through March 29, the works of different artists will be on display in the MJCC lobby from Sunday through Friday.
This year's celebration begins and ends with works created by young artists. Feb. 24-March 1 will feature the work of young artists of all abilities in grades five through eight in a juried show. A young artists reception at 4 pm Feb. 24 kicks off the celebration of Jewish art. The JAM celebration concludes March 24-29 with an exhibit of student art from Portland Jewish Academy.
Artists exhibiting in the weeks between the student exhibits include Jane Means, Jack Leskair, Ellen Green, Sharon Segal, Diane Moeglein, David Kotasky, Laurie Fendel, Brauna Ritchie, Morris Jackson, Joyce Shields, Eddy Shuldman and Wendelin Russell.
The annual exhibit of paintings, fiber, beadwork, metals, glass, ceramics and more is co-sponsored by ORA: Northwest Jewish Artists, the Mittleman Jewish Community Center and the Jewish Federation of Greater Portland. This will be ORA's seventh year of celebrating Jewish Arts Month and the second year of presenting the young artists show.
"The young artists do not need to be affiliated with a Jewish organization," says Eddy Shuldman, ORA past president. "We just want to give kids who are serious about art an introduction to exhibiting and selling."
Entrants to the Young Artists Show had to complete an application and submit up to five pieces for jury consideration. Young artists will attend the reception opening the show on Sunday, Feb. 24. They are encouraged to create a business card and may sell their art during the show.
Everything displayed will be for sale. A special display will showcase ORA's "6 X 6 FOR $36" art pieces with proceeds going toward a scholarship fund for young artists.
Art on display can be purchased when a representative of ORA is on duty. Business cards are at each table to contact artists directly if an ORA representative is not available.
northwestjewishartists.org | 503-244-0111