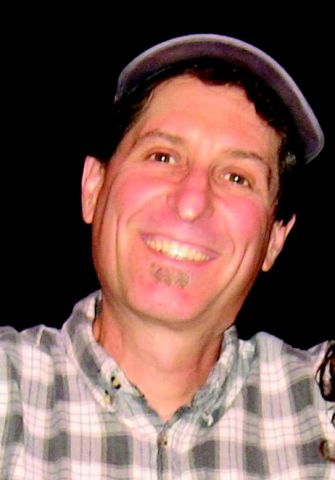 He's a klezmer violin virtuoso, a composer, an arranger, a filmmaker, the author of 13 books, a playwright and a photographer, and he has conducted original ethno-graphic and musical research in Eastern Europe. In short, Yale Strom is a one-man walking Jewish cultural storehouse. Strom started his multifaceted love affair with Jewish culture in the early 1980s as part of the klezmer revival. He has since branched out to almost every aspect of Jewish culture. There's nothing that fails to interest Strom about Jewish cultural life, and he leaps from project to project.
"I could never choose one focus," says Strom. "To me, all these art forms naturally work together. I think that's how and why I've become known throughout the world in Yiddish culture." This month, Strom makes a rare trip to the Pacific Northwest with his trio (Strom on violin; his wife, Elizabeth Schwartz, on vocals; and Lou Fanucchi on accordion). They'll be in Portland for a concert at Neveh Shalom on Saturday, Jan. 5. Strom will also show one of his films at the Oregon Jewish Museum on Sunday, Jan. 6. "A Man from Munkacs: Gypsy Klezmer" is a documentary about a Roma (Gypsy) musician who lives in the Carpathian Mountains of Ukraine and plays klezmer music.
"The film is about a member of one persecuted minority who saves another persecuted minority's culture," says Strom. In practical terms, it's always a good idea for a musician to cultivate alternative job possibilities, just to keep body and soul together. Strom's multifaceted forays into the rich treasure house of Jewish culture have fed his ever-expanding interest. Strom's ethnographic and ethnomusicological fieldwork in Eastern Europe is a good example. When he set out to form his own klezmer band in 1981, he wanted to play melodies that hadn't been covered by other groups. "We needed to stand out from the other klezmer bands," he remembers. "I thought what would make my band unique was to play melodies that hadn't been brought to America. That's why I went to Eastern Europe with a tape re- corder to find these unknown melodies."
Strom concentrated on musical research in Poland, Belarus and the Ukraine, particularly during the 1980s and '90s. To date, he's made more than 75 research expeditions to Central and Eastern Europe. "Every time I go back to Europe, I continue to do ethnographic research," he adds. "My focus was initially only on music and musicians; now I'm interested in Jewish life in the former east bloc." Strom was moved by the remarkable stories of the Jewish and Roma Holocaust survivors he met. "It's so important to record their oral histories," he explains. "Each of our histories is so important in the continuum of Jewish culture, and to us individually."
While researching Europe, Strom lived with several Jewish and Roma families. This gave him a chance to fine-tune his Yiddish, the only common language among the Jewish and Roma people he met. "If you're talking to a Polish Jew and a Ukrainian Roma, the only way everyone is going to understand each other is through Yiddish," says Strom, who grew up with a rudimental understanding of Yiddish in his family's home in Detroit, MI. Strom's own roots come from several places he visits, including Poland, Byelorussia and Ukraine. "My family brought me up between the two H: Hassidism and HaShomer HaTzair (European Socialist/Zionist youth movement, which advocated making aliyah and living on kibbutzim)," Strom recalls. His family appreciated music – "My father played the radio really well, he liked to say" – and sang Yiddish labor and folk songs. Strom began playing violin in third grade. "My teacher, Mrs. Baker, suggested to my parents that I take violin lessons for free at school; all they had to do was pay for the instrument rental," Strom remembers. "I'm very grateful the Detroit Public School was progressive enough to offer free music lessons; I'm a product of that system."
As Strom describes it, his various projects appear to have evolved seamlessly, one inspired by the next. "I formed a band, and we played lots of klezmer music, which I arranged and composed. That led to my interest in original Jewish melodies, so I went to Eastern Europe to document them. In 1986, I wrote a coffee table book, with photographer Brian Blue, called The Last Jews of Eastern Europe, which led to a photographic exhibit in Chicago that was reviewed by the New York Times. The photos gave me the idea of making a documentary, 'At the Crossroads, Jews in Eastern Europe,' which was eventually bought by The Discovery Channel. Film was a natural next step, because it in- corporates photography and music and storytelling." Strom has directed six documentaries and is working on his latest, a film about socialist Eugene Debs. From filmmaking Strom branched out into theater, writing two original plays and co-writing, with his wife and Ellen Kushner, a radio drama called "The Witches of Lublin," which starred Tovah Feldshuh. Portlander Yankl Falk, himself a noted klezmer musician and longtime friend, sums up Strom's love affair with Jewish culture this way: "Yale has so much to say about the cultural legacy of Eastern Europe, about his travels there and elsewhere, about musical gems that he's uncovered along the way – and he fills your ears so quickly that it can take your brain a moment to catch up. But the narrative is so fascinating that you can't wait for the next burst."
The local concert of Yale Strom has been canceled. No word on a reschedule date.
Portland freelance writer Elizabeth Schwartz is co-host of the Yiddish Hour on 90.7 FM KBOO Community Radio. Despite also being a klezmer singer, she is no relation to Strom's wife, Elizabeth Schwartz.