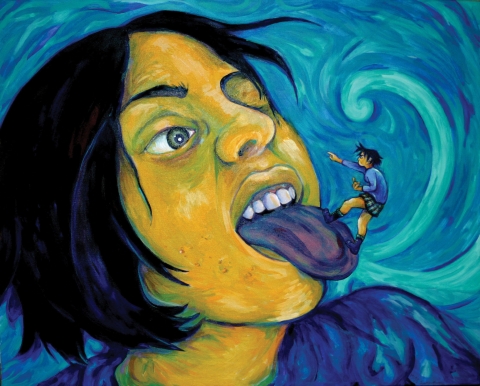 OJM exhibit of female cartoonists runs gamut of experience.
The royal blue walls of the Oregon Jewish Museum make a striking setting for "Graphic Details: Confessional Comics by Jewish Women," a traveling exhibition of 18 Jewish female cartoonists from four countries.
This poignant, witty collection is co-curated by journalist Michael Kaminer and artist Sarah Lightman. The idea for the exhibition originated in an article Kaminer wrote for the Jewish Forward about Jewish female autobiographical cartoonists. Says Kaminer of the material on display: "These female anti-heroes, I would argue, are just as brave (as male-created superheroes) and deserve equal appraisal."
The exhibition encompasses a variety of styles, from the text-rich storytelling of Corinne Pearlman to the compelling still lifes of Lightman. Subjects range from the deeply personal to the political. The artists use watercolor, pencil and stark black pen and ink to express their stories. Some of the works are frankly funny, while other pieces evoke nostalgia for a lost past.
A good place to begin one's visit is with a view of Pearlman's "Show and Tell." In her introductory piece, Pearlman provides a context for the works to follow. She explains, "The urge for Jewish women to 'show and tell' in graphic form is nothing new."
In "Reciprocitea" and "Dumped Before Valentine's," Lightman imbues objects with deep emotional meaning. Her intensely penciled teacups and benches illustrate themes of longing and disappointment.
A couple of the artists sound economic themes in their work. In Miss Lasko-Gross' darkly funny "The Turd," a local coffee shop is "bought out by Starbucks." Sarah Lazarovic's precise, colorful "Shop Til You Stop" addresses questions of economic dislocation, while her "Abstained" poses the question, "Who needs shoes?"
One of the funniest works in the exhibition is Vanessa Davis' "Toys in Babeland," which depicts a Hasidic voyeur scrutinizing the purchases of two embarrassed young women. Bernice Eisenstein waxes nostalgic in "My Parents," a loving portrayal of family ties across generations.
Trina Robbins' "Big Sister" deals with the author's discovery of feminism, while Pearlman talks about the Israel-Palestine issue in "The Gap."
Several works address the artists' thoughts about Jewish identity. Ariel Schrag's "The Chosen" makes humorous reference to her status as the child of an interfaith marriage (she is emphatically pronounced "Not Jewish" by a Brooklyn real estate broker). In the colorful "Different Combinations of Me and Tim," Lauren Weinstein wonders "who" her Jewish/Eastern European and Lutheran/Irish/Swiss baby will be. Miriam Katin's "Eucalyptus Nights" asks, "Is a Sephardi not a Jew?"
Other works, like Sarah Glidden's textless color sequence "How to Understand Israel in 60 Days or Less," address the American experience in the Jewish state. In "Falafel," Glidden's American protagonist asks, "Can I have a falafel, um, bevakashah?" In "Jobnik," Miriam Libicki resolutely declares, "Here is my home… I belong to Israel."
For viewers who would like more insight into the work of the artists, the exhibit includes a computer that displays author commentaries.
Oregon Jewish Museum: 1953 NW Kearney St., 503-226-3600. Graphic Details is on through Feb. 17, 2013.