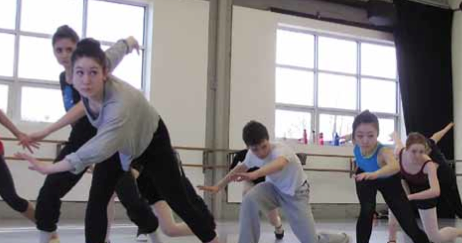 A group of teen dancers kneel on the floor, their mouths stretching in a silent scream. They remain motionless in a huddle, conveying the exhaustion of grief, a jumbled mass of dead bodies, or maybe both.
Thus ends choreographer Josie Moseley's compelling memo- rial to the Holocaust, "When I Close My Eyes." The Portland Ballet's Youth Company will perform this and other works at their spring concert on May 24 and 25.
Moseley, who teaches modern dance at The Portland Ballet, has been on the faculty at Reed College, the University of California-Berkeley, Oregon Ballet Theatre and BodyVox, among others. Dance Magazine recognized her as one of the "100 most influential choreographers of 2010." "When I Close My Eyes," originally a solo, dates from 1991. Two years later Moseley reworked it as an ensemble piece for teens. "I was given excerpts from a diary of a nun who had hidden children during Hitler's reign of power," Moseley recalls. The diary describes the children's daily lives; they spent their waking hours in silence to avoid discovery by the Nazis. "The kids played silent hand games like rock-paper-scissors. The dance also incorporates other nonverbal forms of communica- tion used in the camps," says Moseley, who describes the work as "a quiet thunder of energy."
"The work inhabited me each time I performed it," Moseley remembers, and says the teens also respond to the inherent power and immediacy of the subject matter. "It's wonderful to watch how the piece works for them as artists and young danc- ers," says Moseley, who also led discussions of the dance's subject matter during rehearsals. Moseley has observed a steady decline in young people's knowledge of Holocaust events. "As survivors pass away, so does the remembrance of the war." This month's performance marks the second time Moseley has staged "When I Close My Eyes" with The Portland Ballet, which first performed it in 2003. As she did 10 years ago, Moseley has invited a local Holocaust survivor, Leslie Aigner, to share his memories with the dancers. She saw a significant change in the dancers' interpretations after Aigner spoke to them. "It becomes more than knowledge; it becomes wisdom, and that in itself is transforming."
Although inspired by the Holocaust, "When I Close My Eyes" does not tell a specific story. "This dance presents an opportunity for both dancers and audience to learn about an experience," Moseley explains. The score for the 12-minute dance is eclectic: American composer Steve Reich's "Different Trains;" the Yiddish children's song "Oyfn Pripetchik;" an excerpt from a Holocaust diary; an avant-garde rhythmic vocalization by Meredith Monk; and string music of Estonian composer Arvo Pärt. Throughout the dance, several gestures stand out: the running patter of the dancers' shoes, which Moseley describes as the sound of ma- chine guns; a cautionary finger to the lips; one arm, repeatedly extended, reaching for something or someone lost; a long, still embrace, as the dancers comfort and protect one another.
"This dance is more than just steps," says Moseley. "I want these kids to experience something different, beyond physical technique; here they transform emotions into movement." When Moseley previously staged "When I Close My Eyes," she observed the audience's profound response. "I've seen fathers cry; that's pretty powerful. You won't hear a lot of clap- ping at the end, because people are thinking about what they've just experienced; most people don't have an immediate 'Oh, this is great' kind of reaction. This dance stays with you for days afterwards."
Elizabeth Schwartz is the program annotator for the Oregon Symphony and a freelance writer living in Portland.