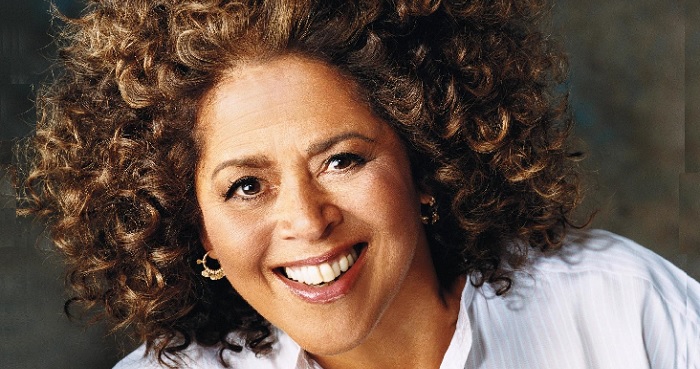 Playwright Anna Deavere Smith explores what really happened in Crown Heights in her play "Fires in the Mirror," which is on stage in Portland Oct. 12-21, 2018. Photo by Mary Ellen Mark
By J. Wandres
New York City is a collection of neighborhoods called home by diverse ethnic and cultural populations. In Crown Heights more than a quarter-century ago, those cultural differences went up in smoke.
On Monday, Aug. 19, 1991, a police escort was leading a motorcade that carried Lubavitcher Rebbe Menachem Schneerson back to his home in Crown Heights. All but the last car made it through the intersection of Utica Avenue and President Street on the green light. Bringing up the rear of the motorcade in his station wagon was 22-year-old Yosef Lifsh. He may have been trying to beat the light, but he suddenly swerved to avoid a vehicle on Utica Avenue. The station wagon careened onto a sidewalk, then ran over two children at play. Gavin Cato, 7, was crushed and died. His cousin, 7-year-old Angela, was pinned under the car and severely injured. Both were children of immigrant families from Guyana who had settled in Crown Heights.
Word of the accident spread with the speed of a grass fire. A crowd, mostly black teenagers, converged on the accident site. Some tried to lift the car off the kids. Others turned on the car's driver. Soon the crowd morphed into a mob.
What followed was four days and nights of racially fueled rioting – blacks against Jews – and the aftermath. The initial NYPD response could not contain the cauldron of hate. By the time quiet was restored on Aug. 24, more than 1,800 police and emergency responders had been called out. Yankel Rosenbaum, an Australian student in Brooklyn, was stabbed and died. More than 250 police and 38 civilians suffered injuries. Police and private vehicles were trashed. Property damage would be estimated at more than $1 million. The city's delayed response to the rioting likely caused New York City's African-American mayor, David Dinkins, to lose his bid for re-election.
Nine months later, playwright Anna Deavere Smith was compelled to find out what really happened in Crown Heights. She set out with a tape recorder to collect memories and interpretations. Smith interviewed personalities as well as anonymous witnesses who had been at that intersection. Among comments offered were those from Ntosake Shange, the African-American playwright; Angela Davis, an advocate for African-American rights; Rabbi Joseph Spielman, who spoke for the Lubavitch community; Rivkah Siegal, a Lubavitcher woman; Michael Miller, executive director of the Jewish Community Relations Council; Lettie Cottin Pogrebin, a founding editor of Ms. Magazine; the Rev. Al Sharpton; and Carmel Cato, the late Gavin Cato's father. When distilled and edited, Smith produced a series of themed monologues titled "Fires in the Mirror."
New York Times' reviewer David Richards called Smith "the ultimate impressionist: she does people's souls." He added that Smith lays up "one idea at a time, one temperament at a time, builds up a rich panoramic canvas of a national trauma."
But is it a play? To hip hop artist David Rush, Fires is a post-modern work with no actual author.
"Fires in the Mirror" does enunciate several themes, including identity – of being part of a whole (in a community or neighborhood) while still holding onto one's "selfness." Rivkah Siegal spoke about the requirement for married Orthodox women to cover their hair with a wig so as not to appear attractive in public, and how that makes them feel separate. Rapper Monique 'Big Mo' Matthews said that women in the hip hop culture need to not accept "being viewed as sexual objects."
Ms. Magazine editor Letty Pogrebin said that "blacks attack Jews because Jews are the only ones that listen to them and do not simply ignore their attacks." Rabbi Spielman says he believes "blacks lied about events surrounding the 'murder' of young Cato in order to start anti-Semitic riots."
Twenty years later Al Sharpton, in a 2011 op-ed piece in the New York Daily News, conceded his inflammatory rhetoric was a mistake but claimed tensions were "equally exacerbated by both Jewish and black extremists."
Not long after order was restored in Crown Heights, several public figures attempted to equate the massive civil disobedience with the pogroms of Europe. Some New York City mayoral candidates used the term, incorrectly, to advance their public agenda. Jewish publications used the devastation for their own purposes. In a June 2002 perspective in American Jewish History, Edward Shapiro noted certain newspapers had referred to the rioting in Crown Heights as "America's Kristallnacht."*
Like Twilight before it, Fires is part of Anna Deavere Smith's project, "On the Road: A Search for the American Character." In her introduction to "Fires in the Mirror" (New York: Bantam-Doubleday-Dell Publishing; 1993), she writes "My sense is that American character lives not in one place or the other, but in the gaps between the places, and in our struggle to be together in our differences."
*Abstracted, March 22, 2018, from Wikipedia: "Fires in the Mirror: Crown Heights, Brooklyn and other identities."
Tigard-based writer J. Wandres lived in Park Slope, Brooklyn, from 1969 to 1981.
Fires in the Mirror  
Profile Theatre's double season with Lisa Kron and Anna Deavere Smith
WHEN: 7:30 pm, Oct. 12-21; 2 pm, Oct. 20 and 21
WHERE: Artists Repertory Theatre, 1515 Morrison St., Portland
TICKETS: $36; special pricing for students
profiletheatre.org