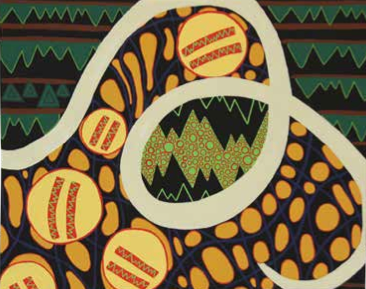 Eddy Shuldman hopes this year's Celebration of Art will be a community event. Scheduled for Sunday, Nov. 3, at the Mittleman Jewish Community Center, the ORA-Northwest Jewish Artist's exhibition will include paintings, beadwork, glasswork, fiber arts, metalwork and photography. The group Eddy and her friend Esther Liberman founded eight years ago continues to be a focal point for many.
But answering questions like what is Jewish art or who is a Jewish artist remains elusive. While some ORA members work exclusively with Judaica, many of the artists do nothing that looks Jewish at all. "We don't try to answer those questions," Eddy says. "But when I ask someone how being Jewish affects their art, there is always an answer. Even if it doesn't speak Yiddishkeit, they can tell you how being Jewish led to this."
Eddy's fused glasswork includes seder plates based on her Torah study. Esther says about half her beadwork is Judaica. "To me a Jewish artist is an artist who is Jewish," she says. "Not everyone in our group does Judaica, but your upbringing guides you whether you realize it or not. Judaism was a major part of my upbringing, and traditional motifs like the Star of David and the Tree of Life were present in our home. So when I started doing visual arts, they naturally came to me."
New ORA member Michelle Katz, came to Portland 10 years ago from Arizona. She's worked with after-school art programs and created mosaic murals for eastside public schools.
"I used to do glass and tile mosaics," she says. "I got back into painting when the kids were born. It's a way for my inner spirit to let loose. ORA artists have something connecting us, even though out artwork might not have a Jewish theme. We bounce ideas off each other. I've already had a critique with another member. The conversation was about art, but it quickly moved to our Jewish background."
Jeff Israel grew up in Portland and attended Wilson High. Today he is a semi-retired facial plastic and recontructive surgeon. A stained glass artist for several years, he's recently turned to making masks, often with a Jewish theme.
"As a kid, every time I went to temple I was fascinated by the stained glass windows," he says. "I always thought it would be great to learn how to do this. Traveling around the world repairing cleft lips and palates has enhanced my interest in masks. Judaism is such a rich culture, and the Bible stories are so vibrant. If I can bring those stories to glass, it's one more way to understand and enjoy them."
Laura Fendel's fabric art includes three-dimensional vases and mosaics. Her first piece mimicked jazz great Oscar Peterson's Walking the Line album cover. She taught school in Beaverton for 30 years and then retired to open an interior design salon in the Pearl District. Now she transforms sweatshirts she buys at Goodwill into colorful, wearable art. She'll exhibit them at ORA's Celebration of Art show under the title I'm One of a Kind.
"I belong to a Jewish women's study group," Laura says. "We have the most meaningful, meditative, creative Shabbat services and workshops." Laura also started the Jewish women's singing group Simcha. "My soul is Jewish; my ruach is Jewish," she says when asked how Judaism affects her art. What comes out of me comes from the source, and I am the conduit."
Celebration of Art 2013
When: 10:30 am to 4:30 pm, Sunday, Nov. 3
Where: MJCC Ballroom 6651 SW Capitol Hwy., Portland
Info: northwestjewishartists.org