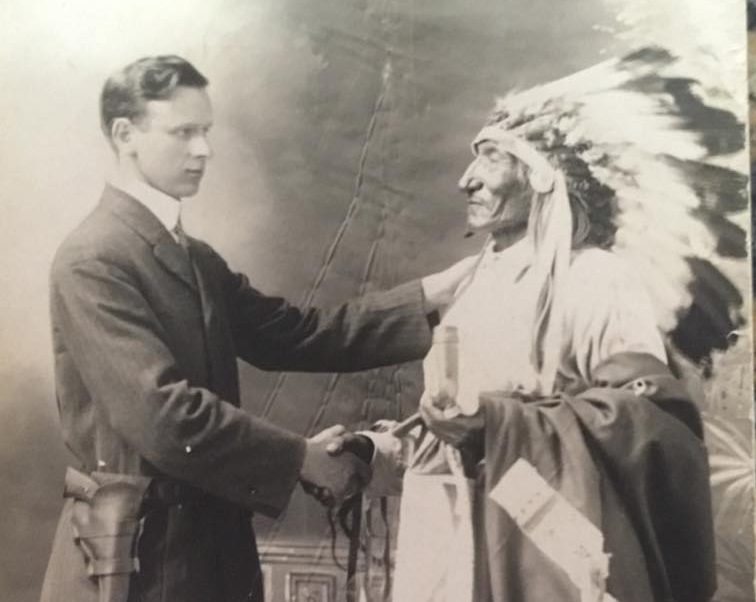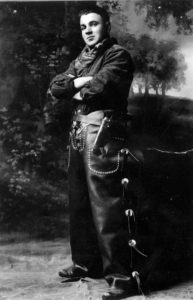 PHOTOS: Above, Jack Sinykin shakes hands with White Cloud, a Lakota Chief and Red Cloud's adopted son. At right, Rbecca Clarren's great-uncle, Louis Sinykin, aka Bronco Lou, a rodeo bronc champion. Photos from the Etta Orkin collection
On April 10 award-winning, Portland-based journalist Rebecca Clarren will present "Little Shtetl on the Prairie: Reckoning with the past through chuva (repentence)."
The free hour-long slide show and talk at the Oregon Jewish Museum and Center for Holocaust Education is part of the OJMCHE series of informal lunchtime conversations. Bring a lunch or buy a brown bag lunch in Lefty's Cafe for the program in the museum's auditorium.
Clarren's relatives escaped pogroms in Russia and became Jewish ranchers and homesteaders in South Dakota. Throughout her childhood, Clarren heard stories of their fortitude and luck –stories of her uncle "Bronco Lou" and of the mikvah immersions her great-great-grandmother took in the ice-choked creek behind their shack on the prairie. Yet among the narratives, she never heard stories of the Lakota, their neighbors.
In an effort to better understand the truth of the past and possibly find some healing, Clarren has set out to find descendants of the Lakota families who were displaced and harmed by the amoral federal policies that provided her family with free land. Claren has written about Indigenous Americans for national magazines such as The Nation, Indian Country Today and High Country News.
Her journalism, which is frequently supported by the Fund for Investigative Journalism, has won the Hillman Prize, an Alicia Patterson Foundation Fellowship, and acknowledgement from the Society for Professional Journalists and the Native American Journalists' Association. Her first novel, Kickdown (Sky Horse Press, 2018), was shortlisted for the PEN/Bellwether Prize. She lives in Portland with her husband and two young sons.
The presentation, which will include a slide show and Q&A, was funded by a grant from the Regional Arts and Culture Council.
ojmche.org | rebecca-clarren.com