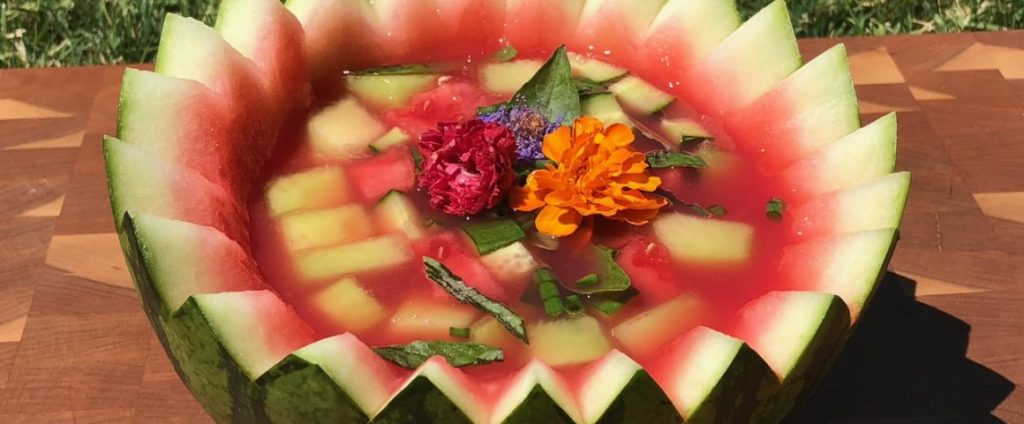 As I look around, I see everyone with their Hydro Flasks in hand, keeping themselves hydrated. I know that before I leave the house in the summer, I have so many bottles of beverages on my passenger seat that it starts beeping thinking someone is sitting there! It's no joking matter keeping yourself hydrated and prepared during these hot summer months.
One food that falls into the category of keeping you hydrated is watermelon, my favorite summer fruit! I find myself sinking my teeth into its juicy flesh and immediately cooling off from head to toe. This incredible fruit also pulls a powerful nutritional punch. It has been linked to the prevention of cancer, high blood pressure and chronic inflammation. Watermelon is made up of 92 percent water, it's full of essential electrolytes and at only 44 calories a cup, it's a low-calorie snack option. Watermelon also helps with reducing muscle soreness following exercise, enhancing hair, nails and skin and it absorbs fat!
This simple, refreshing gazpacho-like chilled soup relies on the sweetness of the watermelon. Look for a watermelon that is firm, heavy for its size and without soft spots or bruising. Tap the outside and listen for a light and almost hollow sound in response. Watermelon is a versatile fruit which can be enjoyed in many ways; in a salad, pureed into popsicles, even made into ice cubes that can be added to water or cocktails by the pool. Enjoy this versatile fruit, and remember to keep cool and hydrated this summer.
Watermelon Gazpacho
Ingredients
7 cups watermelon, cut into 1-inch cubes
Salt and pepper
Pinch of cayenne (optional)
1 tablespoon red wine vinegar or sherry vinegar
4 tablespoons fresh lime juice, plus lime wedges for serving
2 cups honeydew melon or cantaloupe, cut into 1-inch cubes
2 cups cucumber, cut into 1-inch cubes
2 tablespoons extra-virgin olive oil
2 tablespoons snipped chives
Handful of small basil leaves
Handful of small mint leaves
Pinch of crushed red pepper (optional)
Instructions
Put 5 cups of diced watermelon in a food processor or blender and purée. Strain purée through a fine-meshed sieve into a bowl. You should have about 4 cups purée. Season with salt, pepper and cayenne. Add vinegar and 2 tablespoons lime juice. Taste and adjust seasoning. Chill bowl in refrigerator for 30 minutes to one hour.
To serve, place remaining diced watermelon, honeydew melon and cucumber in a small mixing bowl. Toss with a little salt and pepper, 2 tablespoons lime juice and olive oil.
Divide mixture evenly into chilled soup bowls.
Sprinkle with chives, basil and mint. Add a sprinkle of crushed red pepper and salt if desired. Pass lime wedges separately.