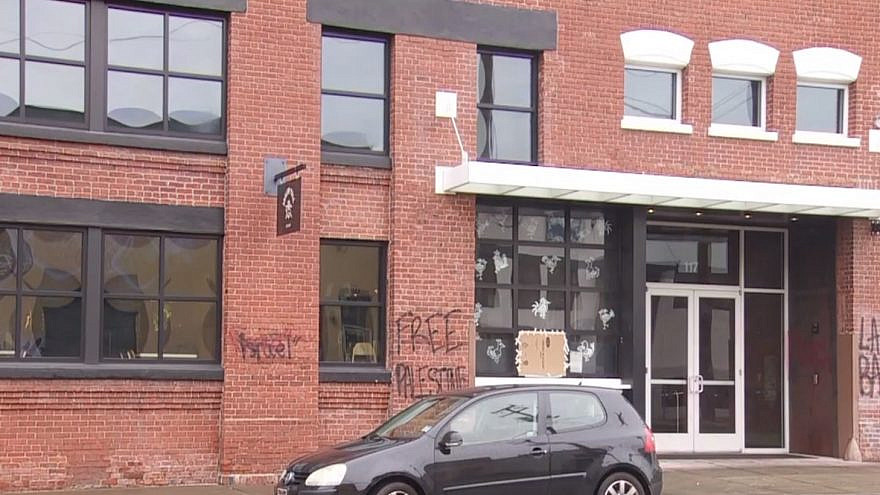 Three Israeli restaurants in Portland – Aviv and two locations of Shalom Y'all – were vandalized with the words "Free Palestine" on Jan. 9 & 10, according to the Portland Police Bureau.
Aviv daytime manager Zach Hoffman told Oregon Live, "Most of the employees at Aviv are not Israeli. Our chef is from Israel, but I don't think he wants to be involved in the politics side of it."
The eateries recently removed the "Israeli" description from their signage.
Both locations of Shalom Y'all – on Southwest Alder Street and Southeast Taylor Street – were damaged and spray-painted with graffiti that said, "Free Palestine," "Murder" and "Yuppie Scum."
Some of the tables used for outdoor dining were also upended.
Portland Police officials confirmed that they are investigating the vandalism. They also say Bias Crime detectives are aware of the case.
Shalom Y'all owners Kasey Mills, Jamal Hassan and Laura Amans labeled the graffiti as "anti-Semitic" and released the following statement about the weekend vandalism:
"On Sunday, January 10th Sesame Collective restaurants Shalom Y'all Eastside (117 SE Taylor) and Westside (1128 SW Alder) were vandalized with graffiti. We are incredibly disheartened by these actions. We are committed to operating inclusive spaces, and do not tolerate messages of hate or racism in any form.
We are so thankful for the outpouring of support we have received from the community over the last 24 hours. We encourage you to help us in supporting the Oregon Coalition Against Hate Crime."