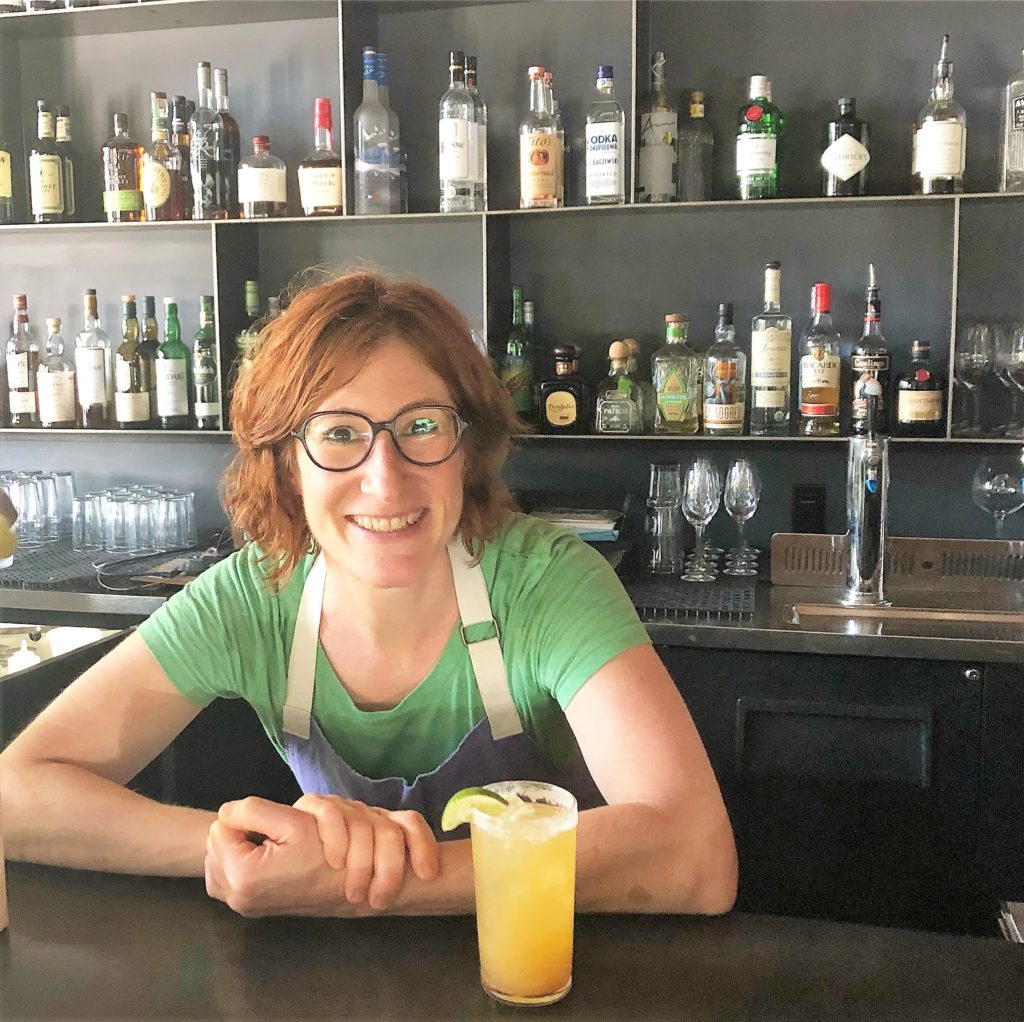 A July 5 article in the online publication The Nosher reports the rising popularity of an ancient sweetener from Israel. A Portland chef is already in the know.
"Whether you call it date syrup, date honey, or silan, this Israeli ingredient has been popping up in restaurants all over North America," writes Emily Paster in Nosher. "Lower on the glycemic index than either honey or maple syrup and vegan to boot, date syrup may be the next Middle Eastern staple poised for mainstream success. In fact, Soom Foods, the company that changed America's view of tahini, recently began offering their chef clients an organic silan made from Israeli-grown dates. … Silan is a syrup made from dates and water that have been cooked and strained."
Portland chef Jenn Louis thinks the date syrup is especially well suited to cocktails.
Twice a semifinalist for Best Chef: Northwest at the James Beard Awards, Jenn is the chef-owner of the Israeli restaurant Ray. A few of her cocktails are sweetened with date syrup including her Dead Sea cooler (see recipe below).
"Date syrup adds sweetness, without any cloying intensity," says Jenn. "The flavor is deep and interesting, and pairs well with rum and bourbon."
In February this year Newsweek reported "the agave plant – the main ingredient in tequila – is facing a mass shortage through at least 2021." Agave syrup comes from the same plant that produces tequila, the blue agave plant.
"With recent news of an impending agave shortage due to over-harvesting, some mixologists are seeking less expensive and more sustainable sweeteners for their craft cocktails and silan fits the bill perfectly," writes Emily.
If you want to check out Jenn's date syrup sweetened cocktails, you'll want to head to Ray soon.
"Ray is on the market," says Jenn. "After 25 years in the business, I am ready for a slower pace! I'll still cook, teach, write cookbooks and be involved in the food world, and am starting a line of CBD  wellness products (CBD is a cannabinoid devoid of psychoactive effects). I am very excited to have a new pace and routine!"
Jenn's already a cookbook author. Her first cookbook, Pasta by Hand, was nominated for an  International Association of Culinary Professionals Award. Her new book, Book of Greens, won the 2018 IACP Cookbook Award in the "Health & Special Diet" category.
Dead Sea cooler
Makes 1 drink
1½ ounce bourbon
¾ ounce date syrup
½ ounce lemon juice
½ ounce orange juice
3 shakes orange bitters
Place all ingredients in a metal shaker cup, top with ice and cover. Shake vigorously for 15-20 seconds, then strain into a Collins glass with a sugared rim. Top with fresh ice and garnish with a lime wedge.