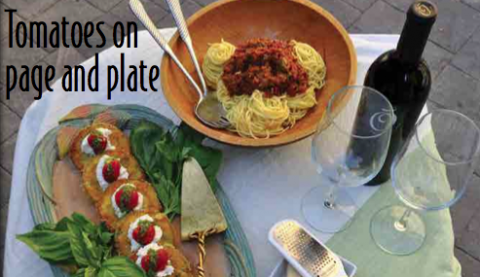 I have been a member of a few book clubs over the years. I start out with the best intentions of finishing the book in a timely manner. But alas, invariably I find myself letting busy schedules get in my way. I show up anyway only to quietly sip my wine and try to come up with something clever to say about a book I have barely read. After all, I hate to miss an evening with my friends and a good glass of wine!
However, books published about cooks, chefs, recipes, restaurants or foodies keep my interest from beginning to end. Some of my favorites include anything written by restaurant critic and author Ruth Riechl. Her books draw me into her life beginning in her mother's kitchen with Tender at the Bone, to the co-op food kitchens of Oakland California with Alice Waters in Comfort me with Apples, then to her hilarious time as the New York Times restaurant critic in Garlic and Sapphires. Warm-hearted books about food traditions and heritage like Elizabeth Ehrlich's Miriam's Kitchen evoke childhood memories of food and its impact on a family. These authors not only tell a compelling story, they include recipes within the pages that I have gone back to again and again.
Recently I reread Adam Schell's novel Tomato Rhapsody: A Fable of Love, Lust and Forbidden Fruit. Schell brilliantly spins a colorful, salacious and mostly true tale of how the tomato be- came a staple in modern-day Italian cuisine. Set in 16th century Tuscany, this cleverly told, at times bawdy, tale puts a spin on the age-old story of forbidden love and forbidden fruit. In the 16th century Europeans believed the tomato to be poisonous. Mari is a beautiful young Catholic girl who lovingly cures the olives grown in her family's olive orchard and oil factory.
She experiences love at first sight with Davido, the handsome Jewish tomato farmer with whom a union would be scandalous at best. When Davido is given an opportunity by the "Good Padre" to sell his "love apples" at the market in the piazza, he must convince the townspeople they are not only harmless, they are delicious! Not for the kiddies or the easily offended, but if you enjoy a superbly written adult fairy tale, this is a great read!
Tomatoes can be found in my house in many forms. When in season we feast on softball-sized beefsteaks fresh off the vine, tiny grape tomatoes and colorful heirloom varieties. This year I bought a case of perfectly ripe roma tomatoes and canned them myself. When processed at the peak of the season, canned tomatoes can be a fine substitute in sauces, salads and pasta in the off season when fresh tomatoes are less than desirable. And remember: Never put your tomatoes in the refrigerator! Although more commonly thought of as a vegetable, the tomato is actually a fruit and the icebox chill turns the sugars in the tomato to starch, making them mealy and unappetizing.
This recipe for Mari's tomato sauce is taken directly from Schell's website (adamschell.com). Roasting the tomatoes, gar- lic and onion add a beautifully rich roasted flavor, and the olives lend a salty bite that makes this simply made sauce deliciously deep in flavor. The eggplant recipe is an interpretation of a recipe mentioned in the book.
Panko, Parmesan and Pine Nut-Crusted Eggplant with Ricotta Cheese, Fresh Tomatoes and Pesto
Makes about 20 slices, serves 8-10
1 cup panko breadcrumbs
1⁄4 cup pine nuts
1⁄2 cup grated Parmesan cheese
1 cup all-purpose flour
3 eggs
1⁄3 cup olive oil
2 small firm eggplants, about 3 inches in diameter
Kosher salt 1
cup ricotta cheese
20 cherry size tomatoes
1⁄2 cup favorite pesto sauce, homemade or store-bought
Slice eggplant into round slices about 1⁄2 inch thick. Place on baking sheet lined with paper towels and season liberally with kosher salt on both sides. Allow eggplant to sit for about 20 minutes until droplets of water begin to appear on the surface.
Place panko, pine nuts and Parmesan cheese in the bowl of a food processor fitted with a steel blade. Pulse a few times to coarsely chop pine nuts. Lay out a piece of aluminum foil and place mixture on it alongside the flour. Beat eggs in a shallow bowl. Pat eggplant slices dry with paper towel and dip each slice one at a time first in the flour, then the egg and finally the panko mixture. Set breaded eggplant aside until ready to fry.
Heat oil to medium high (350- 375oF.) and working in batches fry eggplant slices until nicely browned on both sides. Place on serving dish in a warm oven until all eggplant is fried. Sprinkle eggplant with a bit more salt just before serving.Top each slice with a dollop of ricotta, two halves of a cherry tomato and a bit of the pesto sauce. Serve immediately.
(Serve larger eggplant as a main course, or substitute 5 or 6 smaller Japanese eggplant for an elegant hors' doeuvre.)
Mari's One-Pan Roasted Tomato Sauce with Black Olives
6-8 large beefsteak tomatoes, or 12-15 plum tomatoes 1 medium yellow onion, or 2 small yellow onions, sliced lengthwise (knot to tip) into roughly quarter-inch slices 12 cloves garlic, peeled and left whole 1⁄2 cup black olives, preferably Alfonso, Gaeta or Kalamata, pitted and pulled in half 1⁄3 cup extra virgin olive oil 1 teaspoon high-quality salt (sea, Celtic or pink Himalayan) 1 teaspoon oregano 1⁄2 teaspoon ground black pepper
1⁄2 teaspoon red pepper flakes (optional) Place a large roasting pan (not glass) in oven as it preheats to 400oF. Core tomatoes and slice in half. For beefsteaks, slice widthwise; for plum tomatoes, slice lengthwise. Use your fingers to remove seeds and juice from tomatoes. If the beefsteak tomatoes are especially large, you can slice them in half one more time, ultimately quartering the tomato. Mix all ingredients in a large bowl until onion slices have separated and tomatoes are well coated in oil and seasoning. Spill contents of bowl onto hot roasting pan (you want to hear a sizzle) and roast for approximately one hour, opening the oven to stir the pan's contents only once at the midway point, 30 minutes. Ideally, the onions and garlic should be soft and well roasted with a slight caramel color.
Remove pan from oven and allow to cool for a moment. Spoon contents into a food processor and pulse, or just use a spatula to chop the sauce up a bit in the pan. For my tastes, I like the sauce to be chunky and rustic looking with identifiable pieces of tomato, olive and garlic; others prefer it smooth and puréed. Adjust seasoning to taste. Toss with pasta or serve as a sauce for fish or chicken. Makes about 24 ounces, or 6-8 servings. Total preparation and cooking time, about 90 minutes.