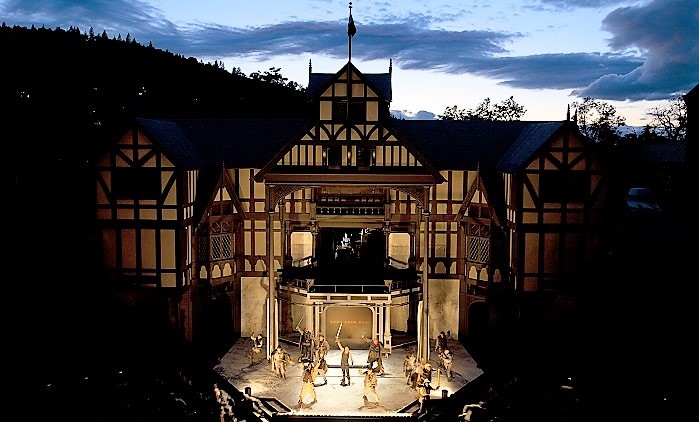 PHOTO: Open to the sky, the Oregon Shakespeare Festival's outdoor Allen Elizabethan Theatre seats 1,200 people. Featured in the photo is the 2012 set and ensemble in Henry V. Henry V is back at the festival this year through Oct. 27. This year the play will be in the smaller Thomas Theatre, which seats a maximum of 360 audience members. Photo by T. Charles Erickson
By J. Wandres
In 2012 my wife and I "went West," from the Jersey shore to the Oregon Coast to Portlandia, so she could be on the same coast as her two grown kids. Our first major exploration took us south to Ashland and the Oregon Shakespeare Festival. We plan to go again this season for a wider exploration of the Rogue "This Land is Ashland" Valley.
In Ashland, of course, there's Shakespeare for all seasons and reasons. This year's biggie is "Henry V," Willy Shakespeare's commentary on warfare, patriotism, power, family, arts and culture: "Dear Kate, you and I cannot be confined within the weak list of a country's fashion: we are the makers of manner, Kate" (Act 5, Scene 2. Kate is Princess Catherine, daughter of the French king and queen. There's also "Romeo and Juliet" and Shakespeare-lite with "Love's Labour's Lost."
There are also an odd couple of plays that would seem to be, or not to be, about the same thing.
The Angus Bowmer Theatre (20 E Main St.) presents the Rogers and Hammerstein epic, "Oklahoma." You know – that place where the grass grows as high as an elephant's eye. But beneath the surface, the play unearths rivalries between farmers and ranchers over fences and water rights. Just over the horizon everyone hopes the territory will be admitted to the union as the state of O-K-L-A-H-O-M-A!
On OSF's Thomas stage is "Manahatta." This is playwright Mary Kathryn Nagle's discourse about the land in which we live. Nagle's story traces the tragic consequences of removing Native Americans from their ancestral lands and eradicating their culture. The main character, Jane Snake, stands between two worlds: Should she remain a successful Wall Street securities trader in Manhattan (Mannahatta: an "island of many hills," in the Lenape language), or should she return to what's left of their ancestral land in Oklahoma?
Oregon's Rogue Valley is a cornucopia of arts and culture. At Southern Oregon University on Indiana Street in Ashland is the Schneider Museum of Art. Ashland's Main Street features the 150-vendor Rogue Valley Growers and Crafters Market. Farther along Main Street is Science Works, a hands-on museum that features optical illusions, DaVinci's Garage tinkering shop and a "bubble-ology" laboratory.
Speaking of the bubbly, from Oct. 20-26 the Bigham Knoll event campus in Jacksonville hosts the Southern Oregon Wine Experience.
Food experience. Wine experience. Theatrical experience. Ashland seems to have it all including not enough parking.
But what's not to like? Talk to Jeff Golden, a sort of uber boomer who discovered the Rogue Valley in the '70s. "Secular Jews of that generation grew up with a reverence for nature," he writes in Watermelon Summer (Lippincott, 1971). They had "a progressive world view, alienation from traditional Judaism and an unquenchable thirst for spiritual meaning. Enter the intersection of Ashland with Jewish people in their 60s."
They formed congregations. Ashland hosts a Chabad center, Temple Emek Shalom and Havurah Shir Hadash. At the Havurah, former New Yorker Rabbi David Zaslow focuses his energies on "encouraging new modes of expression, prayer and practice; and (a) Havurah dedicated to being a point of entry – or re-entry – for unaffiliated Jews who seek to infuse their lives with ancient and evolving values and traditions." Rabbi Zaslow has been involved in interfaith dialogue in Ashland since 1996, focusing on tikkun olam to affirm a position that supports Israel.
Connie and Emanuel Ben-David also found their valley in Ashland, as recalled by Liz Rabiner Lippoff in the May 2016 Oregon Jewish Life. Connie had lost her first husband,  Emanuel was separated; their union was bashert. Now married, they self-renovated a house in Ashland. Emanuel has lectured at Havurah Shir Hadash. Among his themes: too many Americans find it difficult to rebut negative or "fake" news because they do not get accurate news with its proper context.
Or as old King Henry himself might have orated, "change your understanding soul with opening titles (that) miscreate suits not in native colors with the truth."
osfashland.org