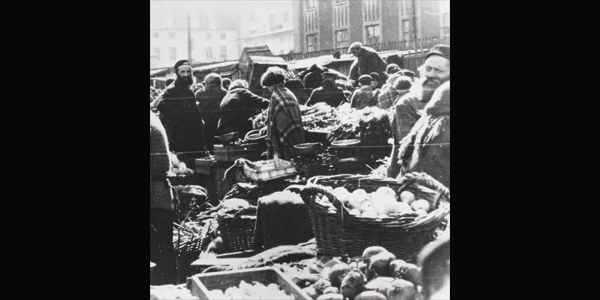 On Wednesday, November 18 at 1 pm (ET), YIVO will host a panel looking at fermenting and foraging techniques, which are increasingly appealing to those seeking to create economical, nourishing, waste-free meals. The panel, moderated by Jane Ziegelman and featuring chefs Ari Miller and Jeremy Umansky, will explore today's innovative tactics for creating waste-free meals and the historical precedents for these strategies in the Ashkenazi Jewish immigrant kitchen at the turn of the 20th century.
On May 1, 2020, YIVO launched "A Seat at the Table: A Journey into Jewish Food," the fourth online class in its Shine Online Educational Series. Since then, over 11,000 people have registered for the course, demonstrating a great appetite for more content delving into the history and culture of Ashkenazi Jewish food.
When:             Wednesday, November 18, 2020 | 1 pm (ET)
Where:           Live on Zoom
Reservations Available at:  yivo.org/Fermenting-and-Foraging
THE SPEAKERS
Jane Ziegelman is the author of the James Beard Award-winning A Square Meal: A Culinary History of the Great Depression, which she co-wrote with her husband, Andrew Coe. She is also author of the bestselling 97 Orchard: An Edible History of Five Immigrant Families in One New York Tenement.
Since Musi opened in February 2019, it has already created a higher standard in the Philadelphia food world for using local, hyper-seasonal produce, cheeses, and meats. During this short time, Ari Miller has been named Best Chef by Philadelphia Magazine. He draws upon flavors honed after a decade spent in Israel, but with restraint. Musi also creates a collaborative space, drawing together our cheesemakers, butchers, and foragers together with Pennsylvania's very small beer and linens producers. As Hillary Dixler Canavan put it, while naming Musi one of Eater's 16 Best New Restaurants: "Musi prioritizes the things that diners ought to demand — a menu informed by local product and a kitchen connected to the region's best purveyors — but the restaurant doesn't beat you over the head with it."
Since July 2020, following a complete shutdown in the wake of Covid-19, Musi is offering the Frizwit (previously a monthly pop-up) the very best cheesesteak in Philadelphia, it is sourced from the "Relationship" approach  (made with responsibly sourced Primal Supply beef and Abundantly Good cheese of an upcycled milk program).
Jeremy Umansky is a chef/owner of the Larder Delicatessen & Bakery in Cleveland, Ohio, nominated by the James Beard Foundation as the Best New Restaurant in America in 2019. He was nominated as Best Chef Great Lakes by the James Beard Foundation in 2020. He has been featured in numerous publications like Bon Appetit, The New York Times, and Saveur and was named "The Deli Prophet" by Food & Wine in the March 2019 Makers Issue. His new book Koji Alchemy: Rediscovering The Magic Of Mold Based Fermentation came out in May 2020.