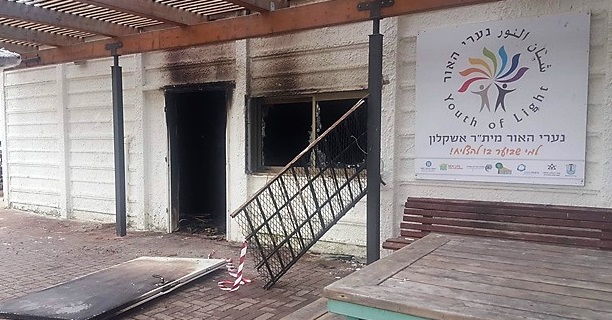 Pictured above: The scorched doorway and window show the effects of a fire at the Youth of Light candle factory. Photo courtesy Youth of Light.

The Youth of Light program was launched in 2005 by the Patrizio Paoletti Association for Development and Communication in Israel which is part of a broader program called "Schools in the World – Pedagogy for the Third Millennium." The program moved to the city of Ashkelon in 2012, where it is still implemented today.
YOL program runs activities and spearheads projects through the educational system of some Israeli municipalities in an effort to support youth at risk.
The main program YOL currently runs is a small candle factory where teens ages 15 to 19 who are identified by the local authorities as "at risk" with some of them not even living with their families any more are employed and trained in the art of candle making.
They learn the process, make the candles, then advertise, sell and ship the product. Throughout this cycle, they are taught basic life skills such as interpersonal relationships, teamwork, marketing, bookkeeping and budgeting.
In the past nine years, 150 youth have benefited from the program for a period ranging from one to two years. In some cases, results showed only after 3 or 4 months of enrollment with young people already returning to school, to their families or actively looking for a job (often successfully). It is worth noting that in 2014 100% of beneficiaries decided to resume their studies, not only in schools, but also in other educational institutions.
At the end of January, an electrical fire gutted the YOL workshop and destroyed the factory. They lost everything crucial to the candle-making business including molds, tables, wax, saws, heaters, gift wrap, paper supplies and their computer. As it occurred overnight, there were no physical injuries, but their entire project is now facing closure unless they can restore the facility immediately. These teens need structure and stability, and the loss of their program has hit them hard. For many, it was the one consistent in their lives, a bright spot in their dark world.
To find out more about Youth of Light, click here.
If you would like to make a tax-deductiblee donation to help YOL rebuild their factory, please visit their Jewcer page at https://www.jewcer.org/project/help-yol/