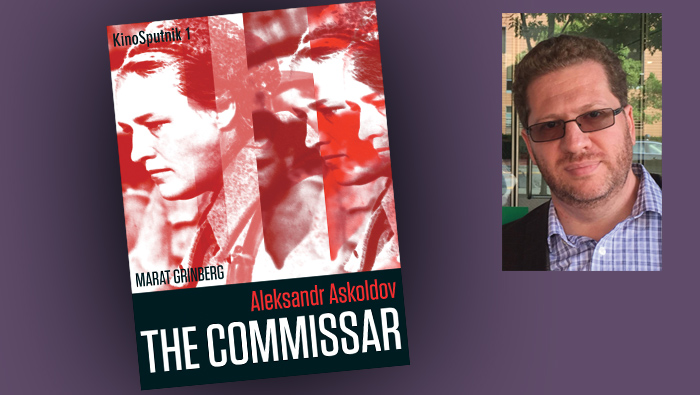 One of the most important films of the Soviet era and a new companion piece about the film will share the spotlight at the Northwest Film Center this month.
Filmed in 1966 and '67, but kept from release for 20 years, "The Commissar" will be screened in Portland at 4 pm, Nov. 20, at NWFC's Whitsell Auditorium, 1219 SW Park Ave. Reed College Professor Marat Grinberg, the author of the first book companion to the film, will introduce the film and answer questions following the screening. Copies of his new book, Aleksandr Askoldov: The Commissar, will be available for purchase and signing. The event is co-sponsored by the Portland Jewish Film Festival.
The film is based on a short story by Vasily Grossman. It tells of a female Red Army commissar who is forced to stay with a Jewish family near the front lines during the 1920s battle between the Red and White Armies as she waits to give birth. The film drew the ire of censors for its frank portrayal of the violence faced by Russian Jews in the wake of the revolution.
Grinberg's book is the first companion piece to the film in any language. It recounts the film's plot and turbulent production history, and it also offers a close analysis of the artistic vision of its director, Aleksandr Askoldov, and the ways that viewers can trace in the film not only his complex aesthetics, but also the personal crises he endured in the years leading up to the film. The result is an indispensable companion to an unforgettable film.
Grinberg received BAs in comparative literature from Columbia University and in modern Jewish studies from the Jewish Theological Seminary of America in 1999, and his Ph.D. in comparative literature from the University of Chicago in 2006.
He is a professor of Russian, humanities and comparative literature at Reed, where he also teaches Jewish literature. He is a scholar of Jewish literature and film. He and his wife, Marianna, have two children – a son in second grade at Portland Jewish Academy and a 4-month-old daughter.
He is also the author of I am to be Read not from Left to Right, but in Jewish: from Right to Left: The Poetics of Boris Slutsky. He co-edited Woody on Rye: Jewishness in the Films and Plays of Woody Allen.
Published by Intellect and distributed by the University of Chicago Press, Aleksandr Askoldov: The Commissar will be released nationally on Nov. 28. The 112-page paperback is available for $28.50.