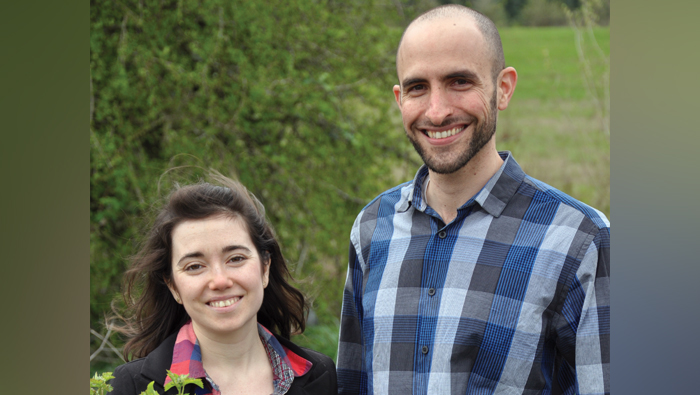 Locally grown and produced food soon will be available weekly at Jewish locations around town as Portland Tuv Ha'aretz (goodness of the earth) begins its second season.
Portland Tuv Ha'aretz, Portland's Jewish connection to sustainable, ethical food for all, was formed in January 2009 as an affiliate of the Hazon CSA network, a relationship that continued for about four years. Last year Danielle Frankel recreated a local Jewish CSA with the same name.
"Although I was influenced … (by) the first go at Tuv Ha'aretz, this is more modeled off of Hazon's CSA models, but is not one of them," says Danielle.
Though Danielle is still involved, for the coming season Ilana Rose Cloud and Jonathan Strunin have taken on the leadership mantle and expanded the CSA to a Jewsih Farm Box with a multi-farm model. The expansion also includes other suppliers who provide the option to add local items such as kosher beer and wine, kosher challah, pickles and free-range eggs. With the multi-source model, Tuv Ha'aretz will serve as a connection that enables every member to support local farms and food suppliers. (See box for options and pickup points.)
As a Jewish CSA, Tuv Ha'aretz will also connect the local food movement with Jewish heritage, cultures and traditions. Tuv Ha'aretz will partner with several synagogues and Mittleman Jewish Community Center to offer do-it-yourself classes and holiday programs featuring local produce.
"We are both really connected to the land," says Jonathan. "With Tuv Ha'aretz we want to celebrate the bounty of the Northwest."
Born in Canada and raised in New Jersey, Ilana studied painting and graduated from Rutgers. She was interested in farming and wanted to get more in touch with her Judaism, but she didn't know what her path would be until she went on the free 10-day trip to Israel available for young Jewish adults.
"I went on Birthright and that changed my life," says Ilana, now 26. She told one of her group's Birthright leaders that she wanted to start a farm and get back to the earth and asked if she should move to Israel to do that. He recommended she first consider a fellowship at the Isabella Freedman Jewish Retreat Center in Connecticut. So she signed up for a three-month Adamah fellowship.
Jonathan, 37, earned his undergraduate degree in biology from U.C. Berkley and a master's in environmental studies. Working with local government groups, he led gardening and composting trainings. Attending a "great" Havdallah service at the Los Angeles temple where his father was active inspired him to reconnect with his Jewish heritage.
In the fall of 2013 he began a Teva fellowship at the Isabella Freedman center.
Ilana and Jonathan met working together as volunteers at the center. Both worked at the retreat center and on area farms for about a year before moving to Portland together in January 2015, hoping to share the environmental ethic and farming skills they had learned at Isabella Freedman.
"When we first came here, we wanted to work on farms," says Ilana. "I know I'm good (at) working on a farm. I knew I could connect anywhere."
Through their networking, the couple found Gales Meadow Farm, the Tuv Ha'aretz supplier last season, and through the farm met Danielle and became involved with Tuv Ha'aretz.
In addition to expanding to multiple farms, Jonathan says they also talked to Oregon Kosher to get ideas for producers of kosher products that could be added to the Jewish Farm Box.
Congregation Shaarie Torah, where Ilana also works as communication coordinator, has been very helpful, including allowing the CSA to use the Shaarie Torah kitchen. "Rabbi (Joshua) Rose is a big supporter," says Ilana.
They have talked with most Portland synagogues, three of which will be pickup locations. They have also discussed the potential for joint programs with the Jewish Federation of Greater Portland, MJCC, Portland Jewish Academy, PDX MOTS and Moishe House.
"We are working with other groups to find inspiration on anything that relates to food and Judaism," says Jonathan. Under discussion are brewing and fermentation workshops at the J, a gardening series at Moishe House and member Shabbats. Farm work days will enable members to interact with the producers.
Another area of focus is health and wellness.
"We want to bring the idea that being healthy and eating well can be so connected to Judaism," says Ilana. "The CSA is a first step into Judaism and so much more. Our minds were blown away by what we learned on the farm at the Isabella Freedman Retreat Center."
"We are using food to open doors for people to engage," says Jonathan.
Tuv Ha'aretz Portland
Veggie shares:
Weekly, biweekly or monthly full or half shares: seasonal vegetables, herbs and occasionally fruit.
Add-ons:
Fruit box, sour pickles and krauts, free-range eggs, kosher challah, kosher Leikam beer, kosher Pacifica wine, seasonal flowers
Holiday boxes:
Shabbat: challah, beeswax candles, Pacifica wine and Havdallah spices
Rosh Hashanah: organic apples, honey and round raisin challah
Sukkot: specialty challah, fall vegetables and fruits
Tzedakah: Donate a full or half share to a food-insecure family in Portland
Pickup locations (Wednesdays June-October):
N: The House, North Sumner and Albina
NE: Shir Tikvah, NE 75th and Glisan
SE: Moishe House, SE 38th and Stark
NW: Shaarie Torah, NW 25th and Kearney
SW: Neveh Shalom, SW Dosch and Boundary
SW: MJCC, SW 26th and Capitol Hwy.
Sign-ups:
May 20: Last day to sign up for full season (June 1-Oct. 31)
June: Partial year sign-ups available for July-October
971-266-0231 | info@tuvhaaretzportland.com | tuvhaaretzportland.com