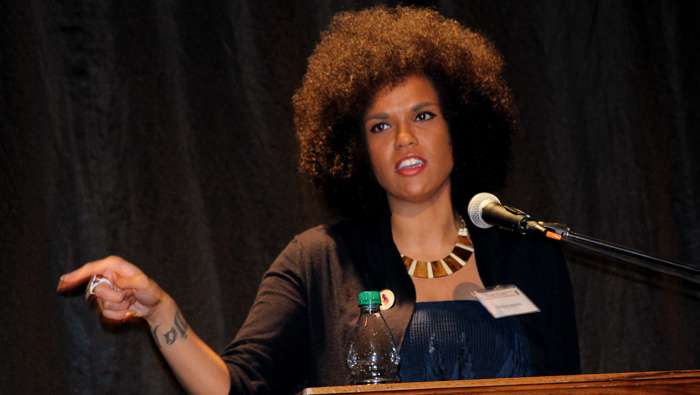 Have you ever wondered why the black population in Oregon is so small? Oregon has a history of black exclusion and discrimination, but it also has a vibrant black culture that helped sustain many communities throughout the state – a history that is not taught in schools.
This is the focus of "Why Aren't There More Black People in Oregon? A Hidden History," a free conversation with Portland State University author and adjunct professor Walidah Imarisha on Sunday, Oct. 11. This program is hosted by Congregation Beit Haverim and Lake Oswego United Church of Christ and sponsored by Oregon Humanities. Imarisha has taught in PSU's Black Studies department, where she created classes about topics as diverse as the history of the Black Panther Party, race and the history of prisons, Hurricane Katrina and hip hop as literature. She has facilitated writing workshops for students in third to 12th grade, in community centers, youth detention facilities and women's prisons.
"We are thrilled to host Walidah Imarisha and offer this important dialogue in our community," says the Rev. Jennie Ott. "For both Lake Oswego United Church of Christ and Beit Haverim, our faith compels us to help dismantle racism in our society. A critical part of this work is understanding our history."
Rabbi Alan Berg agrees: "Joining together with Rev. Ott and the Lake Oswego United Church of Christ has advanced Beit Haverim's social justice commitment. We join hands together to become a source of strength to the larger community. We are blessed to share a vision of community, a valuing of diversity and a hands-on approach to doing something about it.'"
Through the Conversation Project, Oregon Humanities offers free programs that engage community members in thoughtful, challenging conversations about ideas critical to our daily lives and our state's future. For more information about this free community discussion, contact Rabbi Alan Berg at 503-568-1241 or alanbfpd@gmail.com.
Free discussion on race in Oregon
WHAT: "Why Aren't There More Black People in Oregon? A Hidden History"
WHEN: 12:30 to 2 pm, Oct. 11
WHERE: 1111 SW Country Club Road, Lake Oswego