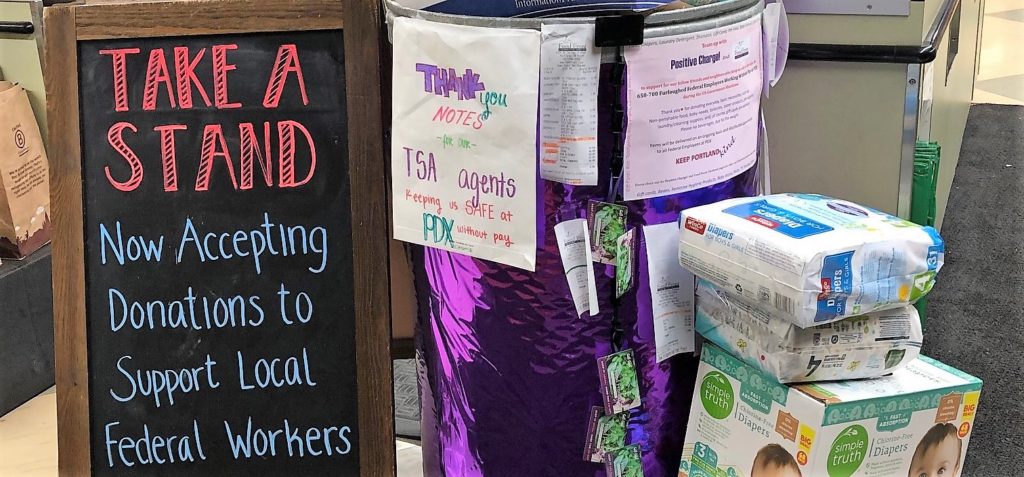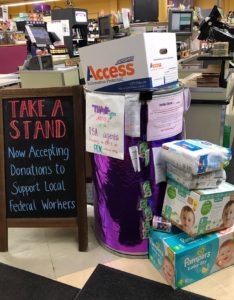 "BEST COMMUNITY OR WHAT?!
Positive Charge! has put collection bins (the NW and SW locations of Food Front, as well as Prosperity Pie Shoppe in Multnomah) to help meet the needs of the 650-700 federal employees working without pay and keeping us safe in the skies at Portland International Airport.
Yesterday Positive Charge! co-founder Sallie Cohen picked up the third overflowing bin at the Hillsdale Food Front with over $240 in gift cards!  Pure LOVE!  And to learn that people are starting collections in their places of work make your heart even fuller.  We're going to keep going as long as our help is needed.  Read more about this group dedicated to Keeping Portland Kind.
"We have a direct contact at PDX with whom we are able to get updates regarding the employees' greatest needs, as well as arranging times for meeting us for deliveries of the bin donations and "thank you" notes.  When we ran out of bins to place in the community, the manager of Home Depot gave us bins as soon as she learned the reason why we needed them.  So wonderful.  Please see our FB page https://www.facebook.com/groups/PositiveChargePDX/ and feel free to contact me for additional details of our project.
Oregon Jewish Life is posting information on community efforts to aid those impacted. See this regularly updated list of other organizations who are helping alleviate the stress of federal workers and others impacted by the government shutdown.
We will continue to add to the list as we hear about more efforts. If your congregation, agency or business is doing anything to help alleviate the stress for the federal workers in Oregon, please email editor@ojlife.com.