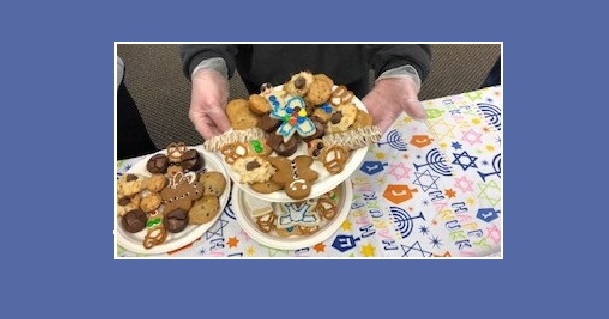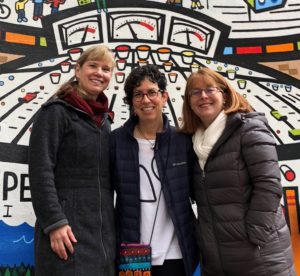 PHOTOS: Above, Positive Charge! volunteers will package and deliver homemade cookies to emergency workers at fire stations, police stations and hospitals on Christmas day. Right, Positive Charge! co-founders, from left, Ruthie Matinko-Wald, Sallie Cohen and Jen Zeidman outside KBOO after being interviewed by Suzanne LaGrande for a radio show in November.
Fighting intolerance with kindness
A group created as a counterbalance to the rampant negativity in today's culture will hold its final volunteer event of the year, The Christmas Day Cookie Project for volunteers to bake, package and deliver plates of cookies to emergency workers all over the metro area. (See details below.)
Positive Charge! is a volunteer group, open to everyone, that was created with the exclusive purposes to share good news and, through numerous projects, make a positive impact in our community. Two years ago, women representing different religions, sexual orientations, ethnicities, ages, genders, etc., sat down in Multnomah Village to brainstorm various ways to create positive actions, connections, education, respect and news among all groups in the community. The result was Positive Charge!
Positive Charge! was co-founded by Sallie Cohen, Ruthie Matinko-Wald, Jen Zeidman, Rosemary Schwimmer, Nadine Lefkowitz and Sharon Sipprell. Sallie, Ruthie and Jen continue to spearhead the effort. Gail LeVine, Tamar Stratyevskaya, Shelley Simmons Kapur, Karen Fairfield and Bonnie Berg have become very active core members.
"We are about sharing and creating good news in an effort to make a positive contribution to our daily lives and our community," says Sallie, who grew up as a third-generation member of Congregation Shaarie Torah. Her daughters grew up active at Neveh Shalom, the MJCC and Camp Solomon Schechter.  "We strive to bring positive stories to people's newsfeeds, as well as provide volunteer opportunities with a variety of local organizations for everyone to feel the joy we feel when we help others and make others feel happy."
She says participants say they enjoy Postive Charge! events they feel great helping others they would have otherwise known nothing about.
"This positive energy just warms our hearts, and that is an exciting, contagious feeling," Sallie says.
By offering a variety of different volunteer opportunities, people get to "try out" volunteer opportunities at a number of organizations; if something really resonates with an individual, that person may choose to focus his/her attention on that organization.
This isn't the first time Sallie has created a project that enables everyone to participate and give.
In 2002 Sallie's family created the Mitzvah Menorah to collect holiday presents for clients of Jewish Family & Child Service. In 2009, she started Mitzvah Camp, which took 11- and 12-years olds on a week of volunteering at various organizations.
"Without thinking about it before now, the Mitzvah Menorah and Mitzvah Camp are the precursors to Positive Charge!, in a way," says Sallie. "All three of these models welcome everyone to participate.  They are about giving, reducing a burden for someone else, making others happy, and getting that good feeling in return that you have made a positive contribution to someone else's life, to the positive progress in your community, hoping to set the stage and continue the momentum of everyone living safe, happy and healthy lives."
CHRISTMAS DAY COOKIE PROJECT
WHEN: 1 pm, Dec. 25
WHERE: Windermere Raleigh Hills conference room at 6443 SW Beaverton Hillsdale Hwy., Portland.
WHY: Have you ever had to go to the ER at night? Ever needed assistance from the fire department during the weekend? Remember seeing the police working to keep you safe during a holiday celebration? We can count on these rock star emergency professionals to care for us when we are sick, protect us from disaster, and keep us safe and secure 24/7/365, including major holidays when they would rather be home with their families. How can we show our appreciation to these hard-working members of our community?
WHAT: Our PC! group ends our second year of events on a very sweet note with The Christmas Day Cookie Project, appreciating emergency workers. So … pull out your favorite recipes, and fire up those ovens, because it's baking time!! On Dec. 25 bring 4-6 dozen delicious cookies. One group of us will mix, arrange and wrap the cookies onto plates with pretty ribbon, while the other group makes colorful and creative thank you cards to be attached to each cookie plate. After assembling all the plates and cards, we will set out on separate routes around the metro area to deliver the plates and thank you cards to the wonderful emergency personnel working in the hospitals, fire departments, and police departments around town. This is the perfect event for all ages, from baking in your homes, to making the cards, to delivering the cookies! Please bring 4-6 dozen cookies; wrapping supplies: scissors, tape, clear or colored plastic wrap, curling ribbon; and card-making supplies: paper, markers, crayons, stickers, scissors, glue, hole punches, etc.