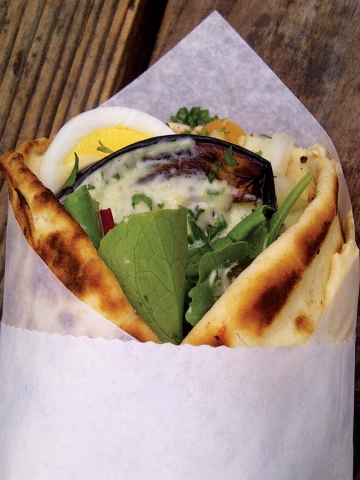 Voted the top street-food city in the world by CNN, Portland maintains a glorious diversity of food carts. Hand-painted trucks with quirky decorations announce a profusion of delicacies from all culinary corners of the globe. With such a variety of carts, it's not surprising that among the offerings are Jewish, Israeli and deli favorites. Some food carts serve up traditional dishes with a local twist, while other vendors add surprising, exotic flavors to commonplace ingredients.
Keena Tallman, co-owner of PBJ's, uses challah to make her delectable grilled nut butter and fruit spread sandwiches. "Challah is a neutral bread with a great texture," she explains. "It becomes crispy when grilled. We use Gabriel's challah because it's not too sweet; it's great for sweet, spicy and savory sandwiches." One of the most unusual toasties at PBJ's is the "Spicy Thai," which consists of two slices of challah with marmalade, sriracha, basil, curry and peanut butter. All of PBJ's nut butters are produced locally, and fruit spreads come from Oregon Growers. (PBJ's: 919 NW 23rd, www.pbjsgrilled.com)
At Wolf & Bear's, Israeli-born Jeremy Bear and his partner, Tanna TenHoopen Dolinsky, serve up organic Middle Eastern specialties with local ingredients. The cart is vegetarian, and both vegan and gluten-free options are available. An often-ordered item is the Sabich, a traditional Iraqi Jewish breakfast. A giant pita is stuffed full of free-range hard-boiled eggs, hummus, grilled eggplant, onions, cucumber pickles, parsley, lettuce, mango pickles and tahini sauce. The Sabich comes with a small side of olives and pickles. Other pitas contain Middle Eastern ingredients like labneh, a creamy yogurt cheese. (Wolf & Bear's: 3925 N Mississippi Ave., www.eatwolfandbears.com)
Diners at Chef Julie Hasson's vegan, gluten-free Native Bowl cart don't have to worry about mixing milk and meat. Hasson has published six popular cookbooks, the most recent of which is Vegan Diner. The chef began her career in pastry; it's no wonder that her chocolate-chip coconut macaroons have a following all their own. The primary offerings at Hasson's food cart are fusion rice bowls, which take their flavors from Thailand, Korea and the Middle East. These unique, layered bowls of jasmine rice and veggies are full of bold tastes. To make the popular "Broadway" bowl, Hasson griddles local Ota tofu with garlic and pepper, caramelizes it with tamari, and combines it with shredded red cabbage, carrots, peanut-ginger sauce and rice. (Native Bowl: 4233 N Mississippi Ave., www.thenativebowl.com)
Located in the bustling pod at SW Third and Stark, DC Vegetarian specializes in sandwiches made with housemade seitan, a wheat-based meat substitute. "Philly cheesesteak," "BLT" and "chicken salad" subs and panini come with dairy or vegan cheese, while "bacon cheeseburgers" are topped with vegetarian or vegan tempeh bacon. DC Vegetarian, which also offers vegan chocolate peanut butter cups, is becoming a favorite of many Portland Jewish Academy students. (DC Vegetarian: SW Third and Stark, www.dcvegetarian.com)
Latke lovers are sure to enjoy the Polish soul food at Mira's Ladle. In addition to offering a variety of homemade soups and stews, this cart serves both potato and zucchini latkes, accompanying them with the traditional sour cream and applesauce. (Mira's Ladle: 4031 SE Hawthorne Blvd., www.mirasladle.com)
The brainchild of a New York couple, The Fried Onion's motto is "Whaddya Want?" The cart serves deli specialties like pushcart pastrami and classic New York hot dogs. There's a $1.25 surcharge for fans of the Boston Red Sox. (The Fried Onion: SW Third and Alder, www.thefriedonion.com)
For those who are craving succulent, mouthwateringly tender, slow-cooked brisket, the place to be is Briskets in Slabtown. Large portions of Angus beef pot roast with port-caramelized red onions or wood-smoked brisket are placed atop homemade ciabatta. All the meat is smoked right in the cart, and the brisket is made to the specifications of an old Jewish family recipe. Vegetarians can order the breadcrumb-topped macaroni and cheese. Make sure not to skimp on the Wet-Naps. (Briskets in Slabtown: NW 19th and Quimby)
No discussion of Portland's food carts is complete without mentioning Tábor, which elevates fried chicken to gourmet heights. This repository of gut-busting Czech cuisine has been featured everywhere from Bon Appetit to Time magazine. The cart's most popular offering is the Schnitzelwich, which is almost impossible to finish. One half of a crusty ciabatta roll is spread with Ajvar red bell pepper paste, while the other half is slathered with piquant horseradish sauce. The main attraction is a perfectly spiced, crispy fried chicken breast, which lies between a hunk of the freshest romaine and a layer of tender caramelized onions. (Tábor: SW Fifth and Stark, www.schnitzelwich.com)
Portland's food carts truly have something for everyone.
Food and travel writer and jazz pianist Kerry Politzer is a recent transplant from New York. She greatly enjoys the Portland food scene. She has written for WHERE Traveler, IN New York and Dessert Professional. She publishes a log on the Portland-NYC culinary scene, The Rose and the Apple.