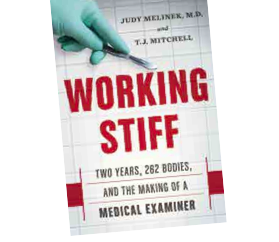 The week after Jewish forensic pathologist Judy Melinek, M.D., and her husband, T.J. Mitchell, released their jointly authored Working Stiff: Two years, 262 bodies and the making of a medical examiner, the book hit the New York Times nonfiction best seller list.
It might have been America's infatuation with shows such as "CSI" and "NCIS," or that the book reveals another side of our nation's 9/11 history (the terrorist attacks occurred just two months after Judy began her training as a forensic pathologist in New York City).
I picked up the book for two reasons: the couple, who now live in San Francisco with their three children, was stopping in Portland as part of a national book tour for a book signing at Powell's on Hawthorne; and Judy was born in Israel, where she lived till age 5, so her book seemed a likely candidate for our Jewish Book Month coverage.
I'll have to admit, I was hesitant. While I like "NCIS," I find if I watch too much news or too many shows dealing with humans' propensity to commit murder in horrible ways, I start to feel morbid. I was afraid I'd find Working Stiff a very depressing read. But I was very pleasantly surprised. Judy and T.J. are optimists; they are funny and not in the least morbid about Judy's job.
So one of my first questions to them was how they stay so upbeat when Judy deals with death on a daily basis.
"When you see death every day, you get a better perspec- tive on what causes death," explains T.J.
While the media focuses on "the more bizarre" causes of death, Judy says she sees how people actually die.
"We've learned what really kills people and most can be avoided, and you can't worry about those that you can't do any- thing about," says T.J. "You take steps to prevent those you can, and you don't worry about the others – that's why we're such sunny people."
For instance, while motor vehicle accidents were the leading cause of death for those under 34 years old (according to the CDC), T.J. notes, "people still text and drive."
For those who worry about being hit by a car while riding their bicycle, Judy says, "You are more likely to die of heart disease if you don't get on a bike than you are to be injured if you do get on your bike."
Portland's reputation as a bike-friendly city – the two are avid cyclists – was one reason the couple included the city on their speaking tour. The other reason was to see Powell's – "You have a bookstore that is a tourist destination," says T.J. with a look of wonder.
Of course Jewish topics came up, too. Judy says the family visits her extended relatives on a kibbutz in Israel every couple of years, and she talks to their children exclusively in Hebrew.
She says her knowledge of halachah and Jewish traditions was helpful when dealing with the large Orthodox Jewish community in New York. When an autopsy was necessary for reasons of public interest – either to provide evidence in a crimi- nal investigation or to provide information on communicable disease – she says she could talk to the family about the necessity to perform an autopsy to potentially save other lives. She would also have a Hevra kadisha (burial society) attend the autopsy and be as non-invasive as possible so as not to desecrate the body.
The couple and their story are both enjoyable companions. Working Stiff is a book well worth the time to read.
One Book, One Community
Returns for Portland's fourth annual Jewish Book Month with programs at venues throughout the community Nov. 2-23. This year's selection is Ruchama King Feuerman's In the Courtyard of the Kabbalist. All events are open to the community and are free unless otherwise noted.
Book discussions: 9 am, Nov. 2 at Congregation Beth Israel 10:45 am, Nov. 2 at Congregation Neveh Shalom 6:30 pm, Nov. 11 at Hillsdale Library 7 pm, Nov. 20 at
Havurah Shalom
I Dig Archeology: 7 pm, Nov. 6 at the MJCC.
The Perception of Rabbis as Saints: Prof. Oren Kosansky at 7 pm, Nov. 12 at the Oregon Jewish Museum and Center for Holocaust Education; co-sponsored by the Institute for Jewish Studies ($8 members, $10 nonmembers, $5 students).
Women's Role in Judaism: 11 am, Nov. 16 at Congregation Kesser Israel.
Introduction to Kabbalah: Presented by Congregations Beit Haverim and Shir Tikvah at 2 pm, Nov. 16 at the MJCC.
Author Talk: Ruchama King Feuerman at 10 am, Nov. 23 at Congregation Beth Israel; co-sponsored by Jewish Federation of Greater Portland.
The Jewish Genealogical Society presents David Laskin, author of The Family, at 1 pm, Nov. 9 at the MJCC, as part of Jewish Book Month. oregonjcc.org/jbm/