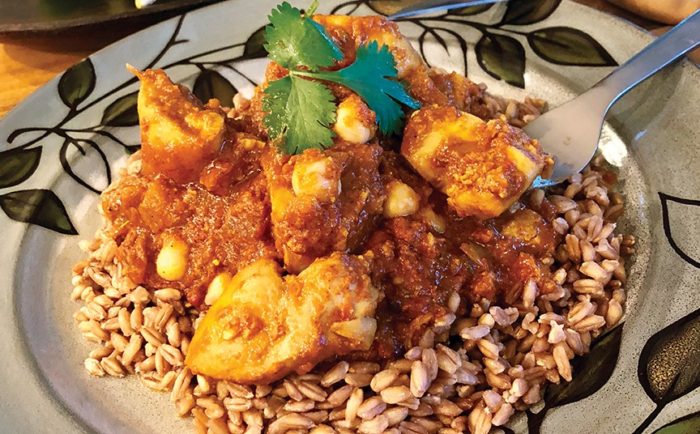 It is often said that variety is the spice of life, however, I believe that spice is what gives life variety, so I amp up the spice whenever I can! The holiday season is the time to eat all of those traditional foods that we know and love. The turkey, brisket, latkes, cookies and kugel are all hallmarks of holiday eating, but come January, the party is over. We all feel the need to make the resolution to eat a bit smarter in the new year, but that doesn't mean giving up foods that make us feel comfy and cozy in these cold, wet and dreary winter months.
An Indian curry fits the bill when I feel the need for something comforting without completely breaking the calorie bank. Spicy cinnamon, earthy cumin, coriander, turmeric and garam masala fill my kitchen with the inviting aroma of something that is perfect to tuck into on a gloomy night. I add garbanzo beans to amp up the protein without adding unwanted fat, and serve tender crisp broccolini on the side for an extra helping of heart healthy green vegetables. I skip the naan bread and use brown rice, farro or barley to sop up all of the deeply flavored sauce.
A warm and inviting curry adds delicious variety to a lackluster wintertime meal. We still have a few more months before the sunshine comes back around. The holiday party may be over, but starting the new calendar year with a healthy dose of spice in your life is sure to be a welcome New Year's resolution!
Indian Curry Chicken
2 tablespoons coconut oil
1 tablespoon canola oil
1 teaspoon cumin seeds
2 cinnamon sticks
2 large onions, finely chopped
2 tablespoons grated ginger
6 cloves garlic, crushed
1 fresh serrano chili, coarsely chopped (you can remove seeds
for less heat)
Kosher salt
2 cups strained tomatoes (such as Pomì)
2 tablespoons tomato paste
1½ teaspoons ground cumin
½ teaspoon ground turmeric
2 pounds skinless, boneless chicken thighs
(about 8-10) cut into bite-sized pieces
1 can garbanzo beans, rinsed
3 tablespoons ground almonds (almond flour)
1 teaspoon garam masala
Put the oils into a wide-bottomed, lidded frying pan on a medium heat. When it's hot, add the cumin seeds and cinnamon sticks. Let them infuse in the oil for a minute, and then add the onions. Cook for 10 to 12 minutes, stirring occasionally, until golden brown.
Meanwhile, put the ginger, garlic, serrano chilies and strained tomatoes into food processor with a pinch of salt and blend until smooth. Add the mixture to the pan and cook gently for 2 minutes. Cook the strained tomatoes for a few minutes until the sauce thickens, then add the tomato paste, ground cumin, turmeric and ½ teaspoon of salt (or to taste). Cook it through until it starts to bubble, then add the chicken and the garbanzo beans. Cover the pan and continue to cook on a gentle heat for around 30 minutes. Add the ground almonds and the garam masala and cook for another 5 minutes. Remove cinnamon sticks and serve over rice, farro or barley.