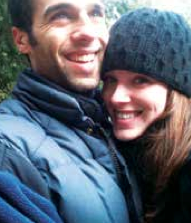 Edward and Leah Hershey
Congregation Shir Tikvah | Portland
As the New York Times reported when we married* our courtship turned on a ballgame, snow bank and bowl of soup, but Paris and frugality played a role. "If we get engaged," I asked as we passed the Palais de Justice at dusk, eyeing the tu-et-moi ring I'd bought her that morning, "would you expect another ring?" "Of course," Leah replied without hesitation.
"In that case," I said, "will you marry me?"
Mike z"l and Jane Goldhamer
Kol Shalom | Portland
As a divorcee with two small children, I belonged to the Reform Temple in Wichita, KS. My rabbi said he wished he could get me together with his friend, Mike Goldhamer, an Air Force officer at Schilling Air Force Base in Salina. One weekend Mike came to Wichita and asked Rabbi Miller if there were any unattached women in his congregation that he might be interested in. The rabbi gave him my name, we had our first date in February 1962, and were married by that rabbi that December.
Betty Esthelle and Sol
P'nai Or | Vancouver, WA
As a young RN looking for "fun" work in the summer of 1949, two years after the polio epidemic, I contacted Jewish Federation in N.Y. and applied for a position as a summer camp nurse. I was hired as the Charge Nurse at Camp Wel-Met in the mountains where 400 Jewish kids arrived for 2 to 4 weeks. I had lots of very important, demanding daily work AND still had time to find my "Beshert," a graduate art/psychology student named Sol, whom I married in 1951 for 33 productive years.
Derek and Alison Donin
Congregation Shaarie Torah | Portland
Derek and I met almost six years ago at the Mittleman Jewish Community Center summer camp, he was working at the sports camp and I was working at the day camp. He had grand plans to fly us to Paris and propose under the Eiffel Tower. That was not in the cards; instead we went to Vegas and he dropped to a knee at the top of the Eiffel Tower at the Paris Hotel.
David Schwartz and Deborah Elliott
Marketing Director, Rose Schnitzer Manor | West Linn
David and I met on Match.com in August 2011. I was getting ready to cancel my membership when his profile appeared in my Daily Matches. It was love at first sight. I boldly sent him a brief note indicating my interest. Little did I know that my profile had appeared in his Daily Matches on the very same day. We married in Portland on Oct. 6, 2012. It was beshert.
Lorraine and Lawrence Schechter
Temple Beth Tikvah | Bend
Lorraine Shapiro and Lawrence Schechter met in 2009 at Temple Beth Tikvah's first b'nai mitzvah class. Fast forward to Jan. 21, 2012, Shabbat service: Inspired by rhapsodic cantorial chanting "And Thou Shalt Love," Lawrence said to Lorraine, "I think we should get a mezuzah to commemorate our wedding." Stunned and speechless, Lorraine gave a tentative, blushing nod. After the service Lawrence quietly told a couple fellows, "I guess I popped the question." Mazel tovs resounded, a wedding team sprang forth and they wed Aug. 5, 2012.
Susan Newman and Phil Goldsmith
P'nai Or and Havurah Shalom | Portland
We were both dealing with midlife losses when we started attending a monthly healing service at Congregation Neveh Shalom. We got to know each other through sharing our stories at the service. Much to our surprise we found each other! We got married two years later with the entire P'nai Or community celebrating our wedding with us officiated by Rabbi Aryeh Hirschfield z"l.
Lou and Bernice Menashe
Congregation Neveh Shalom | Portland
Lou drove to Los Angeles from Portland with his mother, Rebecca, to visit his uncle. We had a blind date on Thursday and had a great time. On Friday, we each had other dates. On Saturday we spent the day at the beach. On Sunday, we went on a picnic with his relatives. At the picnic, we decided we wanted to get married. Everyone was shocked! On Thursday, we had our wedding with a rabbi, flowers and 150 guests. We will be celebrating 63 years of marriage in July with our 4 children and 9 grandchildren.
Rabbi Joshua and Goldie Stampfer
Congregation Neveh Shalom, rabbi emeritus | Portland
Rabbi Joshua Stampfer and Goldie Goncher met at Brandis Camp Institute in 1943 and he proposed in Atlanta, GA, on Stone Mountain a few months later. She said "Yes" immediately. They were engaged for four months and were married on Feb 13, 1944 in Akron, Ohio. Rabbi's father officiated. This month marks their 70th anniversary!
Alta and Omri Franco
Chabad; Gan Preschool parents | Portland
Omri proposed to me on a beautiful spring day at the park near our first home together. We had spent hours, arms linked, walking and dis- cussing our future together; baby names, places we want to live, everything. We fell deeply in love on those walks. He knew I'd say yes if he asked me to marry him in our park, and I did.