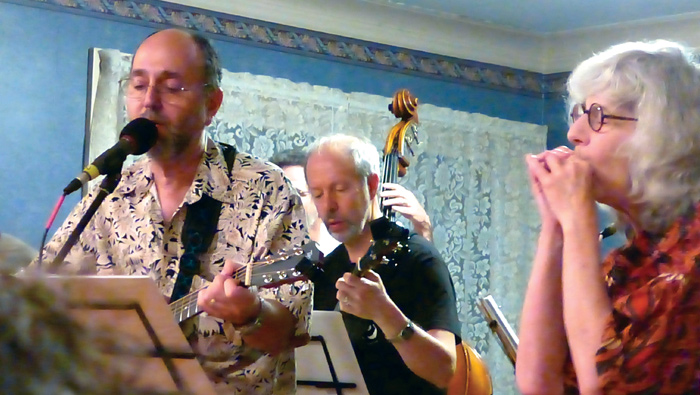 The Third Annual Lefty Sing Along will again present special guest Joe Hickerson, folklorist and co-composer, with Pete Seeger, of "Where Have All the Flowers Gone?"
The Tikkun Olam Committee of P'nai Or hosts the event 7-9:30 pm, June 25, in a private home as a fundraiser for P'nai Or and Plant for the Planet (see story, page 52). The first Lefty Sing Along was organized in memory of folk singer Pete Seeger, the second honored the music of Peter, Paul and Mary. This year, the songs of Joan Baez take center stage.
At the first two events, Joe shared personal stories from his memories of Pete Seeger and Peter, Paul and Mary. Though he has never met Joan Baez, Joe says she is very special and sang ballads and folk songs in a beautiful voice. So this year he has selected three songs from her early albums and will share his personal connections and reflections of those pieces.
One of those songs is "Kumbaya," which Joe says has a Portland connection he will share. First recorded in the 1920s, it soared to popularity in the 1960s and after Joan Baez's 1962 recording of the song. Joe's connection to the song predates that recording. In 1957 he and seven other Oberlin College students spent a summer of teaching and singing at camps and resorts from Pennsylvania to Maine.
"We taught "Kumbaya" to thousands of campers," he says. "It's easy to pick up and the counselors like it because it's only three chords on the guitar."
Joe will also sing a song or two on "stage" before retreating to the audience to join his voice with theirs as they sing along with featured performers Jordan Ackerson, Dan Anolik, Joan Glebow, Joel Glick, Lisa Lieberman, Les Milfred, Bruce Morris and Rob Vergun.
"I was quite amazed by the enthusiasm (and) that so many people sing along," says Joe of the first two years.
Called a great song leader by Pete Seeger, Joe has played a key role in the annals of folk music and the Portland event. Now a Portland resident, Joe writes a column for the Portland Folk Music Society. He served as a librarian and then head of the Archive of Folk Culture at the Library of Congress from 1963 to 1998.
"Hilda Welch came up with idea for a lefty sing-along," says Joel Glick, a member of the band for the annual sing-alongs. "It's a play on words because Joe plays guitar left-handed, and the politics of folk music in the U.S. has always tilted towards the left. At the sing-alongs, we sing many songs from the civil rights, environmental, labor and other social justice movements."
Admission is $18, with a small service charge at leftysingalong3.brownpapertickets.com. The address and directions to the Lake Oswego location are provided upon purchase of tickets.