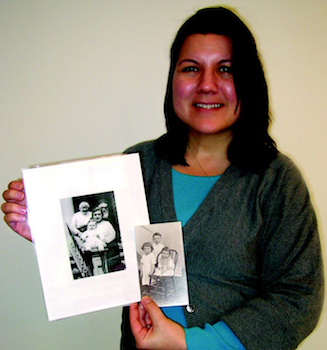 "Being a curator means having to drill down to where your subject really is," says Shoshanna Lansberg, when asked to define what she does for a living. "It's not just dry information; it's the how and the why that a curator helps you understand. You have to be able to focus on the integral part of your story." Lansberg is a native of San Antonio, TX, so the oil industry metaphor comes naturally to her. "A museum curator helps frame a discussion about a certain topic," Lansberg elaborates.
The Oregon Jewish Museum hired Lansberg as its first curator of exhibits seven months ago after receiving a grant from the Meyer Memorial Trust, and she brings a wealth of professional experience to her new position. Before she and her husband relocated to Oregon, she spent eight years at the Bob Bullock Texas State History Museum. She also worked for the Texas Historical Commission, which erects historical markers and concentrates on architectural preservation. "I was the chief interpretive planner for the historic sites division," Lansberg says. "My job focused on how to explain the history of a place, like a military site, courthouse or historic house. I love shaping the stories of places, presenting multiple perspectives, and sometimes bringing previously unknown stories to light."
"Shoshanna comes with a wide range of curatorial experi- ence," says OJM Executive Director Judith Margles. "Her familiarity with exhibit planning and development has already proven to be vital, and she is capably taking the museum's exhibit program in innovative and exciting directions." As curator of collections, Lansberg wants to engage museum visitors with the exhibits by presenting information using a variety of media formats.
"My goal is to set up an exhibition schedule that would not only help us to serve the community's art and history, but also to tell stories that haven't been told before," she says. "I plan to present information in different formats to engage multiple senses, which I hope will appeal to a wide variety of museum patrons." Lansberg's first exhibit features a first-time collaboration between OJM and IRCO, the Immigrant and Refugee Community Organization, a Portland-based not-for-profit. Craig Wollner, who was president of the OJM's board of directors until his death in 2010, had the initial idea for the exhibit.
"Craig taught me everything I know about Oregon Jewish history," says Margles. "He came up with the name – 'Settling In' – and the idea that we should examine the experiences of immigrants who came through Neighborhood House in South Portland at the beginning of the last century, and then compare their stories with a group of immigrants currently arriving in Portland – Somali, Congolese, Burmese, Eritrean, Cambodians and Cubans. We're using Neighborhood House and IRCO as the two focus points for helping immigrants to assimilate. IRCO has put us in touch with families who are talking to us about their immigration stories and how they settled into the landscape of Portland. I think people will see a lot of similarities between the Jews who settled in South Portland 100 years ago and today's immigrants."
"Settling In," which opens May 8 and runs through the end of September, will be dedicated to Wollner's memory. As a curator, Lansberg also partners with visual artists. "In that context, the curator and the artist work together to create a theme that will be the focus for the artist's show. It's more of a collaboration with the artist."
Elizabeth Schwartz is a freelance writer in Portland.