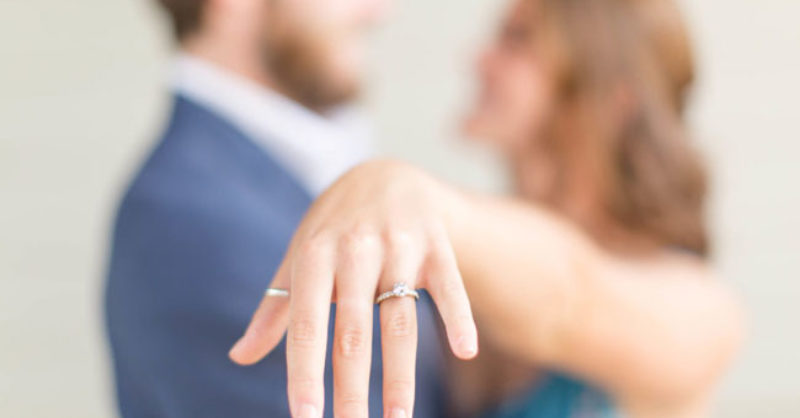 You're engaged – mazel tov! After the engagement usually comes the beginning of a joyful journey planning your wedding. That was until COVID-19 arrived and changed everything – rendering social gatherings, including weddings, nonexistent.
Many couples have been impacted, countless weddings have been postponed, and although there's a vaccine timeline on the horizon, when will we feel safe to go back to weddings as usual? Because love most certainly isn't canceled, and that includes the joyful journey of planning your wedding.
According to the website, The Knot, 35% of couples who had upcoming weddings in 2020 have postponed them to 2021 or later. And for those planning their wedding in early 2021, 43% are planning to add a virtual component for guests that can't attend in person. Still planning on an in-person wedding sooner than later? Of people surveyed who were supposed to attend a wedding amid the coronavirus pandemic, 71% of guests say it's important to receive information on health and safety measures before RSVPing. Even more specifically, 63% of guests want to know your mask policy, and 60% want to know the size of the guest list.
It's an unpredictable time for all, and the question of what's next is faced by couples, wedding pros and even guests. If you have a planner, talk to them regularly as new information is continuously available. Event planners and officials can determine, in collaboration with state and local health officials, whether and how to implement these considerations, making adjustments to meet the local community's unique needs and circumstances.
As of Dec. 4, 2020, venue capacity data for Oregon differs by county and risk level. Check with your local government website for updated restrictions.
You can certainly continue planning, even if you have to push your date back further than you anticipated. But for those who don't want to wait, many couples have come up with creative substitutions. Like everything else, there's always a Zoom wedding option or a drive-by so that your friends can share their congratulation via car horn.
Some brides and grooms have scaled down their guest list and included just immediate family, outdoors, masked and socially distanced, with a grocery store cake and photographs taken via iPhone.
Any decision to hold an event during the COVID-19 pandemic, no matter how large or small, should rely on a risk-based approach. WHO has provided guidance on how such a risk-based approach can be taken.
I am organizing a small gathering or an event such as a wedding, a party or sports tournament. What precautions should I take to prevent the spread of COVID-19 among guests?
Always check local guidelines before planning your event.
Brief guests about precautions before the event starts; during the event, remind guests of these precautions and ensure they are followed.
Choose outdoor venues over indoor spaces – if indoors, ensure the area is well-ventilated.
Minimize crowding by staggering arrivals and departures, numbering entries, designating seats/places and marking the floor to ensure physical distancing between people of at least one meter.
Provide all necessary supplies – hand hygiene stations, hand sanitizer or soap and water, tissues, closed-lid bins, distance markers, masks.
I am attending a small gathering or an event such as a wedding, a party or sports tournament. What precautions should I take to protect myself and others from getting infected with COVID-19?
Always check local regulations before attending an event.
Stay at home if you are feeling unwell.
Always comply with the following 3 basic preventive measures:
Maintain at least 1 meter distance from others, and wear a mask if you cannot guarantee this distance.
Cover a sneeze or cough with a tissue or bent elbow, and immediately dispose of tissue in a closed-lid bin. Avoid touching eyes, nose and mouth.
Wash your hands frequently with soap and water, or with a hand sanitizer
According to the CDC, the risk of COVID-19 spreading at events and gatherings increases as follows:
Lowest risk: Virtual-only activities, events, and gatherings.
More risk: Smaller outdoor and in-person gatherings in which individuals from different households remain spaced at least 6 feet apart, wear masks, do not share objects, and come from the same local area (e.g., community, town, city, or county).
Higher risk:Medium-sized in-person gatherings that are adapted to allow individuals to remain spaced at least 6 feet apart and with attendees coming from outside the local area.
Highest risk: Large in-person gatherings where it is difficult for individuals to remain spaced at least 6 feet apart and attendees travel from outside the local area.
If you decide to postpone your big day, remember you're not alone! Your day will come, and when it does, it will be amazing. Who knows? Maybe yours will be the first wedding that people attend post-pandemic. When we can all come together and celebrate again, there will be nothing else like it.