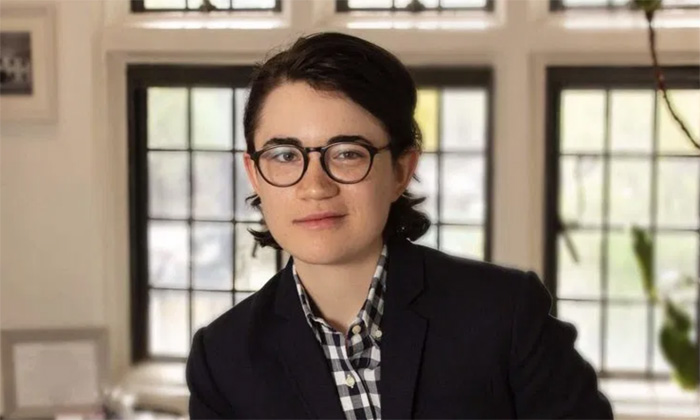 Photo: Filmmaker Em Weinstein
Em Weinstein always dreamed of making a film in the picturesque The Dalles, OR, when they would spend summers there as a child. "I have spent a lot of time in the absolutely gorgeous, Eastern Oregon countryside, which is such a beautiful part of the world," says Em. "I always wanted to shoot out there because it's just a stunningly, beautiful landscape and a part of the country that is very interesting in many ways."
Although Em was only involved in theater in high school, they studied filmmaking in college and received a master's degree in directing from Yale School of Drama in May 2019.
In August, their latest film, "In France, Michelle is a Man's Name," was awarded the Grand Jury Prize at the Outfest Los Angeles LGBTQ Film Festival. This prize officially designates the film as an Academy Award-qualifying title for Best Live Action Short Film.
It was a massive surprise to Em because Outfest is such a large festival and this was the premiere of the film. "I'm very grateful," they say. "I feel like short films have taught me so much, and this one especially was super challenging to make and a great experience."
The "super challenging" part included shooting the entire film in three days across several locations: The Dalles, Tygh Valley and Dufur, Oregon; Goldendale, Washington; and at Mary's Club, the oldest strip club in Portland, Oregon. There was also rain, a 40-person crew stuck in a tiny motel and car problems.
"Everything that could go wrong, did," recalls Em. "But it was an awesome experience because everyone pulls together and makes it work, despite all odds."
The inspiration behind "In France, Michelle is a Man's Name" was that Em wanted to tell the story about a transgender masculine character, unlike anything seen in the mainstream media. They wanted that main character to be played by Ari Damasco, who Em's known since 2009.
"We're getting trans stories for the first time, but very often they're about trans women, or they're about coming out stories – a simple narrative around what it means to be trans," says Em. "Even though it was amazing that there's more representation now than ever, I still felt that there wasn't a lot of nuanced stories."
In the film, Ari plays Michael, a young trans man, who returns home to the rural American West after years of estrangement from his parents. Em wanted to portray that the idea of acceptance is a lot more complicated than we think it is. "It takes a lot more work and is really mired in our understanding of what gender is – which is super complicated," shares Em.
While "In France, Michelle is a Man's Name" is just beginning the film festival circuit for the season, Em is also working on various other projects. They recently did a Zoom benefit that featured a selection from their play "Soldiergirls," a musical based on real letters that explores love, liberation and lesbianism in the Women's Army Corps in World War II.
Em wanted to figure out a way to keep their theater projects rolling despite note being allowed to gather in a public space, but Zoom presents its own set of challenges when it comes to bringing people together for a performance.
"It's very complicated. I think there are ways that we can do it, though," says Em. "Ways to reinvent what it means to be alive and what it means to be together in a room but still to make theater. So I'm hopeful that we'll figure out ways to keep doing it, but it's definitely a challenge."
Em is also currently working on a television show with Imagine Entertainment, a production company founded by director Ron Howard and producer Brian Grazer.
They explain that the show is about queer history and is based in the early 1960s. "It's a drama, crime, teen, soapy show," explains Em. " I've written  a pilot and then basically a bible for the whole first season."
Em wrote the script about a year ago and will soon begin pitching it to networks. "I've been doing rewrites with them (Imagine Entertainment), so that's been an amazing process. And one that I'm totally new to, so it's been really interesting."
Em is hoping that since the process is so time-consuming that by the time the pilot gets picked up and they start shooting, "it'll be a different country and that slightly different world."
They admit that the pandemic takes its toll on the creative process. "(My creativity) changes every week. There are times when I totally access it and weeks where I have no desire to write or to work. I think it's just about responding naturally to these crazy circumstances and trying to be really generous with ourselves."
Em also admits that they miss going to synagogue on Friday nights that that their "Zoom synagogue habits haven't been good in quarantine."
Having grown up committed to the religion and the culture and having a Jewish Studies minor in college Em embraces Judaism as a big part of their identity.
"As I get older, it just means more and more to me," shares Em. "Even though I don't necessarily address it head-on in my work, I feel like being Jewish is a lot about asking questions, being curious and being a citizen of the world ­– both morally and in terms of curiosity and learning – so that's a big part of who I am and it's very important."
To find more about Em and their upcoming projects, visit emweinstein.com.
Trailer: In France Michelle is a Man's Name from Em Weinstein on Vimeo.