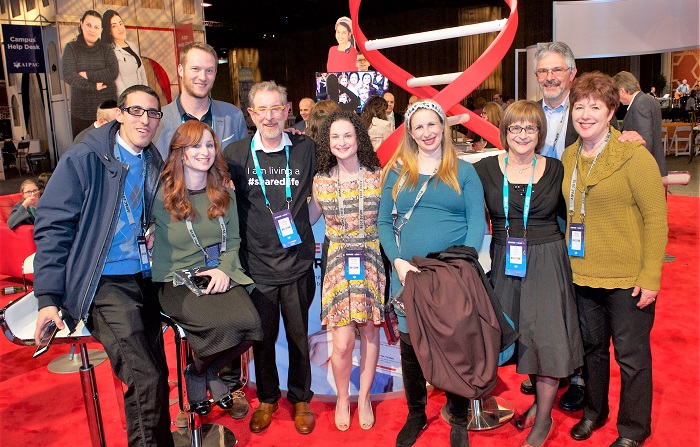 PHOTO: Bone marrow recipient Dr. Steve Arnow (wearing shirt "I am living a Shared Life") with his family meet Gev Blau (back), an IDF soldier who donated the bone marrow that saved Dr. Arnow's life. The two met at the AIPAC Policy Conference where the #SharedLife donor registry was unveiled. Behind them is the Ezer Mizion booth.
Ezer Mizion, the largest nonprofit organization providing health support services in Israel and the largest Jewish bone marrow registry, launched its new campaign, #SharedLife, at The American Israel Public Affairs Committee Annual Policy Conference.
The AIPAC Policy Conference, held this year March 4-6 in Washington, D.C., is the largest gathering of America's pro-Israel community. The conference features demonstrations of groundbreaking Israeli innovations, keynote speeches by American and Israeli leaders, and educational sessions. The conference drew more than 18,000 pro-Israel Americans, more than two-thirds of Congress and more than 3,600 college students including 283 student government presidents.
To honor Ezer Mizion, AIPAC shared an emotional video (watch.aipac.org/watch/vi9qUpCTUVrSijXM4LvG3z ) showcasing the organization's impact.
In 1998, Dr. Bracha and Moti Zisser founded the Ezer Mizion's bone marrow registry. What originally began as a small project has today expanded to be the largest Jewish-specific registry around the world. Through its exclusive partnership formed in 2005 with the Israel Defense Forces, Ezer Mizion is able to obtain a fresh pool of pre-screened candidates from each recruitment cycle. To date, its database has 885,264 registrants (including 470,038 IDF recruits), has successfully matched nearly 12,000 patients and has facilitated nearly 3,000 transplants.
The #SharedLife campaign showcases the strong connection between a donor and a recipient. In addition, Ezer Mizion was recognized for building and maintaining the largest Jewish bone marrow registry.
Dr. Zisser, who is the director of the registry, debuted the new campaign and introduced a donor/recipient duo to demonstrate its impact. Steve Arnow's journey began when he was diagnosed with Myelodysplastic Syndrome. Through Ezer Mizion, he connected with IDF soldier/donor Gev Blau for a transplant. The two were introduced for an emotional first meeting on the AIPAC stage.
Honored guests were onsite to share in the celebrations. Israeli supermodel Bar Refaeli, a registry member since 2009, has generously lent her support through social media to bring awareness to #SharedLife.
EzerMizion.org