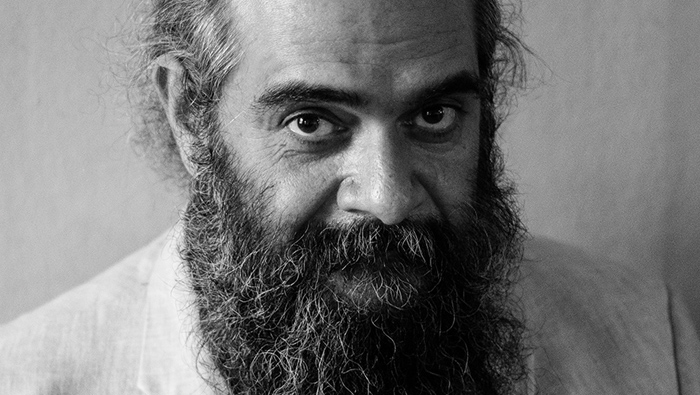 (Photo by Yulia Kabakova)
On Dec.15, the Abbie Weisenbloom Music Series will host an artist who could be described as a living encyclopedia of the Jewish diaspora. He has called himself an akyn (a kind of Central Asian shaman), while others have called him a bridge among languages, cultures and people.
Psoy Korolenko is a Russian-Jewish songwriter and performer who has been featured in The Forward (forward.com/culture/310193/inside-the-mad-yiddish-world-of-psoy-korolenjo/). He takes audiences on a multilingual journey of thought-provoking themes. The performer sings in Yiddish, English, French and Russian, and is a guest at many klezmer music festivals.
He has a special fondness for Yiddish. "Yiddish is, as it were, my virtual heritage language, and, more importantly, the language of a universal meta-culture that I love and feel myself part of."
Through his music, Korolenko focuses on the world around us. "The human world," he explains, "which is indeed, according to the Yiddish saying 'di vet mit veltlekh,' a world with many little worlds in it. And each human is also a separate world with many little worlds in it. The similarities and differences, the links and the gaps, the borders and the landmarks, the limits and the margins, these are the themes I focus on. The body and the language, the ego and the collective mind, the human encounters, conflicts, alienation, idiosyncrasies, myths and narratives, the miracle of love, all the deep and simple truths – the individual moments of truth, the ultimate concerns, what makes us immortal, these themes are relevant."
Korolenko continues, "But we must not be too serious. Being too serious about all this is in fact being too serious about oneself. This is why I prefer to always have a little bit of humor, some absurdity, some positive, constructive stupidity in songs."
The performer, who holds a Ph.D. in Russian literature, has written two books and released more than a dozen CDs of original music. "Most of my released CDs are collaborative projects with awesome musicians, bands and authors such as Daniel Kahn, Igor Krutogolov, Alyona Arenkova, Oy Division, festive band Opa! and others."
To reserve seats for this performance, email Abbie at abbiew@froggie.com.