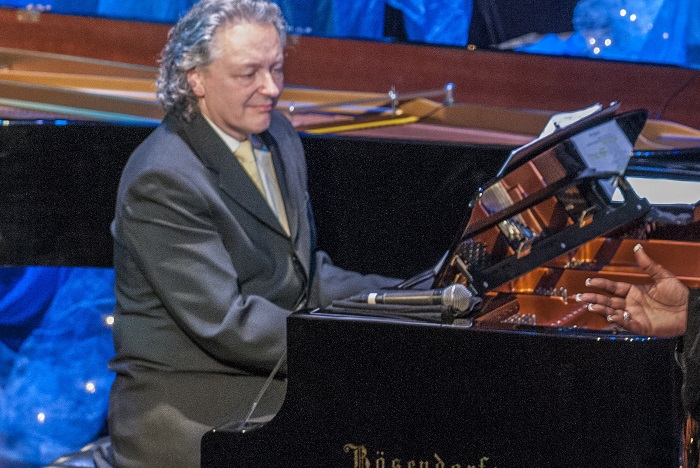 PHOTO: Michael Allen Harrison
Michael Allen Harrison will bring his rare concert grand piano to Congregation Shaarie Torah for two firsts – his first performance at Congregation Shaarie Torah and the Conservative congregation's first community-wide fundraising event (see below).
Portland pianist and composer Michael Allen Harrison is well known for his December concerts at The Old Church and his annual "Ten Grands" concerts to support music education. He has performed at Congregations Beth Israel, Neveh Shalom, Ahavath Achim and Havurah Shalom, but his April 29 concert will be his first at Shaarie Torah.
Michael says his Bösendorfer Concert Grand 280VC is one of about five in the world. He acquired it about a year ago when Bösendorfer brought it to Portland as part of a world tour to introduce the redesign of their famed 280 model.
In addition to his piano, he'll bring his extensive repertoire of traditional and original Jewish music and other popular melodies. He'll likely share some of his original music from "Crossing Over: A Musical Haggadah" and "Soul Harmony," two musical theater events he wrote with Rabbi Alan Berg. Some guest musicians are likely to make surprise appearances. He also plans to perform a song or two with his sister, Linda Harrison, a flutist who has worked at Shaarie Torah for about two years and helped facilitate his upcoming concert.
Shaarie Torah President Peter Lyman says that with Linda's connection to Michael and the board's desire to present a community-wide fundraiser, all the pieces lined up. Since the arrival of Rabbi Joshua Rose and Executive Director Gary Fifer, Peter says, "We've really ramped up the programming, and anything we can do to support that is a good thing. My hope is this becomes a template and gives us the confidence for future fundraisers."
Gary agrees. "The synagogue is in a rebuild mode. … We are taking a new look at who we are and what our vision is, what we uniquely do."
The congregation has been active in issues such as homelessness, hunger and interfaith dialogue. Gary says having a special artist like Michael, whom people want to hear, may bring in people who have never been in a synagogue before. "It's casual, educational outreach," he says. "Music is the universal language. It appeals to a lot of people for different reasons."
Linda adds that it will also be a special experience for longtime members of Shaarie Torah.
Previously Michael's major connection with Shaarie Torah was during his bar mitzvah studies. His teacher was Rabbi Chaim Reznik, Torah reader and assistant cantor at Shaarie Torah, who provided bar and bat mitzvah instruction for two generations of Portland-area children.
"He was a good bar mitzvah teacher who paid attention to detail and made sure I got all the inflections right," says Michael. "Because I'm musical and I got it right might be why he liked me."
Now he's returning to the shul to bring back a little of that musical magic.
An Intimate Evening with Michael Allen Harrison
Sunday, April 29, 6:30 pm
Congregation Shaarie Torah, 920 NW 25th Ave., Portland
$36 General Admission Tickets
$72 VIP Tickets (Includes preferred seating and access to pre-party with Michael Allen Harrison)
Sponsors $250-5,000: all include pre-party, CDs and preferred seating for a varying number of tickets
shaarietorah.org | 503-226-6131