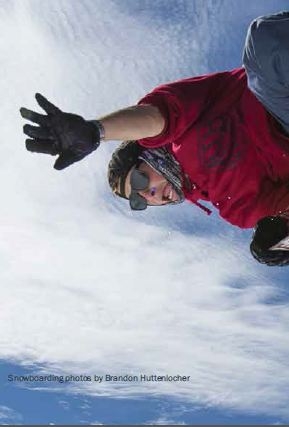 Seth "The Dreidel" Hill hopes the spinning and jumping techniques he honed on Oregon sidewalks and ski slopes will carry him to the first Olympic snowboard slopestyle competition in February.
"Basically slopestyle is a full run down the hill with different obstacles – three to four jumps and two or three rails or jibs," explains Seth, describing the rails as similar to the handrails on stairs that skateboarders love to grind. "The skateboard influence is huge."
Born and raised in Jacksonville, Seth first strapped on a pair of skis at the age of 2 and began skateboarding when he was about 5. Now 25, he credits both of those early activities with developing the skills that made him one of only eight male snowboarders invited to compete in the 2014 Olympic U.S. slopestyle selection events. While snowboarders have competed at the Olympics in giant slalom and half-pipe since 1998, 2014 will be the first Olympic slopestyle competition. As in half-pipe competitions, judges score the acrobatic competitors for style and difficulty of their run.
"Skis and skateboards both played a major part in shaping my abilities," says Seth, adding that skiing taught him how to use edges and to understand how snow moves, while skateboarding shaped his style. "The rule was I could start snowboarding when I was 10. On my 10th birthday I got a snowboard and haven't touched skis since."
Seth says he often spins like a dreidel when he does a 1080 spin (three full rotations in the air). But his nickname didn't originate with his snowboarding antics. Seth says the nickname started due to "a strange urge of some college friends to call me Jew, as I was the only one in the house of six of us. With maybe a little help from me, it transformed into the less derogatory dreidel. I personally feel it's pretty fitting … because I'm Jewish and proud of it and spend just about every day spinning around like a dreidel. Unlike most (snowboarders), I do my backside 10 flat on 1 axis with a tail grab that gives a sort of point on the bottom and hand up like the top of a dreidel."
Raised in Oregon's Rogue Valley, Seth's family attended Temple Emek Shalom in Ashland, where he attended religious school and became a bar mitzvah. Attending the University of Colorado in Boulder, he participated in Hillel events, though he notes, "It wasn't my niche." In 2012 he went on a Birthright Israel trip. "Just being active in Judaism, you hear about it. It's pretty popular." He describes the impact as "huge." He says he even looked into moving to Israel and trying to get on the Israeli national team. "But the hoops were more than I could do in a year," and the Olympics were coming up.
"I want to go to the Olympics because it's basically the pinnacle of competition," says Seth. "I know I am getting a little old to do too much more competing. So it would be great to be able to represent the U.S. in such a world-renowned event while I am still trying to compete."
Seth's drive to excel on the snow began early. His father, Michael Slater, had been a ski instructor in Switzerland. "I've been on snow my whole life," says Seth. He says he's fortunate that both his dad and mom, Janice Abrams Slater, "are on the snow as much as me." Early on Seth wanted to follow his brother, Aaron Hill, who is seven years his senior, into snowboarding. Since his parents insisted he wait till he was 10, he took up skateboarding when he wasn't on the ski slopes. Wanting their son to attend a strong college-preparatory school, his parents sent him to St. Mary's School in nearby Medford. At the high school, he joined the advisory board to develop the school's freestyle ski and snowboard programs. At CU in Boulder he was on the snowboard team every year until he graduated in 2010 with a bachelor's degree in sociology and business.
"When I graduated, Sims Snowboards put me on a full professional contract, so I'm able to concentrate solely on snowboarding," says Seth. "It's a big personal feat being able to do what I love nonstop. Training is a fairly vague word for snowboarders. Mostly it's having fun and doing what I love each day."
"Extreme sports are different from team sports," he says. In addition to competing, he also has had parts in movies for the snowboard industry showcasing "different tricks, parks and backcountry mainly for the snowboard industry." When he's filming he wears the clothes and uses the equipment made by his sponsors –Sims Snowboards, Smith Optics, Drift Camera, Phunkshunwear and Full Circle (a Washington clothing company).
During last year's Ticket to Ride world snowboard tour he was ranked 21st in the world. In August he headed for Australia for this year's TTR tour. Though the tour isn't part of the Olympic qualifying events, Seth says, "It's good to have contests under your belt before you start trying out for the Olympics." He thinks that this year he has a better edge for the early season events. He spent the summer as a coach at High Cascade Snowboard Camp on Mount Hood.
"Usually I have had three months off," he says. "A lot of riders go to New Zealand. This year I think I'll have more of an edge having stayed on the snow." Mount Hood is the main place for summer skiing in the United States, so coaching in the summer camps was a great opportunity to stay on the snow as much as possible. He says he usually had one to two hours a day to practice after camp. "It's hard to learn new tricks after a day of coaching, but it's good to keep the style going and stay active," says Seth. In addition to the opportunity to stay on the snow, he enjoyed working with the kids and young adults he coached. "I like to give back to the snowboard community," he says, noting he is involved in many charitable activities associated with snowboarding. He gives presentations for POW – Protect Our Winters – an organization that engages the snow sports community in combatting global warming.
When he gets back from the TTR tour, he'll head to Breckenridge for The Dew Tour, the first event in the Olympic selection season. He lives in Breckenridge, which may give him a bit of a home-field advantage, though he says it hasn't historically been his best competition. But his parents will be there to watch, and he's hoping Oregon viewers will tune in to see the finals on NBC or NBC Sports.