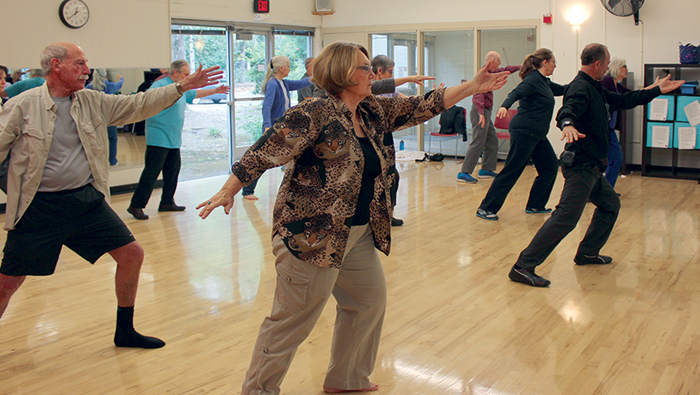 ELDER CARE
ADULT DAY SERVICES AT CEDAR SINAI PARK
Nancy Heckler, Director
6125 SW Boundary St.
Portland, OR
503-535-4403
nancy.heckler@cedarsinaipark.org
cedarsinaipark.org
This social model program provides socialization, support services and recreation in a secure, supervised setting. Group activities are adjusted to the needs, abilities, and interests of participants to encourage self-esteem and feelings of success. The program is offered on a weekly basis, and participants can enjoy yoga, music, Garden Club, creative arts, brain fitness activities, reminiscing, board games and special events. Lunch and two snacks daily are included in the cost of the program.
HOLOCAUST SURVIVOR SERVICES
Brian Fallon, Lifeline Program Director
1221 SW Yamhill St., Ste. 301
Portland, OR 97205
503-226-7079, ext. 121
jfcs-portland.org
JFCS provides specialized assistance to more than 100 Holocaust survivors, including bilingual (Russian/English) case management, homemaker assistance and emergency aid. Many are refugees from the former Soviet Union and live under the poverty line.
SINAI IN-HOME CARE
Janice Warren
7412 SW Beaverton-Hillsdale #106
Portland, OR
503-542-0088, ext. 106
info@SinaiCare.org
SinaiCare.org
Sinai In-Home Care is a nonprofit, licensed Comprehensive In-Home Care Agency serving seniors and people with disabilities in the Portland metropolitan area. Supporting individuals and their families, our experienced care team of nurses and caregivers provide reliable care coordination, personalized plans, assistance with daily activities, hands-on care and medication administration. For short or long periods, let us support you or your loved one to remain comfortably at home.
SENIOR LIVING
CEDAR SINAI PARK
Sandra Simon, MBA, CEO
Bobbie Jenkins, CPA, CFO
6125 SW Boundary St.
Portland, OR
503-535-4300
info@cedarsinaipark.org
cedarsinaipark.org
Cedar Sinai Park and its many service affiliates is a non-profit organization that provides residential and community-based care to seniors and adults with special needs. These services are provided through a broad-based continuum of care that can be tailored to individuals' unique needs, and in a manner based on Jewish values of secure, supportive, loving and stimulating environments. Active consumer choice and a person-centered approach to care are at the heart of our mission.
COURTYARD VILLAGE AT RALEIGH HILLS
Joanie Ceballos, General Manager
Merry Larsen, Marketing Director
Doris Kelleher, Operations Manager
4875 SW 78th Ave.
Portland, OR
503-297-5500
joaniec@courtyardvillage.com
courtyardvillage.com
A welcoming, comfortable community where you feel you belong is important as you embrace a new venture. Courtyard Village at Raleigh Hills provides high quality and affordable housing for active, independent adults 62 years of age or older. We are independently owned and locally operated. It's the privacy and freedom of home combined with services of friendly, helpful, and caring staff. Residents feel connected and continue to thrive as they build new and meaningful relationships.
HAROLD SCHNITZER HEALTH & REHABILITATION CARE CENTER
Green House Home
Cedar Sinai Park
Mary Webster, Administrator
Ali Reis, Social Worker
6125 SW Boundary St.
Portland, OR
503-535-4300
cedarsinaipark.org
The Harold Schnitzer Health and Rehabilitation Care Center (HSHRCC) is based on the Green House model. It consists of four homes, each with 12 individual rooms built around a central kitchen and living area.
NORTHWEST PLACE
Quinn Crandell, Executive Director
2420 NW Marshall St.
Portland, OR
503-388-5417
Northwest_Place_Marketing@SRG-LLC.com
SRGseniorliving.com
Nestled in one of Portland's most vibrant residential neighborhoods, NorthWest Place will change the way you think about retirement living. Here, you'll discover an active, luxury community that caters to those looking for a fully engaged lifestyle. From restaurant-style dining and rooftop terrace social hours to a full calendar of events, residents are presented with new opportunities daily. With an ideal location and unmatched lifestyle, NorthWest Place is the perfect place to retire.
ROBISON JEWISH HEALTH CENTER AT CSP
Cedar Sinai Park
Mary Webster, Administrator
Ali Reis, Social Worker
6125 SW Boundary St.
Portland, OR
503-535-4300
cedarsinaipark.org
Robison Jewish Home offers short-term, post-acute rehabilitation services to assist in recovery from an injury or surgery. A rehab team works with patients of all ages to provide the services and therapy required to achieve full mobility.
ROSE SCHNITZER MANOR
Irit Mandelsberg
6140 SW Boundary St.
Portland, OR
503-535-4000
RoseSchnitzerManor.org
Rose Schnitzer Manor is the happiest, healthiest and smartest retirement community in Oregon. We provide personalized care and support in a safe, warm, and nurturing environment. A place where you will enjoy nutritious, home-cooked meals, daily fitness classes, plus a wealth of activities to stimulate mind, body and soul. Nestled in 27 acres of urban forest and gardens, Rose Schnitzer Manor is friendly and welcoming…the perfect place to call home.
SPRINGRIDGE AT CHARBONNEAU
Christine Holloway, Director of Sales & Marketing
Jill Ford, Sales and Marketing Representative
32200 SW French Prairie Road
Wilsonville, OR
503-218-3614
SpringRidge@SRG-LLC.com
SRGseniorliving.com
Set on 10 acres within the scenic master-planned community of Charbonneau, SpringRidge is a full-service retirement living community campus offering Independent Living as well as Assisted and Memory Care services. Enjoy 12-hour restaurant-style dining, engaging events and activities; convenient transportation services; creative pursuits in the art studio or woodshop, enclosed heated swimming pool and more. This is retirement living as it was meant to be. SpringRidge at Charbonneau.