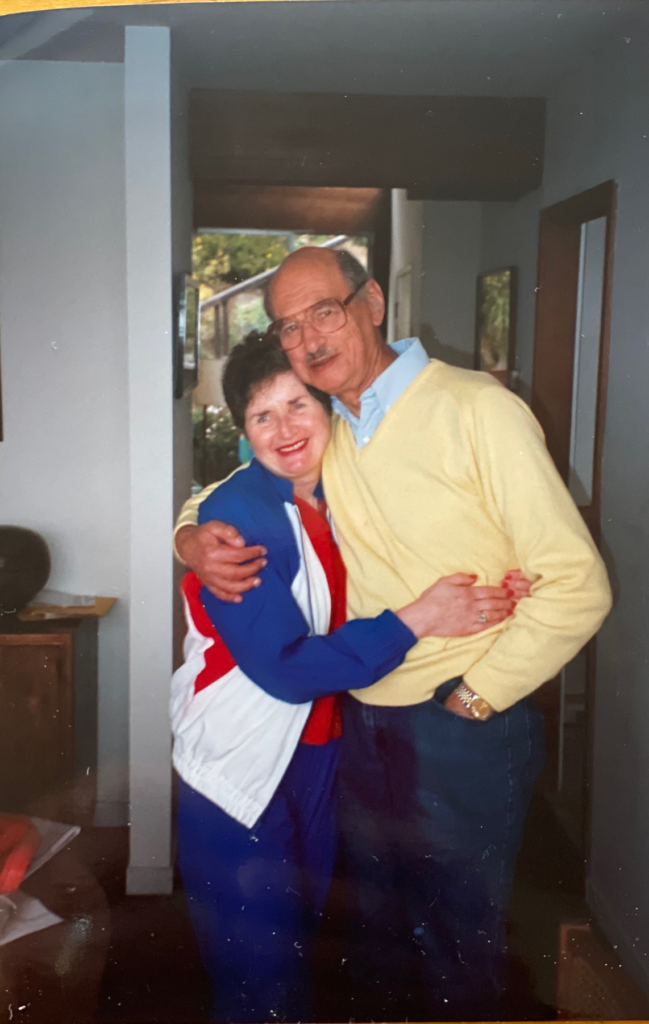 Barbara "Bunny" Edelson, has lived nearly 94 years, and is a force to be reckoned with. Bunny is spunky, feisty, and one of the most active individuals you will ever meet. Born in 1928, Bunny will be turning 94 years young in July. Bunny said that her secret to having such an active life is to "get up and get going." She also said that she likes to swim everyday, she has an appetite like a horse, and she tries to stay out of mischief.
Bunny was born in Milwaukee, Wisconsin, and lived there until she completed college. Bunny's parents divorced when she was little. Her big brother, had a major hand in raising Bunny and giving her the confidence she has today. Bunny looked up to her older brother and loved him dearly. As Bunny said, "my brother was wonderful. He was like my father, my brother, my everything." Bunny's brother died at 46 years old. This was a difficult moment for Bunny, as he was the world to her.
Bunny had an exciting life and had the opportunity to live in Chicago, New York, and Philadelphia. She worked with an interior design magazine in New York. She loved working, as she felt it was stimulating and gave her a chance to meet interesting people. As an Associate Editor, she was given the opportunity to interview some of the architectural greats, including Frank Lloyd Wright.
Bunny met her late husband Zanly on a trip to Hawaii. "I went down to the beach and I saw a man staring at me. He was a bit creepy, so I decided I wouldn't go out again after lunch. When I went back to pick up my stuff he had moved his bag next to mine. We started talking, and he was actually very nice." Bunny and Zanly went out for dinner and married just a few weeks later. Zanly was a successful Surgeon in Oregon. He even had one of his friends call Bunny to give her a reference and let her know that he was a great guy.  Bunny and Zanly went on to have three children together. Zanly had two children from a previous marriage, who Bunny loved and cared for as her own. Bunny said that she is fortunate to have 5 children, 8 grandchildren, and three great-grandchildren.
Bunny's universe centers around her family and making sure she is there to support them in any way possible. When her children were young, Bunny was always active in their school as PTA President, Boy Scout Den Mother, and Girl Scout Leader. She supported her children through religious school and getting her children B'nei mitzvah. She was an active member with Congregation Beth Israel. When it was time for college, Bunny made the drive to drop off at the dorms. "When I drove home from taking the kids to college I cried so much I couldn't even see." Even now, Bunny lives for her family. She is so thankful that four of her five children still live in Oregon.
When Bunny turned 50, she told her husband she wanted to work again. While Zanly wasn't too keen on this idea, Bunny said she was going to do it, and she did! Bunny worked for Parker Furniture doing interior design for the next 30 years. She designed homes, boats, offices, and hotels. She retired at 78 years old as she felt she was missing out on attending her grandchildren's sporting events and activities.
Bunny was married to the love of her life for 45 years. Her husband Zanly passed away 25 years ago. "If I could go back to any day in my life, it would be any day that my husband was still alive" Bunny said. Bunny had to find a way to keep moving forward, so she stayed active by volunteering in the community. She volunteered for Meals on Wheels, The Sunshine Pantry, and volunteered at the school. As Bunny said, "I am not a sit around type of person."
Even at 94 years old, Bunny still has an active life. Bunny has different groups of friends that she gets together with each month. From her monthly lunch group, theater group, and lecture series group, Bunny shows that you don't need to slow down just because you are getting older. As Bunny said, "be happy, stay healthy, enjoy yourself, have confidence in yourself, and you can do anything you want to do! How you live your life and treat others is important." Bunny is a true inspiration and is showing the world that age is truly a state of mind and that if you keep yourself active, surrounded by love and positivity, you will have a more productive and happier life.