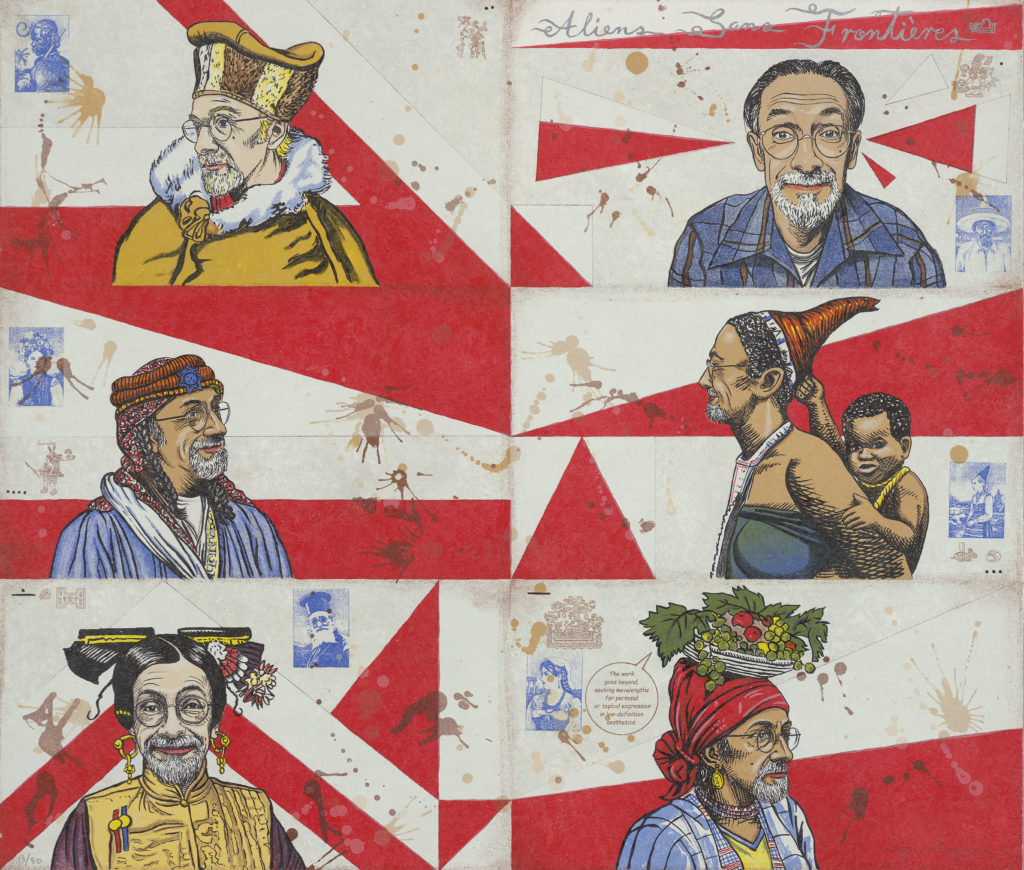 Above: "Aliens San Frontières," 2016, by Enrique Chagoya (American, b. Mexico, 1953). Collection of Jordan D. Schnitzer, 2016. Photo: Strode Photographic LLC
The Hallie Ford Museum of Art in Salem presents "Witness: Themes of Social Justice in Contemporary Printmaking and Photography from the Collections of Jordan D. Schnitzer and His Family Foundation" through Dec. 20 in the Melvin Henderson-Rubio Gallery and the Maribeth Collins Lobby.
Drawn from one of the legendary contemporary print collections in the United States, "Witness" explores issues of race, identity and social justice in contemporary printmaking and photography. The exhibition has been organized by Portland art historian and scholar Elizabeth Bilyeu and explores four thematic sections: Stories and Histories, Pressures of Pop Culture, Challenging Expectations of Place and Unconventional Portraits. The exhibition features 82 prints by 40 nationally and internationally recognized artists, including Enrique Chagoya, Lalla Essaydi, Mildred Howard, Hung Liu, Nicola Lopez, Wendy Red Star (Apsáalooka), Roger Shimomura, Kara Walker and Marie Watt (Seneca).
"The theme represented in this exhibition, social justice, is the most important discussion all of us in the country need to have with each other," says Jordan D. Schnitzer. "We continue to proudly support the Hallie Ford Museum and our numerous collaborations together."
In conjunction with the exhibition, internationally recognized artists Hung Liu and Alison Saar will discuss their art and careers on Nov. 1 and Nov. 15, respectively, at 7:30 pm. Admission to the lectures is complementary. They will be held in the Paulus Lecture Hall at the Willamette University College of Law located at 245 Winter St. SE, Salem.
Complimentary docent guided gallery talks will be held every Tuesday at 12:30 pm through Dec. 18.
The exhibition is accompanied by a full-color, hardcover book with an essay by Elizabeth Anne Bilyeu and an introduction by LeRonn Brooks, available for sale at the museum.
503-370-6855 | willamette.edu/go/witness