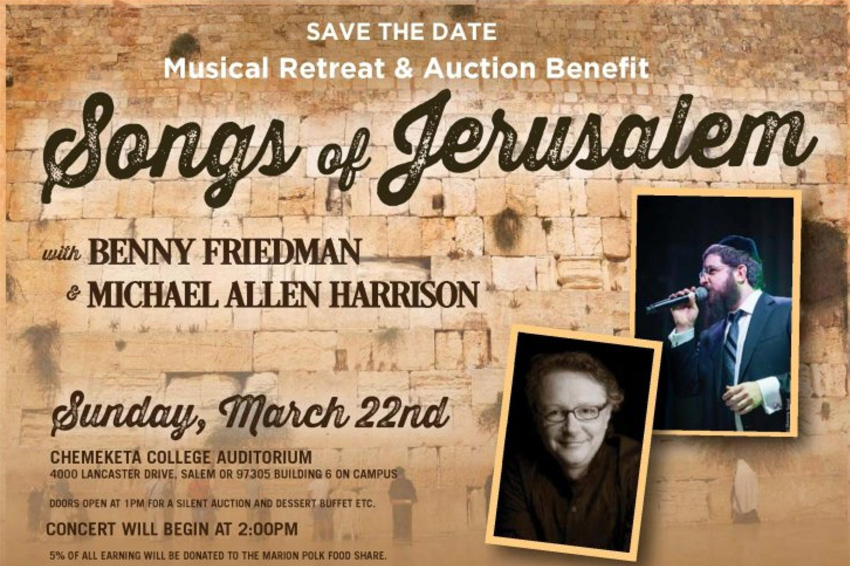 Internationally renowned Jewish singer Benny Friedman reunites with pianist and composer Michael Allen Harrison, known as "The Grand Maestro of Portland," for a concert Sunday, March 22, in Salem.
This will be the fourth year Benny has come to Salem for this musical retreat and auction benefit for the Chabad Jewish Center of Salem. Last year he was joined by Michael and the concert moved to a larger venue, the Chemeketa Salem Campus Auditorium 6. That concert drew about 250 people to hear the two Jewish musicians perform together and individually.
"Last year the theme was 'freedom,' and the concert opened with them singing the national anthem and "God Bless America" together. It was absolutely beautiful," says Rabbi Avrohom Yitzchok Perlstein. "When they played together, the chemistry was great."
Michael composes and performs jazz, fusion, smooth jazz, pop, new age and adult contemporary. With Portland Rabbi Alan Berg, he created "Crossing Over: A Musical Haggadah." This year the two have reunited for the musical "Soul Harmony," the story of Jewish singer Deborah Chessler and the black male vocal group Sonny Til & The Orioles.
Benny's musical career began at age 13, when he started performing at small local events and mesmerized audiences with his dazzling voice. Passionate about both singing and his ability to inspire people through music, Benny spent four years working with Hollywood vocal coach Seth Riggs. He now splits his time between recording albums and performing all over the country. He explores the fundamental concepts of Judaism through music and lore in his concert series "Songs and Stories of Judaism."
In honor of this year's theme, "Songs of Jerusalem," Rabbi Perlstein says he hopes the community will come together in solidarity with the people of Jerusalem and those around the world who are confronting terrorism as they try to live their daily lives. In Jewish tradition, "when something bad happens, our response is unity," says the rabbi. "Unity is the antidote to destroy this hatred."
This year 5% of the proceeds before expenses will go to the Marion-Polk Food Share. Rabbi Perlstein says Salem Chabad has partnered with the food share's Meals on Wheels program as part of its efforts to care for the elderly, so the donation will support that program.
Doors open at 1 pm for a pre-concert silent auction; the concert begins at 2 pm. Access to the auditorium (4000 Lancaster Dr. NE) is easy from 45th Street, and parking is convenient in the Purple Parking Lot. Tickets with RSVP are $21 for seniors, $24 general; or $25 seniors, $28 general at the door; and $18 for students and children. Sponsorship packages are available from $99. To purchase tickets or become a sponsor, visit JewishSalem.com.