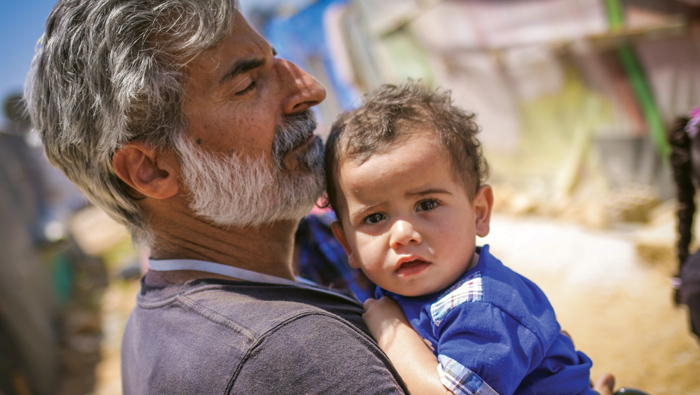 In commemoration of Genocide Awareness and Prevention Month, two groups have teamed up to present an April festival featuring films and opportunities to take action.
Portland State University's Holocaust and Genocide Studies Project and the local advocacy group Never Again Coalition will present Rising up for Human Dignity, a film and action festival.
"We want people to walk away from these films not feeling hopeless, but invigorated and feeling like they can help make change," says Lauren Fortgang, policy director for Never Again Coalition.
The groups set out to engage people with a series of films and actions. Each Thursday night in April will feature a film, along with talk-backs and action opportunities.
The festival begins April 6 with "The Uncondemned," the gripping and world-changing story of a group of young international lawyers and activists who fought to make rape a crime of war. The documentary reveals the mystery witnesses who testified from behind a curtain to bring about the world's first-ever conviction of rape as a war crime in Rwanda. The timing of this film coincides with the April 7 commemoration of the genocide in Rwanda. Actions will include ways to connect with local sexual assault centers and opportunities to help end the Global Gag Rule.
On April 13, attendees will see "When Elephants Fight," a documentary that brings to light a bloody conflict involving the mineral trade in the eastern region of the Democratic Republic of Congo. Minerals that are necessary to sustain today's cell phones and laptops are funding the deadliest war since World War II. There will be a variety of actions to take including an e-cycling station and information about making Oregon a Conflict Free State. Portland recently became a Conflict Free City.
Filmmaker Elias Matar will be present to introduce his film "Children of Beqaa" on April 20. "Children of Beqaa" documents director Elias Matar and his daughter, Lyla, traveling to the Beqaa Valley, Lebanon, in June of 2016 to work with Salam LADC, a local NGO. In the Beqaa Valley, more than 500,000 Syrian refugees have been living in a state of limbo for the past five years. These refugees are left in the dark; they have no country, nearly no rights, very little education and not enough food. "Children of Beqaa" gives a voice to the refugees, who want their stories to be heard.
"Ahead of Time – The Extraordinary Journey of Ruth Gruber" will be shown April 27. The film tells the story of Ruth Gruber, an international correspondent, photojournalist and the youngest person of her time to receive a Ph.D. A feminist before feminism, Ruth was never just an observer, rather she was a participant in the making of history. This night was chosen for this film because of its proximity to April 23, this year's observance of Yom HaShoah or Holocaust Remembrance Day. April Slabosheski, holocaust educator at Oregon Jewish Museum and Center for Holocaust Education, and Julie Reihs, a local photojournalist, will be at the film for a talk-back.
The festival will wrap up May 4 with "Heart of Nuba," documenting the war-torn Nuba Mountains of Sudan, where American doctor Tom Catena selflessly and courageously serves the needs of a forgotten people, as the region is bombed relentlessly by an indicted war criminal, Sudan's President Omar Al-Bashir. Sara-Christine Dallain, program director for the NGO iACT, will be speaking about the lives of Sudanese refugees. Although Darfur may seem like a past conflict, the violence continues to flare up, both there and in other regions of Sudan.
For this and all the other films, the organizers are pleased to be able to offer tangible ways that can effect change in these conflicts as we come together to Rise Up for Human Dignity.
Film & Action Festival
WHERE: Various venues on the PSU campus
WHEN: 7 pm, every Thursday in April and the first Thursday in May
ADMISSION: Free, but seats are first come, first served. Subject matter may not be appropriate for young children.
INFORMATION: neveragaincoalition@gmail.com or http://www.neveragaincoalition.org/rising-up