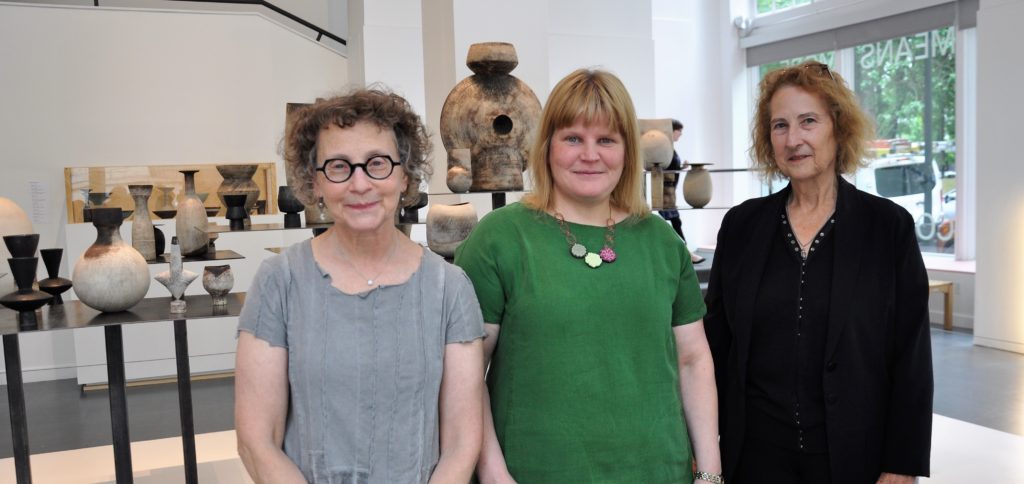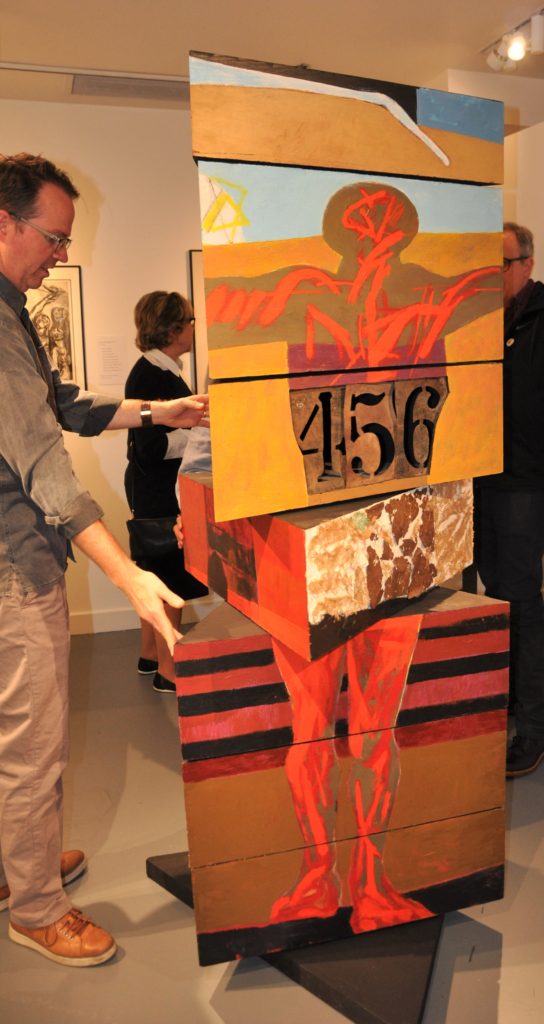 PHOTOS: Above, standing in front of the Hans Coper ceramics exhibit are, from left, OJMCHE Director Judy Margles, York Musuems Trust Ceramics Curator Helen Walsh, and exhibit guest curator Sandra Percival. At right, "Holocaust Remembered," a mobile painting by Betty LaDuke is on public display for the first time in an exhibit of her early work at the Oregon Jewish Musuem and Center for Holocaust Education. Photos by Deborah Moon

SUMMER EXHIBITS
June 6-Sept. 22, 2019
Oregon Jewish Museum and Center for Holocaust Education
724 NW Davis St., Portland
ojmche.org | 503-226-3600
The curators for two summer exhibits shared stories and insights during a June 5 opening reception for  the works of Hans Coper and Betty LaDuke now on display at the Oregon Jewish Museum and Center for Holocaust Education.
Guest curator Sandra Percival, founding director of Zena Zezza, brought her contemporary craft perspective on the creation of the "Hans Coper – Less Means More" exhibit in the main exhibit hall. (The exhibit is previewed in our summer issue.)
A radical Jewish artist of the mid-20th century who was at the vanguard of British studio ceramics, Coper's work ranged from minimalist to monumental, with some outdoor pieces as much as 7 feet tall, says Sandra. He often pinned together pieces he had made on a ceramic wheel.
Sandra said she found a shared passion for Coper's work and a real partnership to create the exhibit with Helen Walsh, curator of ceramics, York Museums Trust. Many of the pieces in the Portland exhibit are on loan from the York Art Gallery.
Speaking at the reception Helen said, "Han Coper's work was completely alien. He opened the door for other potters to use clay in different ways."
Bruce Guenther, adjunct curator for special exhibitions, curated the exhibit in the museum's east gallery, "Betty LaDuke: Early Work." Bruce and Betty both spoke at the reception, with Bruce recalling the time he spent as a student in her printmaking classes at Southern Oregon University.
Bruce chose to showcase her early work because most Portland exhibits, including one he curated at the Portland Art Museum, have focused on her later work. The recipient of the Governors Art Award 1993, Betty has lived in southern Oregon for five decades.  Born Betty Bernstein, she is a first-generation American raised in the Jewish and Italian immigrant neighborhoods of New York City.
Her early graphic works reflect the vibrant street life of those immigrant neighborhoods, stories from the Bible and scenes from the years she lived with an indigenous people in Mexico in the 1950s while studying art Mexico's Instituto Allende.
Bruce praised her commitment to social justice and her ability to capture the people of the communities she visits with her sketchbook. "Making drawings, listening to their voices … (discovering) what makes a place and people tick," said Bruce. "Betty moved from printmaking to painting; painting came to dominate but both rely on her sketchbooks."
In addition to the lithographs and etchings on the gallery walls, the exhibit includes a 3-dimensional, mobile painting she created in 1968 after visiting Dachau while her husband was on sabbatical in Germany. "Holocaust Remembered" features three figures –fear, horror and sorrow – which mix and transform as different parts of the standing painting turn.
"This is not a work with any iota of hope or resolution or light; it is deep loss," said Bruce.
Though Betty has always been "careful to be sure people know my background," she said her first husband's non-Jewish LaDuke name made it easier to travel in places such as Africa, Syria and Egypt. Throughout her life, she has visited nations in turmoil and suffering from poverty, revolution or hunger.  She has seen the Berlin Wall, ghetto walls and the border wall.
"The border wall has two sides," she said. "In Nogales – the Mexican side – there are paintings. The U.S. side is blank. On top is horrible razor wire. It has connotations."
She has visited many countries with Heifer International – a nonprofit working to eradicate poverty and hunger by providing animals, seeds and training – and has painted the hunger and efforts to feed families and communities. As thanks for the travel opportunities, she painted a piece about hunger for the organization.
"I like hope and resistance … going forward," said Betty talking about the path her paintings took to provoke and promote understanding and social justice.
"It is a small show, a decade, a beginning of an important career and voice for humanity," said Bruce.