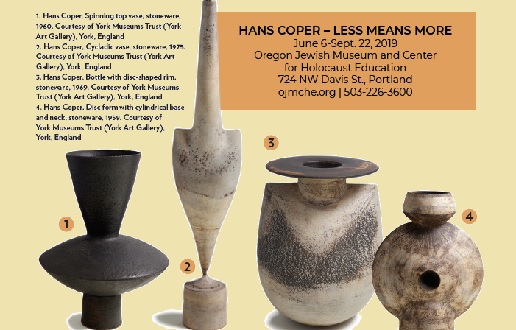 Hans Coper – Less Means More presents the sculptural work of Hans Coper (1920-1981), a radical Jewish artist of the mid-20th century who was at the vanguard of British studio ceramics. Coper pushed the boundaries of clay and forms of abstraction as seen in the 45 pieces of his work on display.
Guest curated by Sandra Percival, founding director and curator of Zena Zezza, the exhibition presents Coper within the context of a selection of work by Austrian-born British studio potter Lucie Rie who was Coper's life-long friend, as well as selected works by other influential artists including Alberto Giacometti, Barbara Hepworth, Anni Albers, Peter Collingwood and Dan Flavin.
Less Means More re-contextualizes Coper on the eve of the centennial of his birth in 1920 with an exhibition of work from the 1950s until the late 1970s. The exhibition draws from a seminal Portland collection and internationally from England's York Museums Trust, among others. The exhibition marks the first time Coper's work has been shown in the United States since the 1994 Metropolitan Museum exhibition Lucie Rie/Hans Coper: Masterworks by Two British Potters. It is also the first time Coper's work has been shown on the West Coast.
"There are many silences emanating from artist Hans Coper," says Sandra Percival, guest curator. "As a teacher at the Royal College of Art in London (1966-1976), Coper's impact as a teacher was described as 'gentle yet shattering.' He more often than not took his students to a teashop and talked about jazz, noting that 'improvisation' around a theme was a part of his own practice. He was also wary of any words to describe his work. Coper spent the last two years of his life alone in his studio writing in notebooks, reading and listening to music. He had all his writings and letters destroyed upon his death in 1981. Hans Coper – Less Means More opens up a space for contemporary perspectives on Coper's work to expand upon his historic mid-20th century importance."
Also on exhibit this summer at OJMCHE: Betty LaDuke: EARLY WORK, curated by Bruce Guenther, Adjunct Curator for Special Exhibitions, features works created in the 1960s by one of Oregon's most internationally recognized artists, Betty LaDuke, recipient of the Governors Art Award 1993.
HANS COPER – LESS MEANS MORE
June 6-Sept. 22, 2019
Oregon Jewish Museum and Center for Holocaust Education
724 NW Davis St., Portland
ojmche.org | 503-226-3600