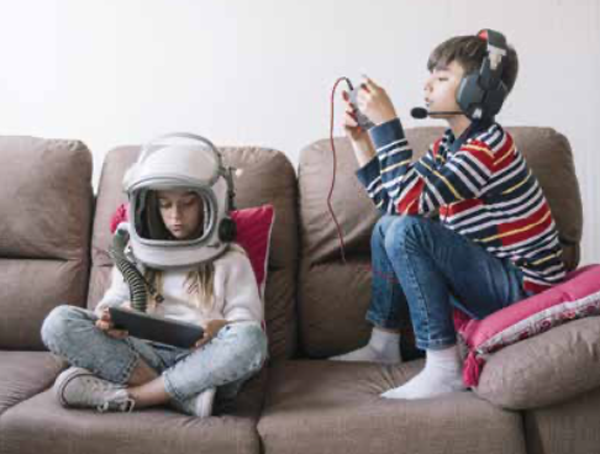 The Jewish people have treasured books and learning for millennia.
Even our central prayer, the Shema, includes the instruction: "Take these words which I command you this day and teach them faithfully to your children."
The Jews of Oregon have taken this task to heart.
For almost as long as Jews have been in Oregon, there have been schools to help facilitate the transmission of knowledge to the next generation.
Since the founding of the Portland Hebrew School in the early 1900s, opportunities for Jewish education have blossomed along with the growth of the Jewish community. Portland now offers three day schools, and Hebrew and religious schools are spread across the state.
Informal education is widely available too. Youth groups and camps, both day and overnight, immerse youth in Jewish life. At Jewish camp, children experience a range of activities from arts to sports all in a Jewish setting. Jewish values, culture and traditions permeate the campers' days through song, food, art and dance.
In recent years many programs such as PJ Library have arrived to reinforce the link between schools and parents, while also engaging families who have no other connection to the Jewish community.
On the following pages, you will find the resources you need to ensure your family can enjoy the sweetness of Jewish life available in our communities.
FAMILIES
PJ LIBRARY PORTLAND
Rachel Nelson, Director of Educational Initiatives
9900 SW Greenburg Road,, Ste. 220
Tigard, OR
503-892-7415
rachel@jewishportland.org
jewishportland.org/pjlibrary
PJ (Pajama) Library, a Jewish Federation program, supports families raising Jewish children through the gift of high-quality Jewish children's books and music, along with resources, events and programs. ALL Jewish families – dual heritage, single parent, same sex couples, traditional, cultural, etc. – with children ages 6 months through 8 years are encouraged to enroll AT NO COST to you as part of our community's commitment to creating a vibrant Jewish community for all.
PJ LIBRARY EUGENE-SPRINGFIELD
PO Box 5924
Eugene, OR 97405
541-484-2541
jewishfedlc.org/pj-library
PJ LIBRARY IN OREGON
Oregon outside of Portland metro including Salem, Corvallis, Ashland and Bend
503-452-3443
pjlibrary.org
PJ OUR WAY
For ages 9-12
pjourway.org
PRESCHOOLS
FOUNDATION SCHOOL
Leah Conley, Director
Congregation Neveh Shalom
2900 SW Peaceful Lane
Portland, OR
503-293-7307
lconley@nevehshalom.org
foundationschoolpdx.org
For over 60 years, Foundation School has embraced our youngest learners – sparking imaginations, instilling a sense of wonder, and providing the building blocks for the next generation of creative and confident problem-solvers. The children who are part of the Foundation School legacy embrace an "anything is possible" approach to life where they are asked to wonder, encouraged to inquire, and participate in the process of bringing young families together for a lifetime of friendship.
THE GAN-GARRET JEWISH PRESCHOOL
9604 NE 126th Ave. #2340
Vancouver, WA
360-256-0859
thegan.org
THE GAN: PORTLAND JEWISH PRESCHOOL
6612 SW Capitol Hwy.
Portland, OR
503-977-7850
portlandjewishpreschool.com
MAAYAN PRESCHOOL
Tia Weniger, Early Childhood Director
Frumie Diskind, Early Childhood Judaic Specialist
2 Touchstone Dr.
Lake Oswego, OR
503-245-5568
info@maayanpdx.org
maayanpdx.org
PEACE GARDEN PRESCHOOL & KINDERGARTEN
Havurah Shir Hadash
185 N Mountain Ave.
Mail: PO Box 1262
Ashland, OR
541-488-8887
havurahshirhadash.org/peacegardenpreschool
POMEGRANATE PRESCHOOL
Temple Emek Shalom
1800 E Main St.
Mail: PO Box 1107
Ashland, OR
541-488-2909
emekshalom.org/education
PORTLAND JEWISH ACADEMY
6651 SW Capitol Hwy.
Portland, OR
503-244-0126
office@pjaproud.org
pjaproud.org
RIGHT START
Rachel Nelson
9900 SW Greenburg Rd., Suite 220
Tigard, OR 97223
503-892-7415
rachel@jewishportland.org
jewishportland.org/rightstart
Right Start provides funding to qualified families to help ensure children have the right start on developing a life rooted in Jewish values and traditions. The Jewish Federation of Greater Portland has made this gift available to the Jewish communities of Portland and SW Washington.
TEMPLE BETH ISRAEL PRESCHOOL
1175 East 29th Ave.
Eugene, OR
541-345-7314
tbieugene.org/preschool
DAY SCHOOLS
MAAYAN TORAH DAY SCHOOL
Aviel Brodkin, Principal of General Education & Guidance
Rabbi Yerachmiel Kalter, Judaic Studies Principal & Development Director
Tia Weniger, Early Childhood Director
2 Touchstone Dr.
Lake Oswego, OR
503-245-5568
info@maayanpdx.org
maayanpdx.org
Maayan Torah uses the best practices in education and focuses on the needs and progress of each student from 18 months to eighth grade. Our nurturing philosophy supports our students to develop their strengths and gives them a life-long connection to Judaism. We are dedicated to developing an environment of academic excellence and high student achievement. We seek to instill the love of Torah and Mitzvot as a wellspring, "Maayan," in students' lives.
MAIMONIDES JEWISH DAY SCHOOL
6612 SW Capitol Hwy.
Portland, OR
503-977-7850
PortlandJewishSchool.com
PORTLAND JEWISH ACADEMY
Merrill Hendin, Principal
Erika Saiers, Director of Early Childhood (Infant-PreK)
Sarah Glass, Admission Director (K-8th grades)
Steve Albert, Executive Director
6651 SW Capitol Hwy.
Portland, OR
503-244-0126
office@pjaproud.org
pjaproud.org
PJA is a community Jewish Day School and Early Childhood program that welcomes families of all backgrounds. Students from 6 weeks through 8th grade thrive in an academically rich environment that honors the whole child. At PJA you will find small classes, dedicated teachers, support services, enrichment opportunities, and a warm and welcoming community.
Accredited by Northwest Association of Independent Schools (NWAIS) and a member of Prizmah: Center for Jewish Day Schools.
HEBREW/RELIGIOUS SCHOOLS
BEIT HAVERIM RELIGIOUS SCHOOL
Classes: 1111 Country Club Road
Mail: PO Box 311
Lake Oswego, OR 97034
503-568-1241
beithav.org/religious-school
CHABAD HEBREW SCHOOLS
Northeast: 971-801-2424
Southwest: 503-977-9947
Southeast: 503-236-6642
Hillsboro: 503-747-5363
Vancouver, WA: 360-993-5222
CONGREGATION BETH ISRAEL EDUCATION DEPARTMENT
1972 NW Flanders St.
Portland, OR
503-222-1069
bethisrael-pdx.org
CONGREGATION KOL AMI EDUCATION
7800 NE 119th St.
Vancouver, WA
360-896-8088
jewishvancouverusa.org
HAVURAH SHALOM EDUCATION
825 NW 18th Ave.
Portland, OR
503-248-4662
havurahshalom.org/lifelonglearning
Learning for all ages is part of Havurah Shalom's mission. Adult education opportunities range from cultural/historical through literary/expressive to spiritual practice. Our Shabbat School (K-6) uses a family cooperative model in which parents teach a staff-guided and supported curriculum. We provide Middle School and High School programs for teens. Learn more at www.havurahshalom.org.
THE HEIMANN FAMILY WISDOM GARDEN HEBREW SCHOOL
Havurah Synagogue
185 N Mountain Ave.
Mail: P.O. Box 1262
Ashland, OR 97520
541-488-7716
havurahshirhadash.org/school
KOL SHALOM CHILDREN'S EDUCATION
1509 SW Sunset Blvd., Ste. 1E
Portland, OR
503-459-4210
kolshalom.org/childrens-education
NASHIRA EDUCATION PROJECT
7550 NE Irving St.
Portland, OR
503-473-8227
shirtikvahpdx.org/education
NEVEH SHALOM ALIYAH PROGRAM
2900 SW Peaceful Lane
Portland, OR
503-246-8831
nevehshalom.org/learning
Neveh Shalom is known for our warm and vibrant youth community. ALIYAH students in grades K-12 experience holidays and traditions, gain strong Hebrew language skills, celebrate B'nai Mitzvah, and grow from the many opportunities for meaningful leadership within our inclusive after-school learning environment.
P'NAI OR OF PORTLAND SIMCHA SCHOOL
6948 SW Capitol Hwy.
Portland, OR
503-248-4500
pnaiorpdx.org
SHAARIE TORAH EDUCATION PROGRAM
Sharon Pollin, Ed.D., Education Director
920 NW 25th Ave.
Portland, OR
503-226-6131
shaarietorah.org
SHORESH PORTLAND
2 Touchstone Lane
Lake Oswego, OR
971-266-0481
shoreshportland.com
SHUL SCHOOL
Temple Emek Shalom
1800 E Main St.
Mail: PO Box 1107
Ashland, OR
541-488-2909
emekshalom.org/education
DAY CAMPS
BB DAY CAMP PORTLAND
503-496-7447
pdx@bbcamp.org
bbcamp.org/portland
Located at Congregation Beth Israel, BB Day Camp offers a warm and welcoming camp experience filled with art, dance, water play, martial arts, gymnastics, music, Jewish enrichment and Shabbat celebrations for campers entering kindergarten through grade 6. Early and after extended care available.
CAMP GAN ISRAEL-VANCOUVER
9604 NE 126th Ave.
Vancouver, WA
360-256-0859
jewishclarkcounty.com
CAMP SEED
6688 SW Capitol Hwy.
Portland, OR
503-245-5420
portlandkollel.org/kids/home
GAN ISRAEL DAY CAMP
6612 SW Capitol Hwy.
Portland, OR
503-246-KIDS (5437)
ganisraelportland.com
MITTLEMAN JEWISH COMMUNITY CENTER
Day Camp
Josh Harrington, Afternoon Camp Supervisor
6651 SW Capitol Hwy.
Portland, OR
503-244-0111
jharr@oregonjcc.org
oregonjcc.org/daycamp
PJA SUMMER DISCOVERY
6651 SW Capitol Hwy.
Portland, OR
503-244-0126
pjaproud.org
RESIDENT CAMPS
B'NAI B'RITH CAMP
503-345-9451
info@bbcamp.org
bbcamp.org
Located on the beautiful Oregon coast, B'nai B'rith (BB) Camp is a vibrant and inclusive Jewish camp serving the Pacific Northwest since 1921. BB Camp has been a home away from home for generations of campers of different ages, backgrounds, denominations and abilities. Our unique culture is built on sharing fun experiences in a welcoming environment that inspires all campers to grow and develop enduring Jewish identities.
CAMP MIRIAM
#303 – 950 W 41st Ave.
Vancouver, BC   V5Z 2N7
604-266-2825
campmiriam.org
CAMP SOLOMON SCHECHTER
Mail: 117 East Louisa St., #110
Seattle, WA 98102-3203
206-447-1967
campschechter.org
EDEN VILLAGE WEST
Casey Yurow, Camp Director
Emma Silver, Assistant Director
Nava Sherwood, Operations Manager
6176 McBryde Ave., Richmond, CA
510-560-5610
edenvillagewest.org
welcome@edenvillagewest.org
Eden Village West is an organic farm-to-table Jewish summer camp in Northern CA for rising 3rd-11th graders that integrates culinary arts, organic farming, wilderness skills and homestead crafts. Located on 350 acres on the Russian River in Sonoma County, CA, our campers have the time of their lives while becoming empowered to promote a more environmentally sustainable, socially just and spiritually connected world. Visit edenvillagewest.org to learn more about camp and register for summer!
URJ CAMP KALSMAN
Office: 3805 108th Ave. NE #100
Bellevue, WA
425-284-4484 (winter)
360-435-9302 (summer)
campkalsman.org
URJ CAMP NEWMAN
Winter Office: 711 Grand Ave. #280
San Rafael, CA
415-392-7080
campnewman.org
CAMPERSHIPS
ALBERT J. KAILES MEMORIAL CAMP SCHOLARSHIP FUND OF OJCF
https://ojcf.org/grants-and-scholarships/receive-a-scholarship/
Scholarships are available for Jewish youth and teens from Oregon attending Jewish overnight camp within the United States. Must demonstrate financial need.
BUNKCONNECT
jewishcamp.org
The Foundation for Jewish Camp also offers first-time camper families another opportunity to save. Through this program, eligible families pay introductory prices ranging from 40-60% off the camps' listed rates.
CHAI ISRAEL
Rachel Nelson
9900 SW Greenburg Rd., Suite 220
Tigard, OR 97223
503-892-7415
rachel@jewishportland.org
jewishportland.org/travelisrael
Jewish Federation of Greater Portland provides 18% of the published cost for an Israel experience for ALL Portland-area teens (up to $1,800). Grants also available for immediate post-high school eligible gap year programs. For those enrolled in a congregational high school program, the Oregon Board of Rabbis continues its Teen Israel program in partnership with the Arthur Krichevsky Fund at OJCF, the teen's home congregation and JFGP.
JWEST CAMPERSHIP PROGRAM
onehappycamper.org
ONE HAPPY CAMPER
jewishcamp.org
The Jewish Federation of Greater Portland is proud to provide incentive grants for up to $1,000 for your child's first summer at Jewish overnight camp.
YOUTH GROUPS
BBYO
Evergreen Region
3801 E. Mercer Way
Mercer Island, WA
971-303-9764
bbyo.org
CTEEN PORTLAND
Portland, OR
971-801-2424
jewishnortheast.com
JEWISH CUB SCOUTS PACK 739
(grades 1-5)
Portland, OR
Arden Edy: 503-975-3355
JEWISH STUDENT UNION
503-504-1301
jsu.org
NCSY
6688 SW Capitol Hwy.
Portland, OR
oregon.ncsy.org
Oregon: 503-757-3037
Portland: 503-504-1301
Eugene: 503-261-3850
NORTH AMERICAN FEDERATION OF TEMPLE YOUTH
Congregation Beth Israel, Portland
503-222-1069
bethisrael.org/youth-education
OREGON JEWISH COMMUNITY YOUTH FOUNDATION
1618 SW First Ave., Ste. 210
Portland, OR
503-248-9328
ojcf.org
The Oregon Jewish Community Youth Foundation empowers Jewish teenagers to take action by grant making, volunteering and advocating for causes that align with their Jewish values. The program strives to develop future community leaders.
PORTLAND RISHONIM/UNITED SYNAGOGUE YOUTH
Neveh Shalom: Rabbi Eve Posen, 503-246-8831 ext. 136
Shaarie Torah: 503-226-6131
usy.org/regions/pinwheel
United Synagogue Youth: for 9th to 12th-graders
SPECIAL NEEDS RESOURCES
BB CAMP INCLUSION PROGRAM
503-496-7450
bbcamp.org
For campers with special needs and disabilities at B'nai B'rith Camp. BB Camp is proud to be a boundless Kehila (community) of different ages, denominations, backgrounds, languages and abilities. When you're part of a community like this – one that accepts, and encourages everyone's strengths – it's life changing. Campers and staff learn about themselves, relating to others, form a family of friends they'll have for life, and of course, have a lot of fun.
TASK, YOUR JEWISH CONNECTION TO DISABILITY AWARENESS/JFCS
Janet Menashe, TASK Program Inclusion Specialist
1221 SW Yamhill St., Ste. 301
Portland, OR
503-729-8648
janetmenashe@jfcs-portland.org
jfcs-portland.org