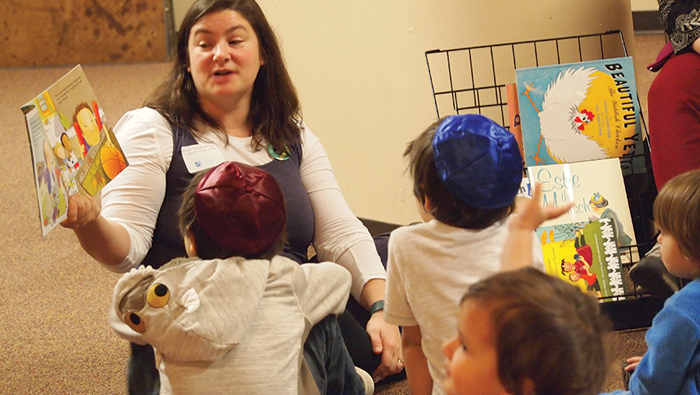 The Jewish people have treasured books and learning for millennia.
Even our central prayer, the Shema, includes the instruction: "Take these words which I command you this day and teach them faithfully to your children."
The Jews of Oregon have taken this task to heart.
For almost as long as Jews have been in Oregon, there have been schools to help facilitate the transmission of knowledge to the next generation. Since the founding of the Portland Hebrew School in the early 1900s, opportunities for Jewish education have blossomed along with the growth of the Jewish community. Portland now offers three day schools, and Hebrew and religious schools are spread across the state.
Informal education is widely available too. Youth groups and camps, both day and overnight, immerse youth in Jewish life. At Jewish camp, children experience a range of activities from arts to sports all in a Jewish setting. Jewish values, culture and traditions permeate the campers' days  through song, food, art and dance.
In recent years many programs such as PJ Library have arrived to reinforce the link between schools and parents, while also engaging families who have no other connection to the Jewish community.
On the following pages, you will find the resources you need to ensure your family can enjoy the sweetness of Jewish life available in our communities.
FAMILIES
PJ LIBRARY PORTLAND
Rachel Rothstein, Director of Educational Initiatives
6680 SW Capitol Hwy
Portland, OR
503-892-7415
rachelr@jewishportland.org
jewishportland.org/pjlibrary
PJ (Pajama) Library, a Jewish Federation program, supports families raising Jewish children through the gift of high-quality Jewish children's books and music, along with resources, events and programs. ALL Jewish families – dual heritage, single parent, same sex couples, traditional, cultural, etc. – with children ages 6 months-8 years are encouraged to enroll AT NO COST to you as part of our community's commitment to creating a vibrant Jewish community for all.
PJ LIBRARY LANE COUNTY
Jewish Federation of Lane County
541-484-2541
pjllanecounty@gmail.com
pjlibrary.org
PJ LIBRARY OREGON
Oregon outside of Portland metro including Salem, Corvallis, Ashland and Bend.
503-452-3443
bcharlton@bbcamp.org
pjlibrary.org
PJ OUR WAY
New to our community in the last year is the extension of PJ Library for 9-11 year olds! PJ Our Way gives 9- to 11-year-olds the autonomy to pick a FREE book each month from four selections. Registration is available at pjourway.org
Education
PRESCHOOLS
BETH ISRAEL EARLY CHILDHOOD EDUCATION
1972 NW Flanders
Portland, OR
503-222-2037
THE CARL PRESCHOOL: A COOPERATIVE JEWISH PRESCHOOL
At Congregation Shaarie Torah
Elizabeth Fleishman, Preschool Director
920 NW 25th Ave.
Portland, OR
503-226-6131
preschool@shaarietorah.org
thecarlschool.com
The Carl Preschool is a cooperative Jewish preschool open to all, providing a warm, fun and creative environment where your child will laugh, learn and grow. Come explore with us!
FOUNDATION SCHOOL
Congregation Neveh Shalom
2900 SW Peaceful Lane
Portland, OR
503-293-7307
GAN-GARRET PRESCHOOL VANCOUVER
9604 NE 126th Ave.
Vancouver, WA
360-256-0859
TheGan.org
A learning environment that fosters creativity, curiosity and compassion. Inspired by the Reggio Emilia Approach. Exceptional teachers | Beautiful classroom | Creative playscape. Offering a full day program with extended care options.
THE GAN: PORTLAND JEWISH PRESCHOOL
Mimi Wilhelm, Director
6612 SW Capitol Hwy.
Portland, OR
503-977-7850
Mimi@PortlandJewishPreschool.com
PortlandJewishPreschool.com
At The Gan we aim to inspire curiosity, creativity and compassion in a joyful Jewish environment. Inspired largely by the Reggio approach, we provide opportunities for the children to interact with materials so that they can explore, experiment and discover to become independent and inquisitive learners. Our school's primary mission is to foster a love for life-long learning in our students, and our goal is to create a vibrant community of children, teachers and families.
GAN NEVE SHALOM
Havurah Shir Hadash
185 N Mountain Ave.
Mail: PO Box 1262
Ashland, OR
541-488-8887
MAAYAN PRESCHOOL
2900 SW Peaceful Lane
Portland, OR
503-245-5568
PORTLAND JEWISH ACADEMY
6651 SW Capitol Hwy.
Portland, OR
503-535-3536
POMEGRANATE PRESCHOOL FOR THE ARTS
Temple Emek Shalom
1800 E Main St.
Mail: PO Box 1107
Ashland, OR
541-488-2909
RIGHT START
6680 SW Capitol Hwy.
Portland, OR
503-892-7415
rachelr@jewishportland.org
jewishportland.org/pjlibrary
Right Start provides funding to qualified families to help ensure children have the right start on developing a life rooted in Jewish values and traditions. The Jewish Federation of Greater Portland has made this gift available to the Jewish communities of Portland and SW Washington. Matching funding is provided by the National Jewish Right Start program, an initiative of the Jewish Federation of Metropolitan Chicago, made possible through the generosity of an anonymous donor.
TEMPLE BETH ISRAEL PRESCHOOL
1175 East 29th Ave.
Eugene, OR
541-345-7314
DAY SCHOOLS
MAAYAN TORAH DAY SCHOOL
Aviel Brodkin, Principal
Esther Fischer, Preschool Director
2900 SW Peaceful Lane
Portland, OR
503-245-5568
abrodkin@maayanpdx.org
efischer@maayanpdx.org
PortlandJewishDaySchool.org
Maayan Torah Day School, for 24 months through 10th grade, focuses on each student's needs and progress by using the best practices in education. Our nurturing philosophy supports our students to develop their strengths and gives them a life-long connection to Judaism. We are dedicated to developing an environment of academic excellence and high student achievement. We seek to instill the love of Torah and Mitzvot as a wellspring, "Maayan," in students' lives.
MAIMONIDES JEWISH DAY SCHOOL
Rabbi Shnuer Wilhelm, Principal
6612 SW Capitol Hwy.
Portland, OR
503-977-7850
Office@MaimonidesJDS.org
MaimonidesJDS.org
Maimonides Jewish Day School provides and promotes the highest quality Judaic and Secular education to a diverse community of Jewish children. The Maimonides program synthesizes traditional Jewish learning with progressive education theory to create an academically engaging environment designed to foster a lifetime love of learning. MJDS teachers inspire a love for Judaism, and provide the tools for every child to reach personal excellence and the foundation to be responsible, compassionate members of society.
PORTLAND JEWISH ACADEMY
Merrill Hendin, Principal
Inge Hoogerhuis, Admission Director
Beth Germain, CFO
6651 SW Capitol Hwy.
Portland, OR
503-244-0126
office@pjaproud.org
pjaproud.org
PJA is a Jewish community day school accredited by Northwest Association of Independent Schools and a member of RAVSAK, the Jewish Community Day School consortium. Our mission is to ensure an academically excellent environment in which children thrive.  PJA inspires positive Jewish engagement, respect for differences and responsibility for our world. PJA's commitment to teaching students to think for themselves and work for the world is evident in our classrooms and our commitment to service.
HIGH SCHOOLS
ALEXANDER MUSS HIGH SCHOOL IN ISRAEL
Hod HaSharon, Israel
Regional contact: 206-760-1188 ext. 941
MAAYAN TORAH DAY SCHOOL
(See Day School listing)
HEBREW/RELIGIOUS SCHOOLS
BEIT HAVERIM RELIGIOUS SCHOOLS
Mark Newman Co-President
Don Spear Co-President
Rabbi Alan Berg
Classes: 1111 Country Club Road
Mail: PO Box 311
Lake Oswego, OR
503-310-9184
office@beithav.org
beithav.org
Jewish education for preschoolers-teenagers, including Hebrew, tutoring and preparation for B'nai Mitzvah and Confirmation. We provide spiritual and moral foundations for lifelong Jewish practice through Bible stories, parshot, Jewish music, dance, art and Israeli programming.
CHABAD HEBREW SCHOOLS
Southwest: 503-246-5437
Southeast: 503-236-6642
Hillsboro: 503-747-5363
Vancouver, WA: 360-993-5222
CHABAD HEBREW SCHOOL – NE PDX
Center for Jewish Life
2858 NE Sandy Blvd.
Portland, OR
503-309-4490
CONGREGATION BETH ISRAEL EDUCATION DEPARTMENT
Michael Z. Cahana, Senior Rabbi
Josh Kashinsky, Executive Director
Ben Sandler, Education Director
1972 NW Flanders St.
Portland, OR
503-222-1069
resources@bethisrael-pdx.org
bethisrael-pdx.org
Our nationally accredited Religious School and state-certified Preschool guide students to apply Judaism's teachings to their personal lives and our world; our adult education programming enriches both those new to Judaism and more advanced students.
CONGREGATION KOL AMI EDUCATION
Rabbi Elizabeth Dunsker
Lauren Trexler, Director of Education
Robin Hayden, President
7800 NE 119th St.
Vancouver, WA
360-896-8088
admin@jewishvancouverusa.org
jewishvancouverusa.org
Our education programs include a K-12 weekly religious school, a weekly Hebrew School, and adult education all supervised by an Education Director plus congregational support. Age-appropriate social groups heighten the learning and facilitate tikkun olam.
HAVURAH SHALOM EDUCATION
825 NW 18th Ave.
Portland, OR
503-248-4662
Havurah Shalom offers Adult Learning, Tot Shabbat for families with children ages 0-5, Shabbat School (K-6), Middle School and High School. Learn more at havurahshalom.org/lifelonglearning or 503-248-4662.
THE NASHIRA EDUCATION PROJECT
Rabbi Ariel Stone
Katie Schneider, Education Director
At the Tucker Maxon Oral School
2860 SE Holgate Blvd.
Portland, OR
503-473-8227
education@shirtikvahpdx.org
shirtikvahpdx.org
Shir Tikvah's innovative program encourages students to connect to Judaism in a rich and lasting way. We offer 18 Sunday sessions per year and congregation-wide celebrations for the whole family. It's fun, meaningful and on Portland's eastside.
SHAARIE TORAH EDUCATION PROGRAM
Dorice Horenstein, Education Director
920 NW 25th Ave.
Portland, OR
503-226-6131
education@shaarietorah.org
shaarietorah.org
Learning opportunities for all ages and levels in the classroom and out. Join us for our Portland Jewish Explorers program: Jewish learning for the curious and adventurous family! Reinvigorating Jewish learning.
NEVEH SHALOM ALIYAH PROGRAM
2900 SW Peaceful Lane
Portland, OR
503-293-7306
OR HA GAN TALMUD TORAH
PO Box 5582
Eugene, OR
541-520-3434
P'NAI OR OF PORTLAND SIMCHA SCHOOL
9750 SW Terwilliger Blvd.
Portland, OR
503-248-4500
SHUL SCHOOL
Temple Emek Shalom
1800 E Main St.
Mail: PO Box 1107
Ashland, OR
541-488-2909
DAY CAMPS
CAMP GAN ISRAEL-VANCOUVER
9604 NE 126th Ave.
Vancouver, WA
360-256-0859
tzivie@jewishclarkcounty.com
JewishClarkCounty.com
CAMP SEED
6688 SW Capitol Hwy.
Portland, OR
503-245-5420
GAN ISRAEL DAY CAMP
6612 SW Capitol Hwy.
Portland, OR
503-246-KIDS (5437)
info@cgiportland.com
cgiportland.com
Part of the largest network of Jewish camps in the world, Portland's Gan Israel Day Camp has provided modern Jewish children from diverse backgrounds and affiliations an amazing Jewish summer (and winter break) experience since 1984.
MITTLEMAN JEWISH COMMUNITY CENTER
Day Camp
6651 SW Capitol Hwy.
Portland, OR
503-244-0111
PJA SUMMER DISCOVERY
6651 SW Capitol Hwy.
Portland, OR
503-244-0126
RESIDENT CAMPS
B'NAI B'RITH CAMP
Michelle Koplan, Executive Director
Ben Charlton, Associate Camp Director
Mail: 9400 SW Beaverton Hillsdale Hwy. #200
Beaverton, OR
503-452-3443
bcharlton@bbcamp.org
bbcamp.org
B'nai B'rith Camp, located on Devil's Lake near the Oregon coast, offers a range of activities including arts and crafts, dance, Jewish enrichment, Israeli culture, Shabbat celebrations, high-ropes course, climbing tower and zip line, out-of-camp trips, wakeboarding, kayaking and hydro-tubing. Specialty programs include Outdoor Jewish Adventure for 11th graders and Kehila, an inclusive program for children with special needs. BB Camp is JCCA independent camp member and accredited by the American Camp Association.
CAMP MIRIAM
950 W 41st Ave. #303
Vancouver, BC
604-266-2825
campmiriam.org
Habonim Dror Camp Miriam, on beautiful Gabriola Island, BC, offers a diverse Jewish camp experience for children completing grades 2-11.  Emphasis is on building a Jewish youth community based on values of equality and inclusion, with a strong connection to Israel.  Swimming, boating, overnights, Israeli dancing, sports, arts and crafts, and creative programming help influence the creation of this magical community. A Jewish experience not to be missed!
CAMP SOLOMON SCHECHTER
Sam Perlin, Executive Director
Zach Snyder, Assistant Director
Mail: 117 East Louisa St., #110
Seattle, WA
206-447-1967
info@campschechter.org
campschechter.org
Camp Solomon Schechter has a 60-year tradition of fun, friendship and Jewish education in the Pacific Northwest. We create a unique, welcoming and spiritual Jewish environment, offering an innovative experience for youth of all denominations entering 2nd-12th grades. Our spectacular 180-acre wooded facility located near Olympia WA, features breathtaking views of our private lake and hiking in the untouched beauty of our own forests and protected wetlands. At Schechter, Judaism and joy are truly one!
URJ CAMP KALSMAN
425-284-4484 (winter)
360-435-9302 (summer)
URJ CAMP NEWMAN
Winter Office: 703 Market St,
Ste. 1300
San Francisco, CA
707-571-7657
CAMPERSHIPS
ALBERT J. KAILES MEMORIAL CAMP SCHOLARSHIP FUND
ojcf.org/receive/receive-a-scholarship/
Applicants must be Jewish residents of Oregon and demonstrate financial need. The camp must be a Jewish overnight camp within the United States.
BUNKCONNECT
jewishcamping.org
The Foundation for Jewish Camp also offers first-time camper families another opportunity to save. Through this program, eligible families pay introductory prices ranging from 40-60% off the camps' listed rates.
JWEST CAMPERSHIP PROGRAM
onehappycamper.org
ONE HAPPY CAMPER
jewishcamping.org
The Jewish Federation of Greater Portland has teamed up with the Foundation for Jewish Camp to offer first-time campers a discount. Apply online today and you could save up to $1000 off your child's first summer at camp.
YOUTH GROUPS
BBYO
Portland: 503-345-9451
Eugene: 503-349-6605
CTEEN NE PDX
Portland, OR
Rabbi Chaim Wilhelm
Rabbi@jewishnortheast.com
503-309-4490
CTeen is a Jewish teen network that believes in the power of youth and seeks to transform the teen years into a time of purpose and self-discovery. CTeen is an international network with local chapters all over the world, and hosts regional trips, events and Shabbatons several times a year for local chapters to meet, network and brainstorm with one another.
JEWISH CUB SCOUTS PACK 739
(grades 1-5)
Portland, OR
Iris Cox: 503-432-1135
JEWISH BOY SCOUTS TROOP 739
(grades 6-12)
Portland, OR
Eric Kornblit: 971-212-7037
JSU-EUGENE
Sheldon High School
South Eugene High School
503-221-1934
JR. NCSY
Portland: 503-504-6430
Eugene: 503-221-1934
PORTLAND RISHONIM/UNITED SYNAGOGUE YOUTH
Neveh Shalom: Rabbi Eve Posen,
503-246-8831 ext. 136
Shaarie Torah: Sarah Rohr,
503-226-6131
Portland Conservative synagogues
come together to provide social,
educational, mitzvah action
and religious events. United
Synagogue Youth: for 9th- to 12th graders.
NORTH AMERICAN FEDERATION OF TEMPLE YOUTH
Congregation Beth Israel, Portland
503-222-1069
OREGON JEWISH COMMUNITY YOUTH FOUNDATION
1618 SW First Ave., Ste. 210
Portland, OR
503-248-9328
OJCYF's mission is to secure the future of Jewish philanthropy by developing a strong generation of future leaders. The program provides high school-aged students with the opportunity to learn about nonprofits and award grants.
NCSY
6688 SW Capitol Hwy.
Portland, OR
Oregon: 503-757-3037
Portland: 503-504-1301
Eugene: 503-221-1934
GAP YEAR
MASA ISRAEL
Gap year programs in Israel for high school graduates
masaisrael.org/gap-year
TIVNU: BUILDING JUSTICE
Gap year and summer high school programs
7971 SE 11th Ave.
Portland, OR
503-232-1864
SPECIAL NEEDS RESOURCES
KEHILA
Cheryl Peizner, Inclusion Specialist
Ben Charlton, Associate Camp Director
503-452-3443
cpeizner@bbcamp.org
bcharlton@bbcamp.org
For campers with special needs at B'nai B'rith Camp.
TASK, YOUR JEWISH CONNECTION TO DISABILITY AWARENESS/JFCS
Portland, OR
503-226-7079 ext. 121