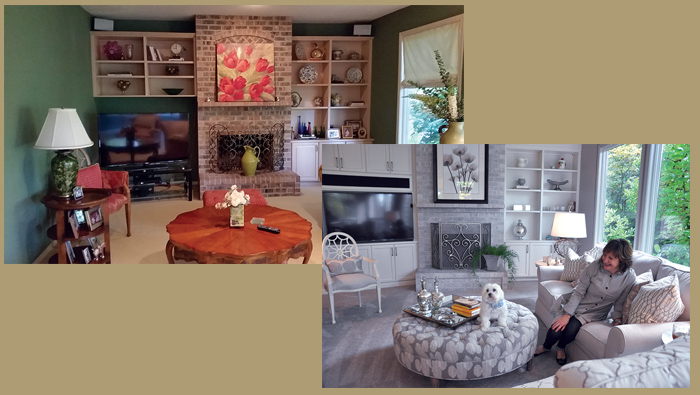 The furniture Steve and Michelle Gradow brought to Oregon from Maryland in 2002 was a perfect fit for the dark walls and fireplace in their Lake Oswego home.
But after 14 years, the couple decided their 1993 home needed a facelift.
"It's so gray here outside, we decided we needed something to brighten us up," says Michelle. Now brighter counters, cabinets, floors and whitewashed bricks on the fireplace combined with new, lighter family room furniture from Paul Schatz Furniture make the home feel open, bright and cheery.
To get started, though, Michelle contacted her old college friend, interior designer Linda Georges. The two met 40 years ago while attending the University of Washington in Seattle.
"Michelle came to me to update her kitchen," says Linda. "I suggested she choose builder Karl Hoffses (from Ridgecrest Homes.). … Karl and I think so much alike that we are a great team in helping our clients achieve the look they desire. Karl is so creative and always thinks outside the box. He can navigate any technical problem and create an amazing space. No space is a problem but an opportunity is his philosophy."
The original plan was to brighten the kitchen by painting the cabinet doors. But Karl suggested replacing the cabinets and re-purposing some areas in the kitchen.
"Editing the kitchen the way we did allowed a bigger microwave space and more tray storage, deeper drawers, more pot storage under the cooktop to name a few special areas," says Linda. The kitchen backsplash of soft taupe ceramic tile is arranged to match the herringbone pattern in the existing fireplace. "It evokes a little more contemporary influence, installed in a more classic traditional style," says Linda.
White quartz countertops and cabinets with molding to the ceiling brightened the space. Moving the cooktop from the island to along the wall also provided more preparation and serving space on the island.
The changes fit well Michelle's desire for more efficient space in the kitchen, because they do a lot of entertaining and host friends and family for all the Jewish holidays; they hosted 20 people for Rosh Hashanah dinner, making good use of the redesigned space and using the island for the buffet.
Michelle also bakes a lot, so the prep area and two ovens are a big help. Recently she and Christi Goodman did all the baking for a Day of Treats for the staff of Cedar Sinai Park, where Michelle sits on the board and where she serves as president of the Friends of Robison.
"I'm not a big cook, I'm an eater," says Steve. So Steve's favorite part of the project is the remodeled master bath – especially the large shower.
Removing a huge, unused jetted tub opened up room for a large double vanity with two sinks and more storage room.
"The shower was to be fresher," explains Linda. "We selected glass for a crisp but not too contemporary influence. The shower floor is a hexagonal natural stone. The shower walls are porcelain to be more cleanable and maintenance free. The vanity backsplash is natural stone and a little more masculine for Steve."
"My philosophy is usually simple elegance," Linda says. "That's certainly what we achieved here. I believe the Gradows were quite happy with their updated Northwest home."
As happy as they are with the updated home, Michelle was equally happy to move back to Portland after an absence of 25 years. She wanted to be closer to her parents, Bev and Stan Eastern.
Steve and Michelle met in Seattle when Michelle was a teacher in Issaquah School District and Steve worked for the state of Washington pension fund. Steve moved to Baltimore for a new job in 1997 and Michelle followed the next year. The couple and their then 2-year-old daughter, Mallory, moved to Portland four years later when Steve got a job offer at a Lake Oswego investment firm. In 2005 he started his own firm, where he works with a lot of endowment and foundation clients.
"Mrs. Gradow got me involved in philanthropy," says Steve, who has served on the Oregon Jewish Community Foundation board for about 10 years. He also chairs the OJCF Investment Committee and serves as treasurer for Congregation Beth Israel.
Mallory, now 16, is also involved with the foundation – she has been on the Oregon Jewish Community Youth Foundation board for two years. She also helps out in Beth Israel's Sunday School and plays volleyball at Lakeridge High School.
All of those family and community connections make for large gatherings in the Gradow home. With the remodel complete, the gatherings are easier than ever.