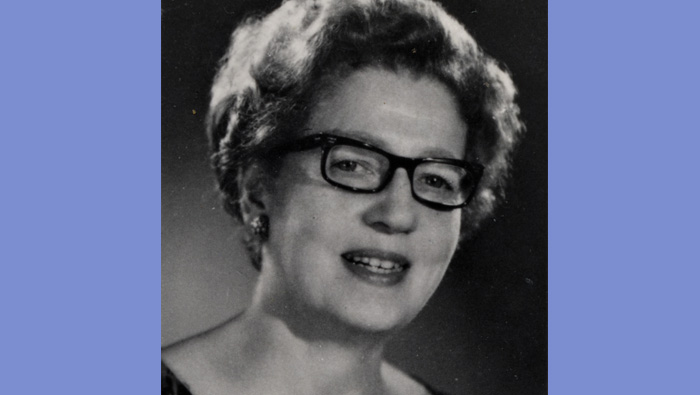 "By the time of her death in 1968, she had become one of the first women in Oregon to distinguish herself in three medical fields – obstetrics, gynecology and psychiatry."
~ Judy Margles, executive director of the Oregon Jewish Museum and Center for Holocaust Education.
Lena Nemerovsky Kenin was a pioneer who created new opportunities and new resources for women.
One of the very early women to graduate from what was then the University of Oregon Medical School in 1929, Lena set up a successful obstetrics and gynecology practice in Portland and also counseled women about birth control. After her husband's death in 1954, she returned to graduate school and trained as a psychiatrist – focusing on the post-partum depression experienced by some new mothers.
"By the time of her death in 1968, she had become one of the first women in Oregon to distinguish herself in three medical fields – obstetrics, gynecology and psychiatry," notes Judy Margles, executive director of the Oregon Jewish Museum and Center for Holocaust Education. "She quickly became one of Portland's most sought-after obstetricians – popular lore has it that she delivered at least half of the Jewish babies in Portland."
Lena was born into a family committed to community. Her father, David D. Nemerovsky, was a founder, president and life trustee of Congregation Neveh Zedek (later merged into Congregation Neveh Shalom); a founder and 50-year president of the Jewish Relief Society; and a charter member of the local B'nai B'rith Lodge. Born in Russia in 1870, he had come to New York in 1886 and married Nettie (Nahoma) Swartz in 1893. The couple moved to Portland in 1897, where Mrs. Nemerovsky devoted herself to Neveh Zedek, Hadassah and the B'nai B'rith women's auxiliary, in addition to her family.
Lena, the third of the couple's six children, was born in Portland on Nov. 5, 1897. She graduated from Lincoln High School and attended Reed College before graduating from the University of Washington in 1921. Later that year, she married Harry M. Kenin, a Philadelphia native who had grown up in Portland and who, like Lena, attended Reed and graduated from UW.
Lena taught school in Seattle for several years before returning to Portland and entering medical school in 1924. After her graduation, she interned at Good Samaritan Hospital, was associated for several years with another physician and then operated her own practice in downtown Portland.
In 1933 she was the first woman ever selected to be an obstetrics and gynecology resident at Johns Hopkins School of Medicine. An article in The Oregonian that December reported that she also was named to American Hebrew News' "Who's Who" list of 116 Jews and six non-Jews for "notable achievement in their profession and contribution to American life."
One of Portland's few women physicians, Lena also was outspoken on issues of birth control and helped spread the word, particularly to working women.
Julia Ruuttila, a longtime labor activist, told biographer Sandy Polishuk that Dr. Marie Equi, a noted Portland physician, recommended Lena as a speaker.
"She agreed to come and speak at a meeting about different methods of birth control, something that most of our members knew absolutely nothing about," Ruuttila recalled in Sticking to the Union. "It was the largest meeting we ever had."
Margles describes Lena as a "secular thinker" who was mostly uninvolved in religious Jewish life. Her husband, however, served a term as president of the B'nai B'rith Lodge and was affiliated with Portland's Congregation Beth Israel.
Harry Kenin, like his wife, was deeply involved in Oregon's community life. Trained as an attorney, he also taught political science at Reed College, served on the Portland School Board for a dozen years and as a state senator sat on a number of state commissions. From 1942 to 1954, he worked with the Bonneville Power Administration, initially as a legal and policy advisor and later as executive secretary to the agency. He stepped down from that post to run for the Portland City Council shortly before he died of a cerebral hemorrhage in April 1954.
An Oregonian editorial praised him as "a man of many ideas, who enjoyed controversy and declined to sidestep an argument."
The Kenins had no children, and, following her husband's death, Lena decided to pursue a second medical degree, this time in psychiatry. She returned to school at age 61, and – after completing a program at the University of Pennsylvania Graduate School and residency at the Philadelphia Hospital for Mental and Nerve Disorders – she returned to Portland. She established a psychiatry practice in 1961, and a year later published an article on "Mental Illness Associated with the Postpartum State," co-authored with Norman Blass in the journal Clinical Obstetrics and Gynecology.
In addition to her busy private practice, Lena was an associate professor of psychiatry at the University of Oregon Medical School, the chief consultant for the school's health service, which served medical, dental and nursing students, and a member of numerous professional medical groups.
But Lena left a legacy in art as well as in medicine. After her death at age 70 in Portland on March 24, 1968, the Kenins' collection of more than two dozen works by painter Carl Morris and his wife, sculptor Hilda Morris, was donated to Reed College as the "Lena and Harry Kenin Collection," testimony to the couple's friendship with the Morrises, their affection for Reed and their enduring generosity of spirit.
Sura Rubenstein is a Portland writer.