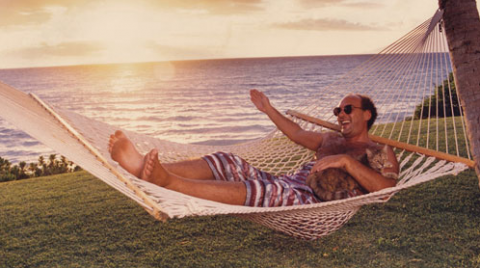 The Portland Jewish Film Festival, which annually attracts thousands of Jewish and non-Jewish filmgoers, this year presents a very diverse array of 17 films during its two-week plus run.
The 22nd annual PJFF is presented by the Northwest Film Center in partnership with the Institute of Judaic Studies June 15-29. This year's festival includes films from nine countries designed to appeal to a wide range of interests. The films range from the family fun of The Zigzag Kid to the powerful exposé of World War II crimes presented as a seductive thriller in Aftermath. (See reviews below.)
While the Festival specifically celebrates the diversity of Jewish history, culture and identity, the IJS film festival screening committee screens a couple hundred films each year seeking films they hope will speak to experiences and issues that confront our common humanity.
"We want excellent films that while they speak to Jewish culture and experience, tell more universal stories that can also speak to a non- Jewish audience," says NWFF Executive Director Bill Foster. "Films that are good enough that they play in any context, not just a narrow, subject-driven Jewish film festival."
All screenings will be at NWFC's Whitsell Auditorium at the Portland Art Museum, 1219 SW Park. (See schedule on our June calendar.)
This year festival passes, which enable holders to see all 17 films, are $125. Tickets to individual films are $9, or $8 for students and seniors. Tickets are available online at portlandjewishfilmfestival.org or nwfilm.org.
7 pm, Monday, June 16
Poland still grappling with 'Aftermath' of Holocaust
Wladyslaw Pasikowski's extraordinary "Aftermath" is a rare, delicious example of a filmmaker fearlessly exposing a grievous chapter in his or her country's history. You can sense that everyone prefers that the secret itself, along with the amoral failings of a prior generation, remain buried, but one strong soul has chosen to invite the skeletons out of the closet.
The Polish director's masterstroke is to wrap his harrowing exposé of World War II crimes and contemporary cover-ups inside the onionskin layers of a seductive thriller. A slowly unfolding mystery that grows steadily darker, "Aftermath" is crackerjack entertainment capped by an unforgettable gut punch.
"Aftermath" screens at 7 pm, June 16 in the Portland Jewish Film Festival.
German filmmakers have examined the Third Reich and the Holocaust since the early '50s, confronting every aspect of the Nazis' undeniable guilt. Polish directors, however, have largely steered clear of the period, with the notable (and controversial) exceptions of Andrzej Wajda's wrenching "Korczak" (1990) and Agnieszka Holland's powerful "In Darkness" (2001).
Their dilemma is that the Poles, to this day, largely deny the accusation that they participated with the Nazis in the murder of Jews (or that they opportunistically used the invasion and the war as a cover for eliminating Jews.) "Aftermath" shines a bright light on the dark canard of Polish innocence – literally, in a middle-of-the-night climax – and the revelation could not be more shocking.
"It is a difficult and complex subject," Pasikowski explained in an interview with Variety last year, "and one that runs against the Polish image of the country as being both a heroic fighter against Nazism and a victim, which is also true."
"Aftermath" begins with the return of the prodigal son to the village of his childhood after many years in America. Although the surroundings and the people are familiar, Jozef (Maciej Stuhr) sees them through an outsider's eyes. It's a clever way of setting the scene, for we immediately identify with Jozef 's point of view.
As attractive and charismatic as Jozef is, though, we're put off by his casual, anti-Semitic putdowns of people he works with (or for) in Chicago. It's another canny move by Pasikowski, for it limits our identification and comfort level with the main character.
The younger brother, Franciszek (Ireneusz Czop), has been running the family farm since Jozef left. Jozef 's arrival is fortuitous, however, for Franciszek's placid, small-town routine has been disrupted by a serious yet initially indefinable threat.
Actually, we've felt a sense of foreboding since Jozef got of the plane. The moment he set foot on the road leading to the farm, an unseen entity – friend or foe? – made its presence felt.
It would be wrong to reveal any more of the plot and deprive the viewer of the pleasure of Pasikowski's carefully thought-out structure. "Aftermath" is the kind of film where every line of dialogue and every camera movement have a purpose, even if we can only recognize it after the fact.
Ambitious, complex, shocking and wholly satisfying (admittedly, in a disturbing way), "Aftermath" is a beautifully executed example of a film that draws on heavy-duty historical reality without exploiting or trivializing it. It also manages to integrate an otherworldly dimension into a wholly realistic story. Above all, the film takes on Poland's World War II-era his- tory and its ongoing silence with intelligence, style and – at the crucial juncture – unflinching courage. "Aftermath" is a movie to be savored, admired and celebrated.
2:30 pm, Sunday, June 22
Precocious bar mitzvah boy propels zigzagging family flick
An unabashed crowd pleaser in a Day-Glo package, "The Zigzag Kid" transports young-at-heart viewers on a magic carpet ride of charming hijinks and manic energy.
Belgian director Vincent Bal has transposed vaunted Israeli novelist David Grossman's beloved 1994 coming-of-age adven- ture fantasy from the Promised Land to a candy-cane Europe. The result is a confection of a film that dispenses laughs and life lessons en route to a poignant moral about the blood ties that bind. A family film whose most ardent admirers will be children, "The Zigzag Kid" is fueled by primal adolescent urges. Not the ones you're thinking of, but the pressing need to comprehend the past, navigate the present and manipulate the future.
"The Zigzag Kid" screens 2:30 pm, June 22 in the Portland Jewish Film Festival. The opening credits immediately set the tone in smile-inducing style, employing split screens, a full-spectrum palette and a pop score to evoke the spy movies (and parodies) of the 1960s and '70s.
As his 13th birthday approaches, cute-as-a-bug Nono is starting to figure out he can't abide the rules and conventions that most people passively accept. He's not a rebel – he admires his detective father to the extent that he mimics his dad's deductive skills and wants to follow in his gumshoes as a creative thinker and fearless experimenter.
The title comes from Nono's iconoclasm, as well as the gold pin in the shape of a Z that the world's greatest thief, Felix Glick, leaves behind as his signature.
But I'm getting ahead of the story. After one of Nono's bright ideas accidentally sends a cousin's bar mitzvah reception up in smoke, our erstwhile hero is dispatched to boring Uncle Shmuel as punishment. But dad's plan is derailed within moments of Nono boarding the train, launching the lad on a mission that takes him to the south of France and back.
"The Zigzag Kid" is tons of fun as it sets its inspired plot in motion, while Nono is a splendid protagonist who never devolves from endearing to tiresome. It helps that he's aware he's not completely self-sufficient, for that dollop of humility tempers his precociousness. In fact, Nono relishes the maternal attention and affection of his father's (ahem) live-in secretary, Gaby. The boy never knew his mother, who died when he was an infant, and he'd be very happy if the current domestic arrangement continued ad infinitum. (Or, better yet, was sealed with marriage vows if his father could muster the moxie to propose).
But I'm getting behind the story. No matter. Suffice to say that Nono crosses paths with the 60-something Felix Glick, who quickly presents himself as an alternate role model with his blend of resourcefulness and suaveness.
At a certain point, especially for those adults who have sussed out the relationships between the characters before Nono does, the pieces start to click into place, dissipating the film's aura of cleverness. Everyone likes a happy ending, sure – although be advised a tragedy is revealed en route – but "The Zigzag Kid" trumpets an allegiance to the primacy of the two-parent family that is downright Spielbergian.
Oddly, I discerned no particular insights into the lives, past or present, of European Jews. In the process of relocating the story from Israel to the Continent, Vincent Bal appears to have focused on preserving the novel's themes and skipped the op- portunity to allude to 20th-century history or current events.
One consequence is that "The Zigzag Kid" could be anybody, and not necessarily a fully assimilated Jewish boy whose preparatory, pre-bar mitzvah entry to manhood consists of a unique and remarkable treasure hunt. He finds his mother's identity, and his own, and we get to go along for the ride. Not a bad deal for all concerned, actually.
Michael Fox is a San Francisco film critic and journalist.