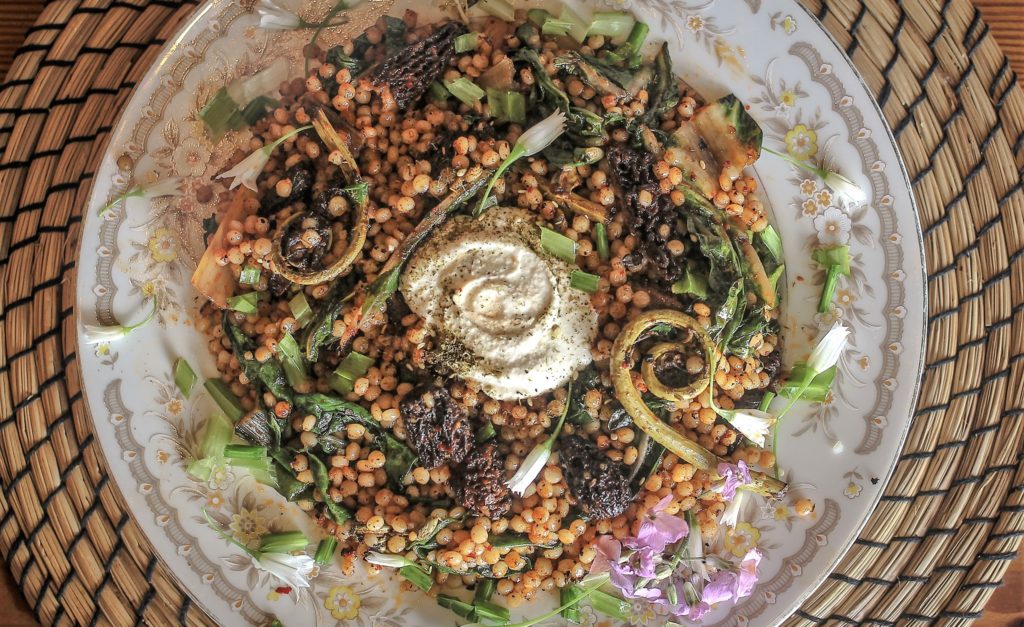 PHOTO: Above, Aviv's Enchanted Forest seasonal mushrooms, chard, fiddlehead ferns, harif, couscous, cashew labneh and za'atar. At right, Aviv Chef Tal Caspi.
Two food trends have been making the news in recent years: The rise of Israeli cuisine and Portland's reputation as a foodie destination.
Bon Appétit magazine named Portland its "Restaurant City of the Year" in 2018 and the Washington Post ranked Portland as number 4 on the 10 best food cities in America in 2015. Portland has been called: "a foodie's paradise," (Mashable.com); (Washington Post, 2015); "one of the best places in America to eat, drink and work," (International Traveller for Modern Explorers); and home to "an overwhelming abundance of local, innovative restaurants that you can't find anywhere else," (Thrillist.com).
Israeli food has also been named a hot trend across the country. AF&Co., one of the country's leading boutique restaurant and hospitality consulting firms, reported that Israeli food was the number 1 food trend in 2018. "From shakshuka at brunch to sumac-spiced donuts for dessert, Israeli flavors are deep and vibrant, lending themselves well to both savory and sweet applications," AF&Co. wrote.
A Thrillist.com 2017 article by Rachel Khong, noted: "It's something that's been happening across the US: more Middle Eastern and Mediterranean chains and restaurants, many of them explicitly billing themselves as Israeli. It's hard not to notice. …What all these restaurants have in common are fresh produce, and ingredients like labneh, za'atar, tahini. …While impossible to pinpoint one particular reason why Israeli food is taking off, but it doesn't hurt that it's pretty to look at."
In her November 2016 NW Nosh column, Oregon Jewish Life columnist Kerry Politzer wrote: The fresh vegetables and intriguing flavors of Israeli cuisine are cropping up all over Portland. While food carts introduced us to the cuisine as early as 2009, the Israeli food trend has really taken off in the past few years.
Bon Appétit Feast Portland, Portland's renowned annual food festival, regularly flies in chefs like Michael Solomonov of Zahav.
In Kerry's 2016 column, Feast Portland co-founder Mike Thelin said chefs have begun exploring Israeli cuisine in recent years: "(A) lot of chefs are choosing to explore that now. A lot of these folks have Israeli or Jewish heritage and want to showcase the food that inspired them and their families growing up. I would expect that current to absolutely continue; everyone you talk to from that part of the world comes back and talks about all these incredible dishes and beautiful vegetable-centric cuisine."
Thelin goes on to connect Israeli cuisine to the farm-to-table movement that is so prevalent in this region. "(This movement) gave us the sort of expectation that food ought to be seasonal. At the Portland Saturday Farmers' Market, we are thinking of how we are going to prepare all of this local produce with an Israeli influence. I think it's a really special thing."
Those trends converge on the tables of Portland Israeli restaurants Aviv and Shalom Y'all.
"I think folks in town are into the bold flavor and inventiveness shown in Israeli food," says Aviv's Israeli-born chef Tal Caspi. "We strive to use local ingredients and fold them into old tradition, but we are not afraid to experiment. I think Israeli food is about melting together tradition and experimenting."
Aviv features an entirely plant-based menu and a fine-dining atmosphere. For instance, the shawarma fries feature soy curls instead of grilled chicken.
"I'm in love with food, and it's always been the most important part of my life," says Tal, noting his family owned a pizza joint in Ashkelon. "I love how food brings people to the table, and I hope Aviv can bring folks together for all places and cultures in the world."
Tal not only uses food to bring people together, but he also uses his restaurant to benefit the community. He hosts fundraisers for farm sanctuaries and Jewish organizations. He's raised about $5,000 for Lighthouse, Wildwood, the Oregon Jewish Museum and Center for Holocaust Education, and the Mittleman Jewish Community Center.  "I think of myself as Portland's Jewish mother," he says.
"I'm always thinking of what food tasted like in Israel and try and replicate it," says Tal.
In addition to Aviv, Tal also created a line of packaged hummus sold locally at New Seasons. And he co-hosts a monthly radio show on Portland's KBOO called "The Food Show." The show airs the third Wednesday of each month.
Now with two locations in Portland, Shalom Y'all offers Mediterranean flavor with vegetable-centric dishes such as falafel, hummus and house-made pita, a variety of salads, and breakfast revolving around the classic Israeli morning meal shakshuka. Co-owners Ron Avni and John Gorham and Executive Chef Kasey Mills have made several culinary research trips to Israel.
The restaurant gets its inspiration from the family of one partner. In the early 1960s, Ron's father opened Vered Hagalil in Israel overlooking the Sea of Galilee, where he brought his love of the American cowboy culture and cuisine to the ranch. The inspiration has come back across the sea with the opening of Shalom Y'all.