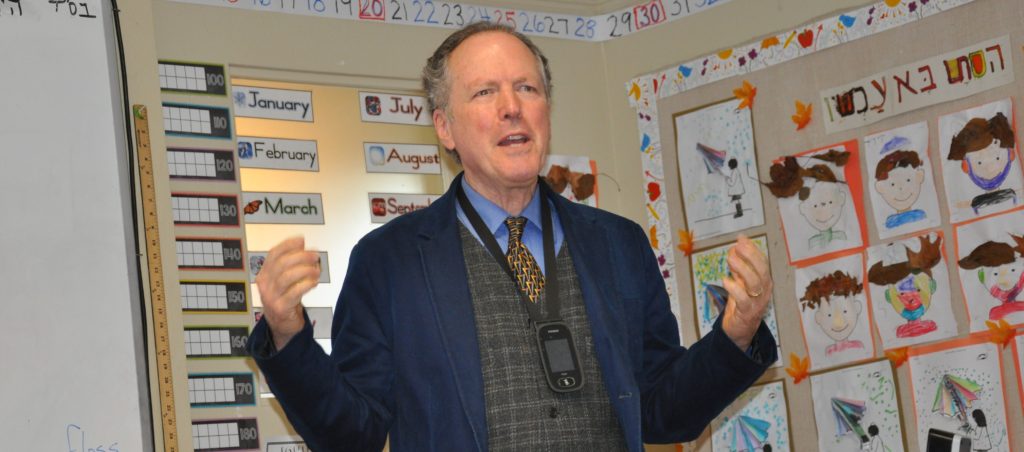 PHOTO: Kim Stafford, PhD, Oregon's ninth poet laureate, speaks to students at Maimonides Jewish Day School on Election Day 2018. He is the director of Lewis & Clark College's Northwest Writing Institute and has published 20 books of poetry and prose. Photos by Deborah Moon

"After the last election, I devoted myself to healing my country," Oregon Poet Laureate Kim Stafford told a rapt group students at Maimonides Jewish Day School on this election day, Nov. 6, 2018.
Between the 2016 election and inauguration day, Kim wrote a book of poems, The Flavor of Unity, available on lulu.com. While much divides us, the poems explore what joins us:
"The flavor that makes us one we must feed
to one another with songs, kind words, and
human glances across the silent square."
He follows in the footsteps of his late father William Stafford, who served as the state's poet laureate from 1975 to 1990. Kim  was named Oregon's ninth poet laureate by Gov. Kate Brown in May 2018.
Kim says his goal is to make people feel accompanied, strengthened and not alone: "That is what poetry can do."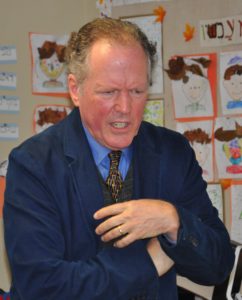 On the morning of the election, he wrote "Election 2018," a poem for the students (see below). He told the students that in the poem he was trying to say "We are leaders." He said this year the election is not so much about who we elect as it is about "who shall we vote to be?"
"We have a vote and we have a voice," he says. "A vote is just one number, but the voice … can grow bigger and bigger."
The Nez Perce have many verbs about leading, Kim said. Those verbs mean to direct, to lead by dragging, to lead by going ahead, to lead by speaking, to lead astray by speaking and to lead myself astray by speaking.
With his poems, Kim hopes to wake people up to their potential.
"The world is stressed," he said, calling kindness the antidote to disunity.
"After the last election, I decided to be extra kind to everyone I meet," he said, urging the students, "Let's meet each other in the world with welcome."
Kim also spoke to the students about the Hanukkah essay contest the school is sponsoring and that he has endorsed.  All Oregon students in third to sixth grades are encouraged to reflect on and write an essay on the topic, "What Freedom Means to Me."
He told the students, "We have freedom of speech, but you have to learn to be free. Writing a poem or an essay is one way to do that … to find your own way of looking at things."
Election 2018
Who shall we vote to be –
Not counting ballots so we can
abdicate leadership, saying with
a sidelong glance, "Now she'll do it …
Now it's up to him … Now we can leave it
To the wise and cooperative team in the halls
of power – our future is in their hands."
No, my friends, No, again.
I'm talking about electing the self, the true
citizen's calling to serve through kindness
at every encounter, through thoughtful words'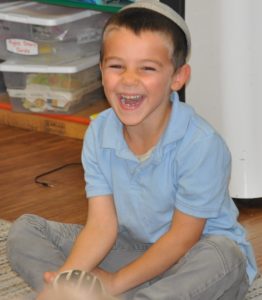 at every impasse, through listening with all
your heart and mind to the beautiful,
difficult future of every child.
6 November 2018
Kim Stafford