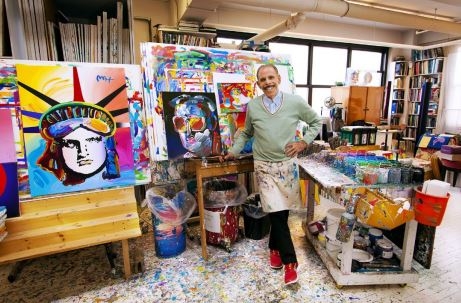 A Journey through the career of a Pop Culture Icon: Peter Max to Exhibit in Portland
A never-before-seen collection by artist legend, Peter Max's exquisite paintings will be on exhibition and available for acquisition at a presentation at Road Show Company at Pioneer Place in Portland (888 SW Fifth Ave., Suite 1310). The Artist has assembled a collection of his greatest and most-revered imagery spanning four decades: from his iconic Pop Art designs commemorating Woodstock to the 2013 unveiling of Max's design for the cruise ship Breakaway and the new exquisite Marilyn series. This new exhibition speaks to the evolution and maturation of America's most popular living Artist.
This carefully curated collection is a museum-like retrospective of Max's works: Peter Max has painted for five U.S. Presidents and his art is on display in Presidential Libraries and in U.S. Embassies across the globe. He has been the Official Artist of five NFL Super Bowls, the 2006 Olympics, the World Cup USA, The World Series, The U.S. Open, The Indy 500, The NYC Marathon and The Kentucky Derby. Gallery opens for Previews on Friday, Aug. 15 from 5 to 8 pm and is open daily from Aug. 16 -Aug. 24 from 10 am to 8 pm weekdays and Saturday, and 11 am-6 pm on Sundays.
The German-born Jewish American painter, whose given name is Peter Max Finkelstein, was raised in Shanghai, in the shadow of a Buddhist monastery, before his family moved to Haifa, Israel, when he was 10.
Max was among 30,000 Jewish refugees who fled to the city from their homelands from 1933-1941. About 18,000 of them settled in the "designated area for stateless refugees" in the city's Tilanqiao area in Hongkou District to live with local residents.
The family spent some time in Paris, and young Max, an only child whose artistic leanings were encouraged by his parents, attended art classes at the Louvre. In 1953, his family moved to Bensonhurst, Brooklyn, and Max attended Lafayette High School.
His work has been licensed by scores (at least 72) of corporations all over the world (starting in 1968 when General Electric put out a line of Peter Max clocks); he's created works for six US presidents; and he's been the official artist of five Super Bowls, the World Cup, the World Series, the US Open, the Grammys, the Rock and Roll Hall of Fame, and more. His art has adorned tiny things (a US postage stamp) and gigantic things (a Continental Airlines Boeing 777) and has been featured in world-renowned museums and galleries worldwide. The known environmentalist, animal-rights activist and charitable vegan (he supports dozens of charities) has been known as America's "painter laureate" for the past 30+ years.
On October 24, 2011 more than 100 members of the Hebrew Immigrant Aid Society's Emma Lazarus Society — its major donor group — celebrated HIAS's 130th birthday at the studio of artist Peter Max, home of Max's vibrant pop art, iconic imagery and portraits. "First I want you to know," Max said during our tête-à-tête, "that my father read the Forward every day, every day, of his life!" Berlin-born Max spent 10 years as a child in Shanghai, after his family fled there in 1938. "I lived in Hongkew and went to a Talmud Torah, the Kadoorie School," Max said. "My father owned houses…. He supported the local shul. With the Chinese I felt at home. The Chinese protected us." He continued, "In my home in Shanghai, I heard the word 'HIAS' every single day. My mother was a volunteer in helping newcomers adjust…. HIAS was the center of the Jewish refugee community we lived in at that time…. In 1948 we left for Haifa, then Paris. I came to the U.S. in 1953." His famous "36 Rabins" — 36 portraits of Israel's prime minister, is a well-known piece…one of which he presented in 1997 to Edgar Bronfman Jr. at a UJA Federation of New York gala.
The Artist has had the honor of acting as the Official Artist for the 2013 Celebrate Israel Parade.