PHOTO: Dry-Rubbed Roasted Salmon. (All photos by Bill Milne; courtesy Sterling Epicure) 
The following recipes are excerpted with permission from The Healthy Jewish Kitchen, by Paula Shoyer, Sterling Epicure.
DRY-RUBBED ROASTED SALMON
6 Servings
3-pound salmon fillet, whole or cut into 6- to 8-ounce servings
1 tablespoon coriander seeds
1 tablespoon whole black peppercorns, or more to taste
1 tablespoon black or yellow mustard seeds
2 teaspoons juniper berries
1 teaspoon fennel seeds
2 teaspoons light brown sugar
2 teaspoons garlic powder
1 teaspoon onion powder
½ teaspoon smoked or regular paprika
¼ teaspoon ground cloves
½ teaspoon kosher salt
Place the coriander seeds, black peppercorns, mustard seeds, juniper berries and fennel seeds into a coffee grinder or food processor and grind them into small pieces (making sure none are left whole), but not completely into a powder. If you use a food processor and some of the spices are still too big after processing, crush them using a mortar and pestle, or put them in a quart resealable plastic bag and smash with a rolling pin. Transfer the ground seeds, peppercorns and the rest of the mixture into a small bowl. Add the brown sugar, garlic powder, onion powder, paprika, cloves and salt, and mix well.
Spread the spice mix on a plate and press each slice of salmon into the mix to cover it completely. Use all the spice mix. Place the fish on a roasting pan, leaving space between the pieces. Let the fish sit at room temperature for 30 minutes, covered with plastic wrap, or refrigerate it if you will be cooking it later.
Preheat oven to 400°F. Bake the salmon for 20 to 22 minutes, 20 minutes if you like it a little pink inside, longer if you want it fully cooked. Serve the fish hot or at room temperature.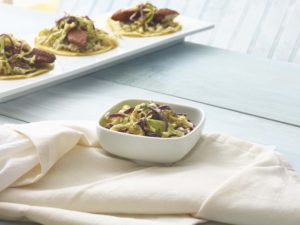 MANGO COLESLAW
8 servings
DRESSING:
1 large ripe mango, peeled and cut into 1- to 2-inch pieces
2 tablespoons finely chopped red onion
Juice of 1 lime, about 2 to 3 tablespoons
1 teaspoon apple cider vinegar
2 tablespoons avocado, sunflower or safflower oil
½ cup loosely packed cilantro leaves
1 teaspoon honey
½ large green chili pepper, such as jalapeño
¼ teaspoon salt
¼ teaspoon black pepper
SALAD:
2 cups shredded red cabbage, about ½ small head
2 cups shredded green cabbage, about ½ small head
2 cups shredded Napa cabbage, about 1/3 head
4 scallions, ends trimmed, sliced
To make the dressing, place the mango, red onions, lime juice, vinegar, oil, cilantro, honey, chili pepper, salt and black pepper into the bowl of a food processor. Process until puréed; it will be a yellow sauce with green specks.
To make the salad, in a large bowl, place the shredded cabbages and scallions and toss. Add the mango dressing and mix well.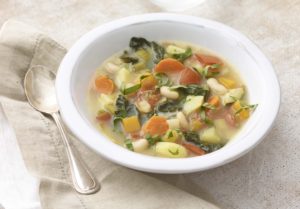 RIBOLLITA SOUP
8 to 10 servings
2 tablespoons extra virgin olive oil
1 large onion, halved and chopped into ½-inch pieces
2 leeks, light green and white parts only, quartered and sliced
2 carrots, peeled and sliced
2 stalks celery, chopped into ½-inch pieces
2 cloves garlic, roughly chopped
2 15.5-ounce cans cannellini beans, divided
7 cups water, divided
3 tomatoes, seeds removed, cut into 1-inch pieces
1 zucchini, chopped into 1-inch pieces
1 cup butternut squash cubes, cut into ¾- to 1-inch cubes
10 leaves lacinato kale (the variety with large bumpy-looking leaves), cut into 1½-inch pieces, about 1½ to 2 cups
Leaves from 6 sprigs fresh thyme
¼ teaspoon kosher salt
¼ teaspoon black pepper
1 large potato, peeled, and cut into ¾- to 1-inch cubes
½ cup basil leaves, thinly sliced, as garnish
Heat the oil in a large saucepan or soup pot over medium-low heat. Add the onions, leeks, carrots, celery and garlic and cook for 10 minutes. Stir occasionally. If the vegetables start to brown, turn down the heat.
Meanwhile, drain one can of the beans and rinse them well. Transfer the beans to the bowl of a food processor. Add 1 cup of water to the bowl and purée until the mixture is completely smooth. Set it aside.
Add the tomatoes to the saucepan and turn the heat up to medium. Cook for 8 minutes, stirring often. Add the zucchini, butternut squash, kale and thyme and cook for 5 minutes over medium-low heat. Add the salt and pepper, remaining 6 cups water, bean purée and potatoes. Bring to a boil, add the second can of drained beans and then simmer the soup on low heat, covered, for 20 to 25 minutes, stirring occasionally, until the squash and potatoes are barely fork tender.
Adjust seasonings if needed, add fresh basil and serve.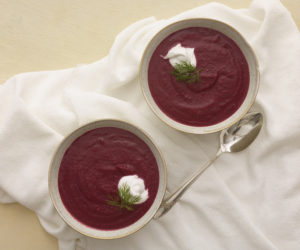 MODERN BORSCHT: BEET AND PARSNIP PURÉE
1 tablespoon oil (avocado, sunflower or safflower)
2 large onions, halved and sliced
1 pound parsnips, peeled and cut into 2-inch chunks
3 large beets, peeled and cut into 2-inch chunks
6 cups water
1 large bunch dill, about 1½ cups loosely packed, plus some for garnish (optional)
¼ teaspoon kosher salt
¼ teaspoon white pepper
⅓ cup canned coconut milk (the creamy, not thin kind), (optional)
1 half-sour pickle, halved the long way and sliced thin, for garnish (optional)
In a large saucepan or soup pot, heat the oil over medium heat and add the onions. Cook, stirring occasionally, for 5 minutes, or until the onions look translucent. Add the parsnips, beets and water and bring to a boil over medium-high heat. Skim off any dirty foam. Add the dill, salt and white pepper and reduce the heat to low; simmer covered for 30 minutes, or until the vegetables are soft.
Purée the mixture for a full 5 minutes using an immersion blender or purée in batches in a food processor. Add more salt and white pepper to taste.
Serve the soup hot with a dollop of creamy coconut milk and a sprig of dill, or cold with sliced pickles, if desired.