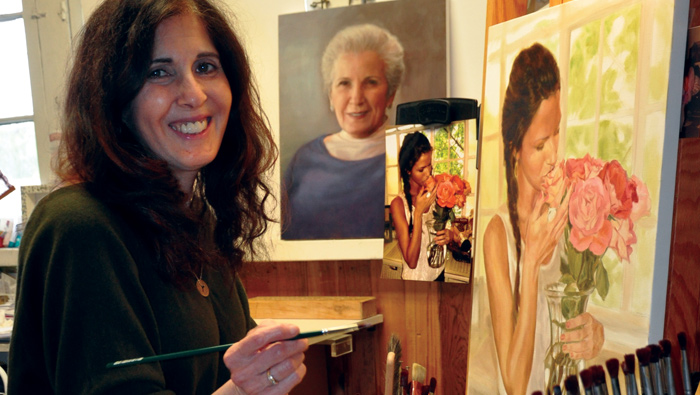 Near the end of her 27-year career illustrating the women's catalogue for Pendleton Woolen Mills, Diane Russell drew on her passion for music to paint Linda Hornbuckle, known as the matriarch of Portland's blues scene.
The portrait of Hornbuckle, who died in 2014, is one of 16 of Diane's paintings of local musicians on display in Portland International Airport through July 15. "It reflects Portland's jazz and blues community," says Diane. "We have national-caliber artists here in Portland."
In a description of the exhibit, Diane wrote: "I've collaborated with many of them on CD covers and benefit concert posters to help showcase their music to the community. These musicians have all made an enormous contribution to our region. My hope is that these portraits will honor and celebrate their music for years to come."
Born in Oregon to Ben, z'l, and Victoria Russell, Diane studied art at Portland State University for two years before moving to New York and studying illustration at the Parson School of Design. Following graduation she returned to Portland. While illustration enabled Diane to make a living in the art world, her passion for music, photography, painting and portraits have become the driving force in her second art career.
Since that 1998 painting, Diane has painted numerous blues and jazz musicians both local and national. Her work has been featured on two Legendary Blues Cruise commemorative posters and was used to promote Portland's Waterfront Blues Festival one year. Reproductions of her portraits grace the tombstones of two national musicians, and her portraits of blues and jazz musicians have been on display at Jimmy Mak's Jazz Club in NW Portland for about a decade.
She paints musicians from photographs that she herself has taken. Her photo collection includes more than 20,000 digital images, including many she took while close to the musicians on the Blues Cruises. After she completes a painting, she asks the musician or their business office if she can make prints of the painting (the musician receives a percentage of all print sales). So far all but one artist have given permission to sell the prints.
"I'm trying to get the essence of the music," she says. "I hope it's in the paintings."
Though some of her more recent paintings are of the musicians holding their instrument rather than performing, she says the portraits still reflect the music as well as the person behind it.
Her collection can be seen at dianerussell.net; limited-edition, hand-signed and numbered prints mounted on archival foam core board can be purchased on the site.
Diane is also a member of ORA, NW Jewish Artists. At ORA's Jewish Art Month exhibit at the Mittleman Jewish Community Center each March, she has received commissions for personal portraits in charcoal or oils. Currently she works primarily from photographs, but she has begun to work on painting live subjects.