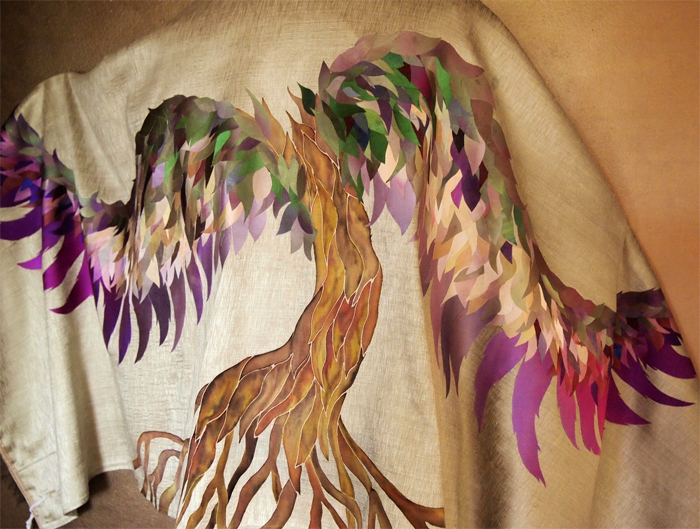 Photo: Diane's Winged Tree tallit.
Join Rabbi Lauren Tuchman in a discussion of "Religious Artifact and Creativity" with artists Diane Fredgant, Ruth Simon McRae, Barry Goldstein and Bonnie Zuckerman. The online panel discussion will be held on May 5 and begin at 4 pm (7 pm EST) and conclude at 5 pm (8 pm EST).
This event is presented as part of "Jewish Authenticity and Identity," a visual arts exhibition curated by Ori Z Soltes on display at Adas Israel Congregation in Washington, D.C. from April 5 to May 14, 2021.
Originally scheduled to open in April 2020, "Authenticity and Identity" is an exhibition curated by Ori Z Soltes, a professor at Georgetown University's Center for the Study of Jewish Civilization, who for four decades has engaged critically with Jewish artwork, politics and culture. Under his direction, the exhibition looks at how artists respond to and reflect Jewish identity, including political exclusion, women's issues, assimilation, cultural appropriation, and cultural identity. On view through May 14, 2021, admission is free; timed tickets required.
Diane Fredgant is a Portland-based silk painter and sculptor. She has been painting on silk for the past 25 years and her custom tallit work is treasured by many. She is honored to be able to share her art and worldview with those around her. Diane is the president of ORA Northwest Jewish Artists and is a member of the American Guild of Judaic Art.
She submitted her custom-designed personal tallit, "Winged Tree," to represent her art in the "Authenticity and Identity" show and is excited to be part of the panel discussion on May 5.
"When I submitted (the tallit), I had no idea of the level of the art in this show," says Diane. "When they sent out the catalog, I got to leaf through it, and this art is amazing. I feel honored to be a part of this show."
Register for the panel discussion here.