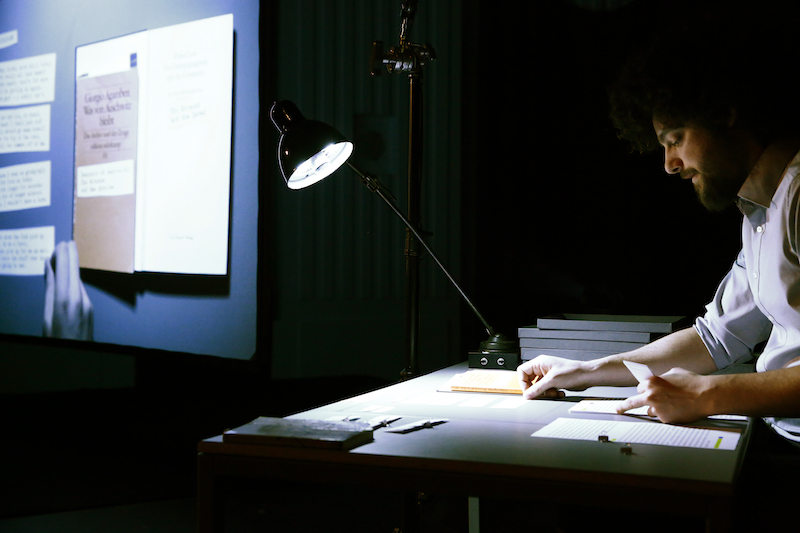 The White Elephant Archive, Setting No. 3 explores the legacy of the Holocaust from the perspective of the third generation living in Austria today. Oregon Jewish Museum and Center for Holocaust Education presents two performances of this intensely personal, one-man production.
Eduard Freudmann uses his family's archive – which includes poems written by his grandfather while imprisoned in concentration camps – to explore his family's silence about the Holocaust, and his own attempt to understand the burden of this legacy through art. Reflecting on the politics of Holocaust commemoration in Austria, and larger questions about how to speak of a horror once its witnesses are gone or silent, this production provides a rare and important glimpse into the experience of the third generation living in Europe, and the impact of trauma across generations.
Freudmann brings documents and objects as protagonists on the stage in order to consult them about the eternal dilemma of whether to speak or to be silent about the Shoah.
"When my grandmother passed away my uncle took all the items, put them in a cardboard box and stored them in his attic," said Freudman. "I, myself, had been obsessed with my family history for a long time. And, in 2004, I began working on an art project related to our history. Since I knew that my uncle was in possession of material that could be relevant for my project, I drove to his place and asked him to show it to me. He took me up to his attic, pointed at the cardboard box and said: "Take it, it's yours." I was delighted. Back home I opened the box right away and started to go through the material. I realized that what I had just received was a treasure, a cornucopia of new and unfamiliar knowledge that would feed my obsession."
This performance of The White Elephant Archive, Setting No. 3 is made possible by the Future Fund of the Republic of Austria and Federal Chancellery of Austria.
Eduard Freudmann is an award-winning multimedia artist specializing in video, performance and public installations. His most recent work "The Monument May Be a Forest" (2016), was selected as the winning design of the controversial competition "From Those You Saved," which will commemorate the Polish Righteous Gentiles in Warsaw. Freudmann's work has been presented globally in international exhibitions, art biennials and festivals, including the OFF-Biennále Budapest. He is senior artist at the Academy of Fine Arts Vienna, where he researches and teaches trans-disciplinary art.
The show will be at OJMCHE at 7 pm, Nov. 13 and 14. Tickets are $10 OJMCE members, $15 general public. For tickets or information, call 503-226-3600.